The main aim of this review was to establish whether a budget CPU cooler such as the Arctic Freezer 7 X is still relevant in 2020. In years gone by when stock CPU coolers were just a block of aluminium with an annoyingly loud and small fan on top, the Freezer 7 X would have been thought of as a decent upgrade and probably found itself inside some low-mid range gaming PCs.
However, that's not the case these days especially if you are an AMD Ryzen user. The stock AMD CPU coolers bundled with Ryzen processors are genuinely more than acceptable in terms of thermal performance of general use PCs and even some gamers are happy with the performance and appearance, the stock Wraith Prism even has RGB lighting.
What about Intel platforms? Well, Intel only bundles a cooler with its low-end processors these days and they are adequate for the thermal loads they will encounter, so an upgrade may be a little pointless. I would also expect users of the higher-end Intel K series CPUs to be going for a thermal solution with a little more cooling headroom. However, I would expect the Freezer 7 X to be more than capable of cooling an Intel Core i5-9400 or similar CPU.

So, that leaves us with tray processors. I remember a time when tray processors were much more accessible for mainstream consumers to purchase, but these days it seems as though that is a dying trend. However, for those who can still purchase tray processors, the Arctic Freezer 7 X might be a good cost-effective option for cooling PCs built with these CPUs.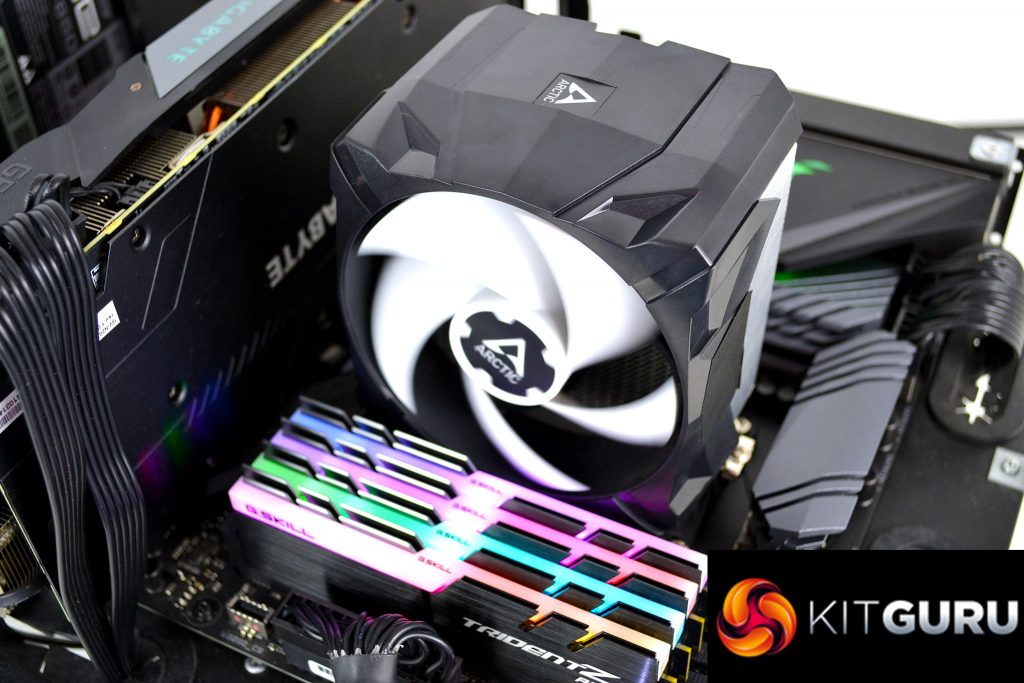 The Freezer 7 X is around the same price as an AMD Wraith Spire cooler and is generally cheaper to purchase than the Prism, which makes it a viable option for anyone buying AMD Ryzen processors from the tray. Not only is it cheaper, but the Freezer 7 X also offers similar thermal performance and is much quieter than the stock AMD coolers.
Taking into account its size, thermal performance, noise levels and cost, the Arctic Freezer 7 X would be a solid choice for someone looking to purchase a CPU cooler on an extremely tight budget. However, if you have a little more cash in the budget, we would recommend spending that bit extra for more thermal headroom.
The Cooler Master Hyper 212 is priced at just over £20 now and Arctic itself has the Freezer 34 eSports Duo priced at around £35 which is a seriously impressive single tower cooler. The Freezer 7 X is physically smaller than both of these, so maybe it could be worth considering for a budget small form factor build. With all that said, it still seems like quite a limited market for the Freezer 7 X.
However, there are some genuinely good points to the Freezer 7 X, its low cost is obviously one, a universal and simple installation process means it can be quickly fitted to either AMD or Intel based systems and the thermal performance is actually very positive. Noise levels are also very tolerable and the fan has a broad PWM speed range so users can tune the fan noise and performance to their preference.
The heatsink seems to have been manufactured from high-quality materials and Arctic offer the Freezer 7 X with a six-year manufacturers warranty. The combination of black, white and silver aesthetics means it should also fit in well with most system themes and colour schemes, so in its own right, it is a good little CPU cooler, just maybe not suitable for a large chunk of the market.

The Arctic Freezer 7 X is available to pre-order from Overclockers UK priced at £18.95 HERE.
Discuss on our Facebook page HERE.
Pros
Quick installation.
Small form factor.
Solid thermal performance.
Affordable price.
Cons
Incompatible with certain motherboards.
Only relative to a small market
 KitGuru says: The Arctic Freezer 7 X is designed to provide a cheap alternative to stock CPU coolers and it does exactly what it is set out to do. However, we can't help but feel that it may only appeal to a very limited market , especially when AMD's stock coolers have improved so much.