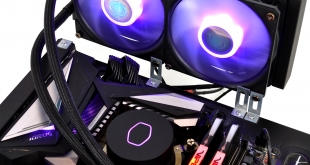 Cooler Master's latest attempt at producing a cost-effective all-in-one liquid cooler is a refresh of the ML240L series, with an updated 3rd generation pump designed for improved flow and lower noise output, as well as new SickleFlow 120mm RGB fans providing higher static pressure. But will it be able to handle the heat from our test bench system? Let's find out.
The last couple of Cooler Master CPU coolers have not had the greatest time when put through their paces on our test bench. The performance of the Cooler Master ML240P Mirage AIO and MA620M tower cooler both fell short of expectations during our testing recently, so the ML240L V2 RGB AIO has its work cut out if it is to impress us today.
However, as with all of our reviews, we wipe the slate clean and will look at this new cost-effective AIO from Cooler Master with a completely open mind. According to Cooler Master, this refresh of the ML240L series is not just an aesthetic update, the ML240L V2 RGB has had an extensive rework of both the pump and the fans, so it will be very interesting to see what effect these improvements have had on thermal performance.
The ML240L V2 is equipped with Cooler Master's latest 3rd generation pump that features an increased chamber capacity for improved volume and liquid exchange between chambers, due to reduced resistance. Impeller blades have been extended and the curvature has been enhanced to improve water flow and heat dissipation. A new Tri-Phase motor with silent driver should also help lower noise levels.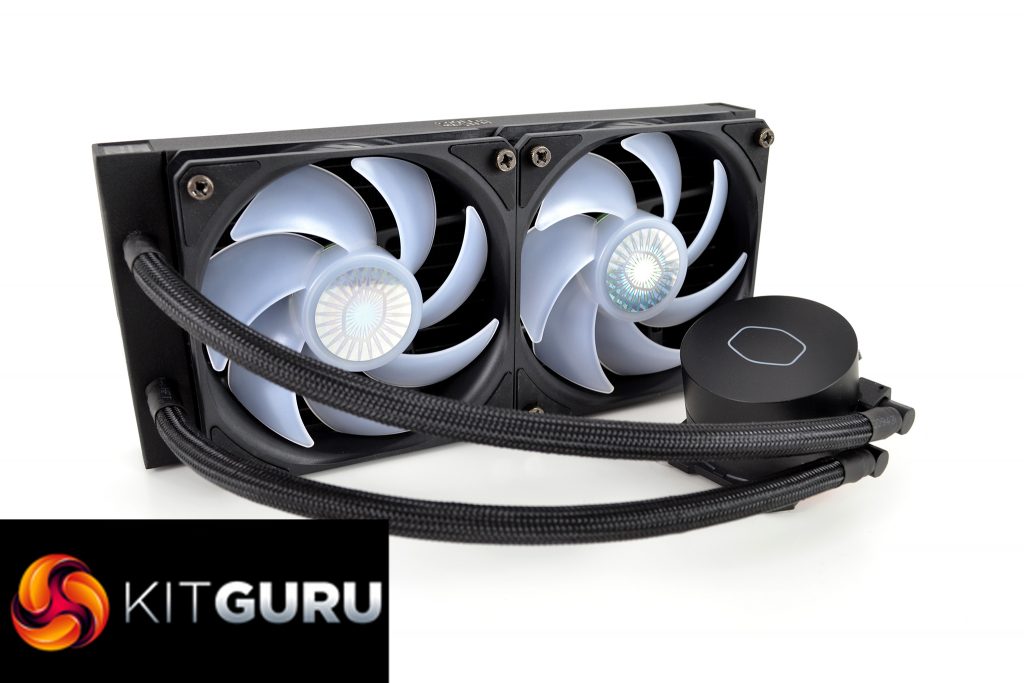 An increase in the length of the fins and larger leading water channels have been applied to the radiator to improve flow efficiency and water capacity. Cooler Master claims that this will provide a 25% increase in surface area to optimise heat dissipation efficiency and reduce airflow resistance while offering an improved liquid to surface area for efficient heat exchange.
Cooler Master has made a change to the ML240L fans too, out go the MF120R and in come the new SickleFlow 120 RGB. The fans feature a rifle bearing core and a new frame design with a screw hole reinforcement and improved structural stability compared with the previous MasterFan. SickleFlow 120 fans have seven opaque white blades with a larger blade size to improve light dispersion and increase static pressure.
These improvements to the fans means static pressure is up from 2.34 mmH2O in the previous ML240L RGB to 2.5 mmH2O in the V2, while noise levels are reduced from 30dBA to 27dBA. During Cooler Master's in house testing of the ML240L V2, it recorded around 4°C lower temperature at 187 W load compared to the previous ML240L, which sounds like a healthy improvement.
The ML240L V2 offers two RGB lighting zones, the pump top has a Cooler Master halo logo that is illuminated and so are the opaque blades of the SickleFlow 120 fans. RGB lighting can be configured and controlled via compatible motherboards using the standard 4-pin RGB header, or with the RGB controller that is bundled with the cooler.
Cooler Master has made all these improvements to the ML240L series but has not upped the cost. So the ML240L V2 can be purchased for the same MSRP as the original, the ML240L V2 RGB will set you back £69.99 While the smaller, single fan ML120L V2 RGB is priced at £59.99.
Key Features
3rd generation pump.
Improved SickelFlow fans.
Two RGB lighting zones.
Included RGB lighting controller.
Specification
Waterblock Dimensions
79.9 x 76 x 47mm
Radiator Dimensions
277 x 119.6 x x27.2mm
Radiator Material
Aluminium
Fan Dimensions
120 x 120 x 25mm
Fan Speed
650 ~ 1800 RPM (PWM) ± 10%
Fan Airflow
62 CFM (Max)
Fan Air Pressure
2.5 mmH2O
Fan MTTF
160,000 hours
Fan Noise Level (1m)
8 – 27 dBA
Fan Connector
4-pin (PWM)
Pump MTTF
70,000 hours
Pump Noise Level (1m)
<10 dBA
Pump Rated Voltage
12 VDC
Pump Power Connector
3-pin
Warranty
2 years
CPU socket support
AMD – AM2, AM2+, AM3, AM3+, AM4, FM1, FM2, FM2+

Intel – 1150, 1151, 1155, 1156, 2011, 2011-V3, 2066
Be sure to check out our sponsors store EKWB here