Corsair has packaged the iCUE H115i RGB PRO XT in a substantial cardboard box featuring the traditional black and yellow company colour scheme. On the front of the box is a large image of the cooler with Corsair branding printed in the corners. On the rear is a list of technical specifications, as well as images showing dimensions.
Inside the box is an additional layer of protective cardboard packaging along with two Corsair ML140 fans, mounting hardware for Intel and AMD platforms including TR4/TRX40, a USB cable with motherboard header connection, an installation manual, warranty booklet and of course, the cooler itself.
The two 140mm fans included with the H115i RGB PRO XT are regular Corsair ML140 non-RGB variants. So no fancy RGB lighting and extra RGB cables to deal with when it comes to installation, which means installation time should be reduced since there are fewer cables to manage and no additional lighting controllers to hide away in the PC case.
Moving on to the actual cooler we can see that the H115i RGB PRO XT has the usual high-quality appearance that we have come to expect from Corsair. The radiator has an evenly applied and smooth black coating with the Corsair logo on both edges in a chrome finish.
The tubing is manufactured from a reinforced rubber with braided sleeving for a premium-quality look. On the pump end of the tubing are rotating fittings which should help with the positioning of the pump head when it comes to installation.
The pump housing is primarily constructed out of a black plastic material with an upper glossy finish and a lower section with a matt finish. The top of the pump housing includes a Corsair logo that lights up in RGB colour and around the perimeter is an opaque plastic strip that also is illuminated in RGB.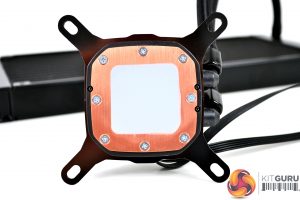 At the base of the pump is a copper microchannel thermal transfer plate with an evenly machined face. Corsair has applied a layer of its high performance TMX50 thermal compound to the thermal transfer plate which should speed up installation further.
In terms of cables, there is a fan splitter and a SATA power connector that are hard-wired directly to the pump head, along with USB cable that connects to the motherboard USB header and to the pump, so all wiring connects to the cooler itself and all pump/fan speed is controlled via the Corsair iCUE software using the USB motherboard connector.
Overall, the Corsair iCUE H115i RGB PRO XT looks well built out of high-quality materials. The fact there is no RGB lighting in the fans means installation time should be reduced significantly compared to previous RGB versions such as the Platinum range and there will be far fewer cables to manage, something we particularly like.