Packaging of the EK-AIO features the familiar white EK colour scheme, a large image of the cooler is printed on the front of the box with a reference to the RGB lighting and CPU socket compatibility along the bottom. On the rear of the packaging are smaller images and diagrams as well as some key features listed.
Inside the packaging are three 120mm EK Vardar S addressable D-RGB fans, various pieces of mounting hardware for both mainstream Intel and AMD desktop platforms, an Intel platform-specific backplate, 3-way PWM fan splitter cable, an additional tube of thermal compound as well as a detailed installation manual printed in multiple languages.
EK Vardar S 120ER D-RGB fans included with the EK-AIO have quite an industrial looking appearance to them, with a robust and completely square outer frame, seven opaque white blades that are illuminated with RGB lighting once powered up and a rather large central hub. Fan cables are a generous 500mm length, they are equipped with 4-pin PWM power and standard 3-pin RGB connections that can be daisy-chained together.
The aluminium EK-AIO radiator measures 28mm overall thickness with the core slightly inset from the frame. It is a very understated design featuring a completely plain black coating with no sign of any branding or logos in sight. The tube fittings at the radiator side are of a fixed type with black covers and diamond-cut edges to add a little style.
Rubber tubing used in the EK-AIO feels very firm to compress while still being supple enough to manipulate into tight bends quite easily without kinking. The tubing is covered with a nylon braided sleeving for a premium appearance and at the pump side of the tubing are articulating 90° fittings with diamond-cut aluminium covers.
On top of the CPU block/pump housing is a frameless opaque cover with a brushed metal style circular EK logo. When the system is powered on this top cover is completely illuminated with addressable D-RGB lighting that can be configured independently or in sync with the fans depending on how they are connected.
The CPU block looks quite bulky and certainly has some weight to it. EK claims the size of the block is due to the powerful SPC style pump inside. At the base of the CPU block is a smooth copper cold plate with internal micro fins for optimal thermal dissipation. The cold plate comes with thermal compound pre-applied and EK throw in an extra tube for future use.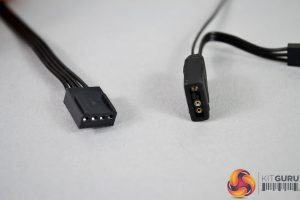 Just like the Vardar S D-RGB fans, the pump is equipped with a generous 500mm cable length with a standard 4-pin PWM power cable and a 3-pin 5V addressable RGB header which means they can be connected directly to motherboard RGB headers and configured by the motherboard BIOS or motherboard manufacturer software.
Overall, the EK-AIO looks very well built out of high-quality materials and there is a balanced mix of understated looking black parts as well as dual RGB lighting zones. While we like the use of standard cable connections which means there is no need for additional hubs to control fan speed and RGB lighting, a simple RGB controller for those who don't have RGB equipped motherboards is missing from the kit.