We all know that EK Water Blocks produces some cracking custom liquid cooling products, but the company has had a slightly chequered history when it comes to its all-in-one liquid cooling solutions. No one can deny that the original EK Predator expandable AIO had excellent thermal performance, but leaking CPU blocks due to faulty rubber O-rings blighted the Predator series before it really got going. EK addressed these problems with its Phoenix modular AIO series, but it was never technically in the same class as a traditional closed-loop AIO.
Watch via our Vimeo Channel (Below) or over on YouTube at 2160p HERE
EKWB announced its return to the AIO cooler market at CES 2020 earlier this year with a true closed-loop, maintenance-free solution in the form of the aptly named EK-AIO. EK claims that its brand new EK-AIO offers optimal performance for its class via a powerful and robust SPC style pump and a copper cold plate with a dense micro fin structure.
Currently, the EK-AIO is available in three sizes ranging from a single 120mm fan version up to a flagship triple fan 360mm variant, with a 240mm radiator model sat in between the two. At the time of writing this review, there is no mention of a 280mm version being available or coming any time soon, which slightly limits choice for users with cases only able to fit up to 280mm radiators.
All three variants of the EK-AIO come equipped with 120mm EK Vardar S addressable D-RGB high static pressure fans that are primarily designed for the use on radiators. EK Vardar S addressable D-RGB fans are equipped with seven opaque blades designed to diffuse the light coming from the nine built-in addressable LEDs, which gives the fan a subtle glow of colourful illumination. The fans are PWM controlled with a speed range of 600-2500 RPM and include standard 4-pin power cables and 3-pin 5V addressable RGB motherboard connections.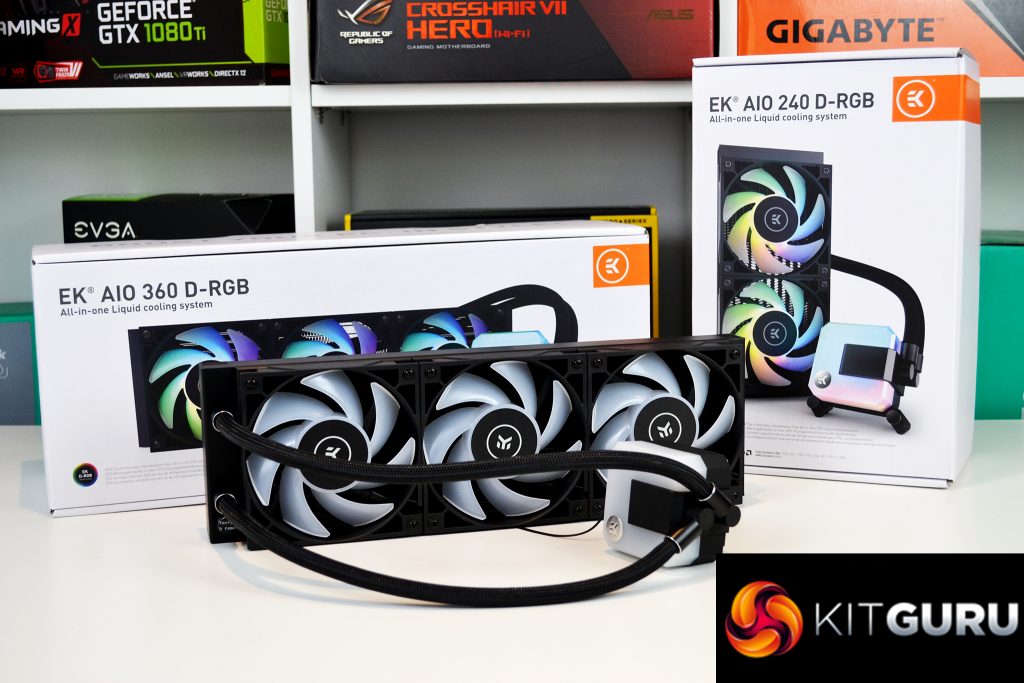 As usual with all-in-one CPU coolers, the EK-AIO includes a high-grade aluminium radiator featuring twelve coolant channels and a densely packed fin arrangement. To ensure maximum compatibility with a wide range of PC cases and to achieve optimal thermal dissipation, the overall thickness of the radiator is 28mm with the core only slightly thinner than the frame. The overall thickness of the radiator with the fans installed measures 53mm.
In a very similar style to the Vardar S addressable D-RGB fans, the EK-AIO CPU block top features a frosted opaque cover that subtly disperses the illumination from the addressable D-RGB LEDs that are integrated into the pump housing below. EKWB claims that the EK-AIO pump is able to produce custom-loop grade coolant delivery while offering silent operation via a PWM motor with a speed range of 450-2600 RPM.
To accentuate the premium appearance, EKWB has equipped the EK-AIO with nylon braided tube sleeving and diamond-cut aluminium fittings at the pump and radiator terminals. At the CPU block side, there are 90-degree articulating fittings to aid installation and positioning, the tubing is manufactured from highly durable and reinforced rubber allowing them to be flexible but also resistant to kinks.
The EK-AIO offers universal CPU socket compatibility with support for all current mainstream desktop processors including Intel Socket LGA 1150, 1151, 1155, 1156, 1200, 2011, 2011-3, 2066 and AMD Socket AM4. However, there is no support for high-end desktop AMD Ryzen Threadripper socket TR4 or sTRX4.
Pricing of the EK-AIO seems to be roughly in line with similar closed-loop coolers from rival manufacturers, the EK-AIO 120 D-RGB is priced at €75.53, the 240 is €125.95 and the flagship 360mm EK-AIO is available for €151.16. All of the EK-AIO range is offered with a five-year manufacturers warranty for user peace of mind.
Key Features
Maintenance-free closed loop
Dual-zone addressable RGB lighting
Available in three sizes
High-performance SPC style pump
Easy installation
EK-AIO 360 D-RGB Specifications:
Radiator Dimensions
395 x 120 x 28 mm
Radiator Material
Aluminium
Pump Unit Dimensions
88 x 70 x 53 mm
Pump Unit Material
ABS Housing, Copper Cold plate, Steel Mounting Pump
Pump Speed Range
450 – 2600 RPM ± 10%
Pump PWM Range
20 – 100%
Pump Cable Length
500 mm
Pump Unit RGB Type
5V Digital (Addressable)
Tubing Material
Ultra-Low Evaporation Rubber with Nylon Braided Sleeve
Tubing Length
400 mm
Fan Dimensions
120 x 120 x 25mm
Fan Speed Range
550 – 2500 ± 10%
Fan Noise Level
36.4dBA (at maximum speed)
Fan Static Pressure
2.89 mm H20 = 28.9 Pa (at maximum speed)
Fan Air Flow
66.04 CFM = 112.20 m³/h (at maximum speed)
Fan Cable Length
500 mm
CPU Socket Support
Intel Sockets: 1150, 1151, 1155, 1156, 1200, 2011, 2011-3, 2066

AMD Socket: AM4

Warranty
5 Years Limited International Warranty
Be sure to check out our sponsors store EKWB here