When the news broke that EK Water Blocks would be launching its first maintenance-free all-in-one CPU cooler earlier this year, I was keen to get my hands on one to put it through its paces on our test bench, and see if it lived up to the company's claims. After testing both the 240mm and 360mm versions of the EK-AIO in this review, I can confidently say that EK's claims are correct.
EKWB has obviously used its knowledge of custom liquid cooling it has gained over the years and applied some of it here in the EK-AIO. The SPC style pump inside the EK-AIO is extremely quiet, even with the pump running at 100% RPM and with the system at idle, pump noise is barely audible. While being completely silent in operation, the pump still seems to have the power to provide high-performance cooling on thermally demanding CPUs such as the Intel Core i9-9900K that is equipped to our test bench.
Not only at its base frequency, but also while the i9-9900K is overclocked to 4.9 GHz across all cores with 1.3V Vcore, both the EK-AIO 360 and 240 managed to keep CPU temperature well under control during the demanding AIDA64 stress test, so real-world performance should be of a very high standard.
The most important feature of a CPU cooler is its thermal performance with noise levels coming a close second. The EK-AIO certainly isn't quiet with the fans ramped up to their 2500 RPM maximum speed, however, they are quieter than similar speed fans used in AIO coolers from other manufacturers, which means that with your own custom fan curve configured, the EK-AIO provides a solid thermal performance to noise ratio.
The build quality of the EK-AIO seems to be of a very high standard, although only time will tell if our impressions are correct. The CPU block is a very beefy looking thing and has a bit of weight to it, giving it a quality feel. EKWB is obviously confident that the EK-AIO will stand the test of time since a five-year warranty is given with the cooler, which should give buyers peace of mind.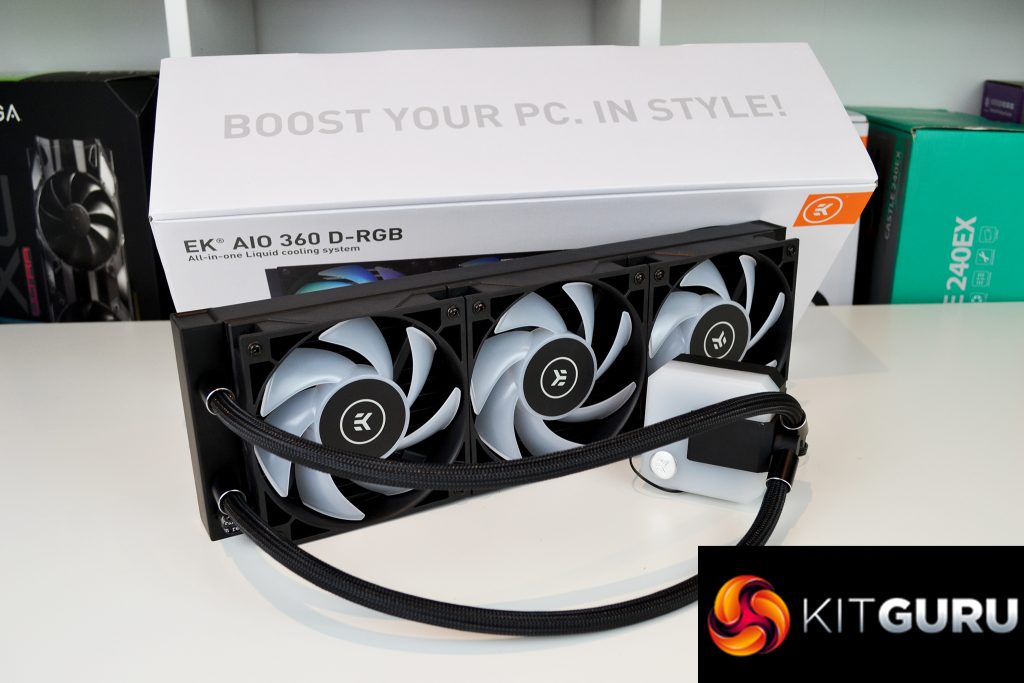 Even though the EK-AIO is a stylish looking cooler with its dual RGB lighting zones and industrial looking square fans, it's not a complicated device to use. EK has used standard fan and RGB connections so there are no additional fan hubs or RGB controllers to install which means cable management is simplified, something which we really like.
However, the downside of this is that any users who have a motherboard that is not equipped with ARGB headers will need an additional RGB controller to control the EK-AIO lighting. Often manufacturers supply a simple RGB lighting controller with their AIOs, but this is missing with the EK-AIO which is a shame and will increase the overall cost of the device for those having to purchase an RGB controller separately.
The EK-AIO comes with a detailed installation manual which may look a little daunting to novice users when opening the box, but it's actually not at all difficult to install. Following the installation guide carefully will mean you should have the AIO installed and running in approximately 15-20 minutes and shouldn't come across any challenges or issues, especially on AMD platforms where the stock backplate is retained.
Taken as a whole, the EK-AIO series is a solid and very well balanced all-in-one CPU cooler. If you don't mind the higher noise levels that come with ramping the fans up then you will enjoy the impressive thermal performance on high-end processors, while tuning the fan profile to your preference should allow a perfect balance of noise vs thermal performance on any mainstream desktop platform.
At the time of writing this review, the EK-AIO is available in 120mm, 240mm and 360mm versions for mainstream desktop platforms. We would have liked to see a 280mm version for users who have space for dual 140mm fan setups, but not triple 120mm, and an obvious omission of the series is the lack of support for HEDT AMD platforms which is a shame. Maybe EK will look at adding both these options in future…
The EK-AIO is available to purchase now from EK Water Blocks direct HERE, priced at €75.53 for the EK-AIO 120 D-RGB, €125.95 for the EK-AIO 240 D-RGB and the flagship EK-AIO 360 D-RGB is €151.16.
Discuss on our Facebook page HERE.
Pros
Impressive thermal performance.
Solid build quality.
Dual RGB lighting zones.
Stylish appearance.
Cons
No support for AMD HEDT platforms.
No RGB controller included.
EK-AIO 240 D-RGB score:
EK-AIO 360 D-RGB score:
KitGuru says: EK Water Blocks has put its vast knowledge of custom liquid cooling to use in producing a very competent, maintenance-free all-in-one CPU cooler that offers the necessary thermal performance to tame even the most powerful desktop processors.