The Configurator
Corsair's Hydro X hardware uses a conventional combination of D5 pump, 120mm/140mm radiator units and a choice of blocks for your CPU and GPU – however this can still be intimidating territory for anyone who is venturing into custom cooling. The ace in the hole is Corsair's Custom Cooling Configurator which allows you to give details of your case, motherboard, CPU and GPU and then suggests a configuration that can both cool your hardware and which will also fit inside your case.
The obvious point here is that Corsair is a case manufacturer and has extensive records about the exact dimensions of a number of very popular cases. It seems likely to us that Corsair will start working on distribution panels that will fit inside a number of their cases, particularly those that share a common core chassis.
Closing Thoughts
In essence, Corsair has created some new CPU blocks that borrow from their extensive knowledge of AIO (all in one) liquid cooling and has decided to use a D5 pump/reservoir at the heart of the system. The range of graphics blocks is quite restricted and mainly covers Nvidia Founders Edition RTX and GTX, along with a certain amount of Asus Strix with the promise of more models to come.
Radiators, fittings and coolant are an essential part of the equation and these are sourced from Hardware Labs Performance Systems, Bitspower International and Mayhems Solutions. The Corsair part of the equation is the RGB lighting that is controlled by iCUE. This software suite also plays its part with Corsair's extensive portfolio of products such as SSDs, RAM, fans, cases and gaming peripherals.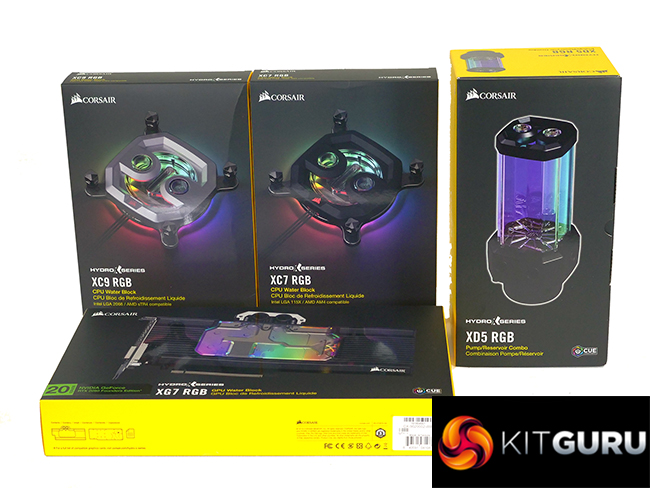 The cherry on top of this particular cake is Corsair's configurator that helps you decide which hardware will work inside your PC and then gives you a simple one click option for placing your order. A typical custom loop for both CPU and GPU will set you back £600 and could easily cost £800 if you add extra radiators. We are not the least bit surprised that Corsair is keen to blow this market open and grab sales for itself.
That said, if they merely grab a slice of the existing custom loop market we would find that slightly depressing. Instead our hope is that Corsair's bold move will prompt EKWB, Alphacool and others to push the technology forward and to expand the market. Corsair did this with AIO coolers and now the time has come for custom loop.
See the full range on Corsair's website HERE.
KitGuru says: Corsair Hydro X has finally arrived! Stay tuned for our full review.