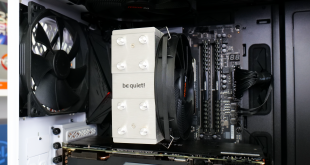 Targeting users who desire solid CPU cooling with minimal RAM and VRM heatsink interference, be quiet! today launches the Shadow Rock Slim 2. Available at £43.99 in the UK ($45.90 USD, 45.90 Euros), the be quiet! Shadow Rock Slim 2 is situated in the mid-range CPU cooler territory. 
Video Timestamps:
00:00 Start
00:15 Introduction / pricing
00:59 Accessories and overview
02:27 Fin array / heatpipes
03:37 The Fan
04:50 Fan in place – cooler dimensions
05:50 Installation
07:32 Test System and procedures
09:02 Noise output test results
09:59 Precision boost overdrive results
11:35 Manual OC results
12:26 Motherboard VRM temperatures
12:58 Stock cooling results
13:25 Closing Thoughts
Starting out with a look at the heatsink itself, be quiet! has gone for a standard silver fin array that is typical for the company's mid-range price point offerings. A solid top plate holds the black text be quiet! logo and 8 silver caps are used to mask the copper coloured heatpipe tops – a quality touch for aesthetic consistency.
There is no denying that the cooler is a bit dull and conventional in terms of appearance.
The heatsink is symmetrical in form down an X and Y-axis centreline. That means that the fattened sections of the fin array are found on either side of the centre point. Somewhat surprisingly, though, there is no offset design for additional RAM clearance. be quiet! seems to think that the Shadow Rock Slim 2's design is narrow enough already to make RAM interference no concern.
The single tower fin array is made up of 52 aluminium fins and has dimensions of 130mm wide, 161mm tall, and 52mm thickness.
Running through the aluminium fin array are four 6mm diameter copper heatpipes that come from the Heatpipe Direct Touch (HDT) base. As we would expect from a single tower heatsink, these are mounted in a U-shaped orientation. Two heatpipes position towards the front side of the fin array, and two towards the rear – at different positions behind the fan of course.
be quiet! gives the cooler a 160W TDP rating (whatever that means), making the HDT design a sensible solution, especially given the cost benefits. There is a gap between the flattened sections of the four copper heatpipes at the base. This is filled in by the aluminium combination structure that helps that heatpipes cover a large physical area. This should help with usage on CPUs with big heatspreaders, such as AMD Ryzen.
Notably, the bare copper colour of the heatpipes is retained rather than them being nickel plated for a little extra durability and improved aesthetics. This looks to be another minor sign of cost cutting to hit the target price.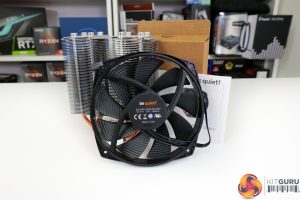 Looking at the fan used on the Shadow Rock Slim 2, be quiet! opts for a 135mm unit with model number BQ SIW3-13525-MR-PWM. be quiet! does not technically call this a Silent Wings 3 fan, though the model code and specifications make it seem like this is likely a Silent Wing 3-class unit. Silent Wings 3 are very good fans, especially if you appreciate the all-black, non-RGB appearance!
This 9-bladed, rifle bearing fan is rated at 1400 RPM top speed and is powered by a 220mm-long 4-pin PWM cable. 1400 RPM is fine for the max speed of a 135mm blower.
With the fan in place, the cooler extends to 74mm depth. This is because the fan is marginally thinner than normal at 22mm. The weight of the fan plus cooler comes in at 690g.
The fan mount height is variable to an extent thanks to be quiet!'s use of fan clips. You also get a second pair of fan clips for a future push-pull upgrade.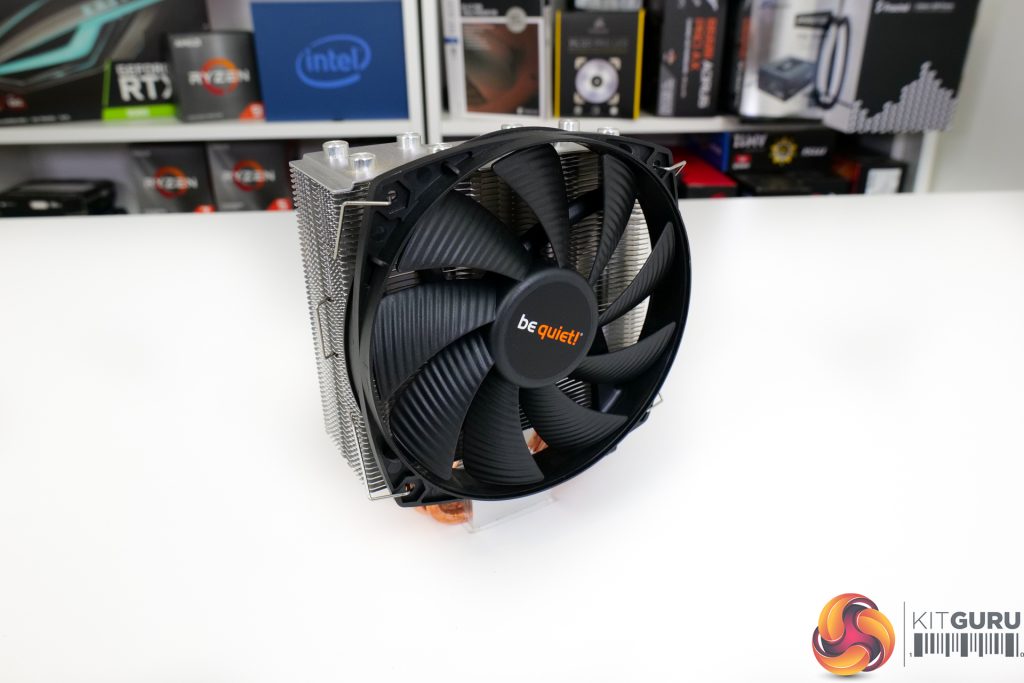 be quiet! sells the Shadow Rock Slim 2 with a 3-year warranty. Given the fan's rated lifespan of 80,000 hours, we have no real problem with 3 years at this price point.
Specifications and Features (taken from manufacturer webpage):
Very high cooling capacity of 160W TDP
An optimized mounting kit for an easier installation in alignment with the airflow
Four high-performance 6mm heat pipes with HDT technology
135mm silence-optimized be quiet! fan with nine airflow-optimized blades, durable rifle-bearing technology and max 23.7dB(A)
Brushed aluminium top cover
Three-year manufacturer's warranty
Be sure to check out our sponsors store EKWB here