There are several perfectly valid ways to test CPU coolers. We are primarily focussing on the performance of each cooler at 100% fan speed and also when locked to 40dBA noise output. We will focus on cooling performance using a manual overclock and Precision Boost Overdrive, as well as some reference to stock numbers. We will also highlight VRM temperatures.
Typically, we go for a 4.45GHz overclock, but this was too high for mid-range air coolers. As such, we backed off to a reasonable 4.1GHz fixed frequency and 1.225V BIOS voltage that generates around 180W of CPU package power to deal with. Given the introduction of this new 4.1GHz mid-range cooler test, we currently have limited comparison data. But check back for future review of additional mid-range coolers we have in for testing.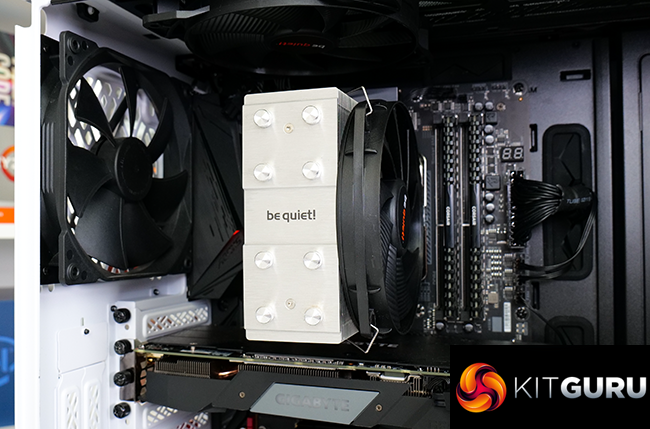 We decided to test using a chassis as we feel that this is most representative of real-world use cases. It does have some unwanted influences on the test data, as does open-air test bench testing. But we feel that this is a worthwhile trade-off for real-world chassis performance of the coolers.
Our chassis of choice is the Fractal Design Meshify 2 case that Leo reviewed and scored very highly. We like this chassis thanks to its high airflow optimisation and well-vented front and top panels.
The fan configuration is the three included Fractal Dynamic X2 GP-14 fans spinning at full 1000 RPM speed. In addition to the two 140mm front-mounted fans, and single 140mm rear exhaust, we added a be quiet! Pure Wings 2 1000 RPM 140mm fan as roof exhaust for air cooler testing. The aim here was to keep consistency with the airflow path of the liquid coolers which are always roof mounted.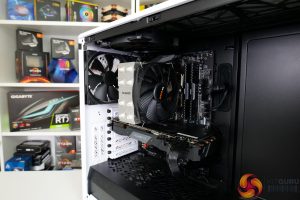 If you want more details on our CPU cooling test procedures, check out some of our previous articles HERE, HERE and HERE.
CPU Cooling Test System:
Processor: AMD Ryzen 9 5950X
Overclocked Settings: 4.1GHz all-core @ 1.225V (UEFI), Medium LLC – around 180W-190W delivered
Motherboard: Gigabyte B550 Aorus Master
Memory: 32GB (2x16GB) Corsair Vengeance LPX 3600MHz 16-18-18-36 DDR4 @ 1.35V
Graphics Card: Gigabyte RTX 2060 Super 0dB Mode
Chassis: Fractal Design Meshify 2
Chassis Fans: 2x140mm 1000 RPM Fractal Front Intake, 1x140mm 1000 RPM Fractal Rear Exhaust, 1x140mm 1000 RPM be quiet! Pure Wings 2 Roof Exhaust (for air cooler testing)
Power Supply: Seasonic Prime TX-1000
OS SSD: Corsair MP600 NVMe M.2 SSD
Operating System: Windows 10 Pro 64-bit
Comparison Coolers:
be quiet! Shadow Rock Slim 2 – £43.99, 1x135mm 1400 RPM Fan
Zalman CNPS10X Performa Black – around £38, 1x135mm 1500 RPM Fan
Arctic Freezer 33 eSports One – £29.99, 1x120mm 1800 RPM Fan
be quiet! Shadow Rock 3 – £44.99, 1x120mm 1600 RPM Fan (operated up to 1750 RPM according to our motherboard sensor)
be quiet! Silent Loop 2 – £199.99, 2x120mm 2200 RPM Fans, 2800 RPM Pump
Deepcool AS500 Plus – £64.99, 2x140mm 1200 RPM Fans
Noctua NH-D15 – £80, 2x140mm 1500 RPM Fans
Cooler Master MA624 Stealth – £99.99 MSRP, 2x140mm 1400 RPM Fans
Arctic Freezer 50 – £59.99, 1x140mm 1700 RPM + 1x120mm 1800 RPM Fans
Cougar Aqua 240 ARGB – £89.99-£99.99 MSRP, 2x120mm 2000 RPM Fans, 3200 RPM Pump
Silverstone IceGem 240P – £119.99, 2x120mm 2200 RPM Fans, 3000 RPM Pump
Phanteks Glacier One 360 MP – £154.99, 3x120mm 2200 RPM Fans, 3600 RPM Pump
G.SKILL Enki 360 AIO – $179.99 MSRP, 3x120mm 2100 RPM Fans, 5000 RPM Pump
IceGiant ProSiphon Elite – £169.99, 4x120mm 2300 RPM Fans
Testing Methodology:

For testing, we use a 30-minute looped run of Cinebench R23 and record the steady-state CPU temperature at the end of the test. This ensures that the CPU has had ample time to warm up and reach steady state under all of the coolers.
Ambient is maintained around 23-25 degrees Celsius. Where there is variation beyond this temperature range, we add in extra repeated tests to ensure consistency.
We also test each cooler with at least two fresh installs (typically three) to mitigate the likelihood of a dodgy mount spoiling results.