As you have probably noted, the new Zen 3 chips offer excellent performance, power, and thermals. But they really do run hot and require high-end cooling when overclocked hard with the solid frequency gains. That is particularly true for the 16-core 5950X that will often be at home in heavily pushed overclocked systems, so effective cooling is absolutely critical.
As such, we thought it would be good to examine how a variety of coolers that we have in for testing perform when given the tough task of cooling the Ryzen 9 5950X in a variety of operating configurations.
Video Timestamps
00:00 Start
00:15 Introduction
01:13 A closer look at the coolers
01:34 DeepCool AS500 Plus
03:16 Arctic Freezer 50
05:53 Cooler Master MA624 Stealth
07:36 Cougar Aqua 240 ARGB
09:20 Silverstone IceGem 240P
11:17 G.SKILL Enki 360 AIO
13:35 Phanteks Glacier One 360 MP
15:17 IceGiant ProSiphon Elite
17:23 Test System Specifications
18:40 Noise Performance Test Results
19:51 Overclocked CPU Temperature Results
24:47 40dBA testing
28:26 Motherboard VRM Temperatures
29:32 Full fan speed PBO + Stock test results
31:40 Closing Thoughts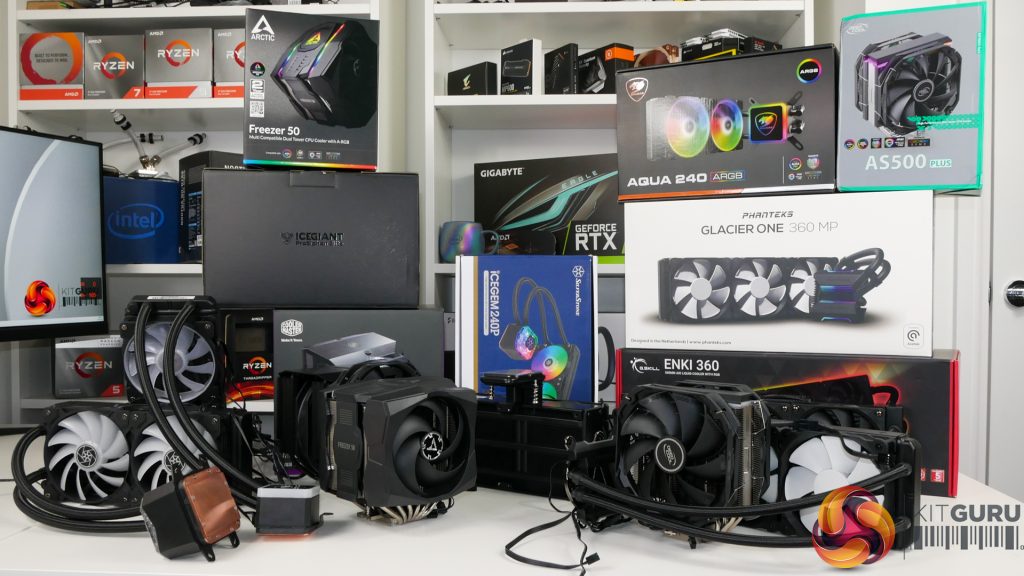 We have a variety of CPU coolers on test. This selection includes mid-sized and dual-tower air coolers, 240mm and 360mm AIOs, and the unique IceGiant ProSiphon Elite with its thermosiphon technology. Let's take a closer look at the individual coolers.
Be sure to check out our sponsors store EKWB here