Let's see how the demanding OC stress test thermal performance hierarchy changes with a 40dBA lock on the noise output.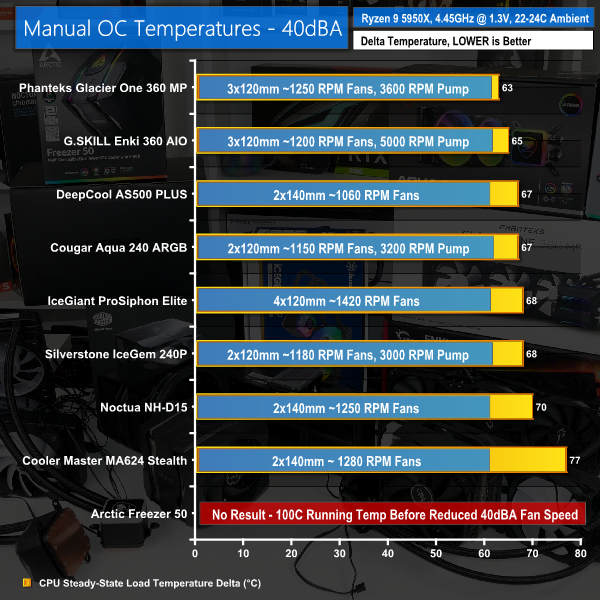 Even with around 5 or 6 degrees added to their temperature results, the Phanteks and SKILL 360mm AIOs still top the chart. Phanteks' Asetek design unit is still better, but the G.SKILL cooler keeps below the 90C level thus resulting in a good enough outcome.
Maintaining much of its fan speed thanks to an already efficient noise level, the DeepCool AS500 Plus is drastically outperforming its budget price point once again. With a heavily overclocked processor running temperature in the order of 90C, the AS500 Plus is clearly offering a superb balance between noise and cooling performance that even takes it toe-to-toe with 240mm AIO liquid coolers. Once again, this is largely thanks to the preferential base and heatpipe design for use with Ryzen, but DeepCool still deserves credit for delivering great numbers.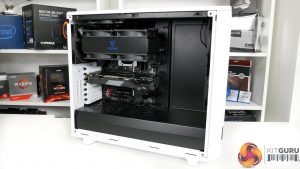 The 240mm AIO coolers and IceGiant ProSiphon Elite all perform very similarly with real temperature levels running at 90C or just above. While it is expensive, I have to give IceGiant a fair deal of credit here. The ProSiphon Elite is matching 240mm liquid coolers even when its particularly dense fin array is hampered by reduced fan speeds. Plus, I also think it's reasonable to re-emphasise that this thermosiphon cooler is designed for significantly higher heat loads than the sub-250W figure that we are throwing at it.
Noctua's NH-D15 was towards the lower of the pack with its fans reduced in speed. It does, however, manage to comfortably outperform the Cooler Master MA624 Stealth with its similar dual tower heatsink and heatpipe orientation design.
The MA624 has excellent low-noise fans to thank for its ability to complete this test. With minimal reduction in fan speed required to hit the 40dBA target, Cooler Master's performance barely flinches and therefore still manages to come in just around the 100C level.
Arctic's Freezer 50 requires too high a fan speed reduction in this test meaning that maintaining 100C or below was not achievable.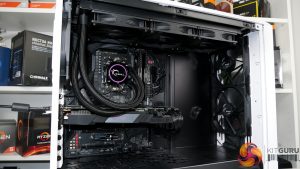 So once again, we see the thermal capacitance and ability to manage the high heat concentration of the Ryzen chip as notable factors for AIOs in our 40dBA test.
360mm AIO still rules this chart and Cougar's budget 240mm AIO also deserves a shout-out. But preferential heatpipe orientation delivers the goods for DeepCool. And IceGiant still puts in a solid showing despite being hampered by low fan speeds and a thermal load that is less than ideal for its thermosiphon technology.