There we have it – some interesting results from a varied batch of CPU coolers tested with the tough Ryzen 9 5950X thermal load. Clearly, the thermal concentration applied by the 16-core chip's dual Zen 3 CCXs pumping out localised heat is a significant factor when it comes to CPU cooler performance.
AIOs look to be optimised well for dealing with this task. While air coolers can also put in solid showings if they are of the type that works optimally with AMD's chiplet layout.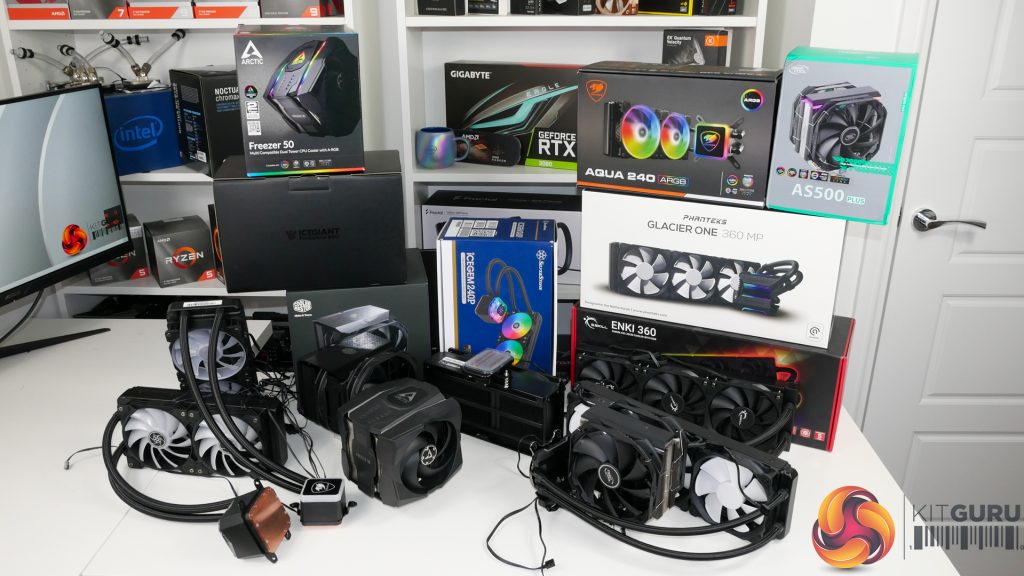 We were particularly impressed by the DeepCool AS500 Plus. Its U-type heatpipe design that traverses the AMD chip in a preferential direction proved effective for delivering strong all-out performance and excellent 40dBA results. Plus, the cooler was easy to work with, gives plenty of RAM clearance, and ships at a reasonable £65.
The Cougar Aqua 240 ARGB also deserves mention as the budget-orientated unit performed well in our testing. Yes, a significant chunk of this model's price tag is spent on flash RGB lighting. But there is good performance to boot, so perhaps that will appeal to many.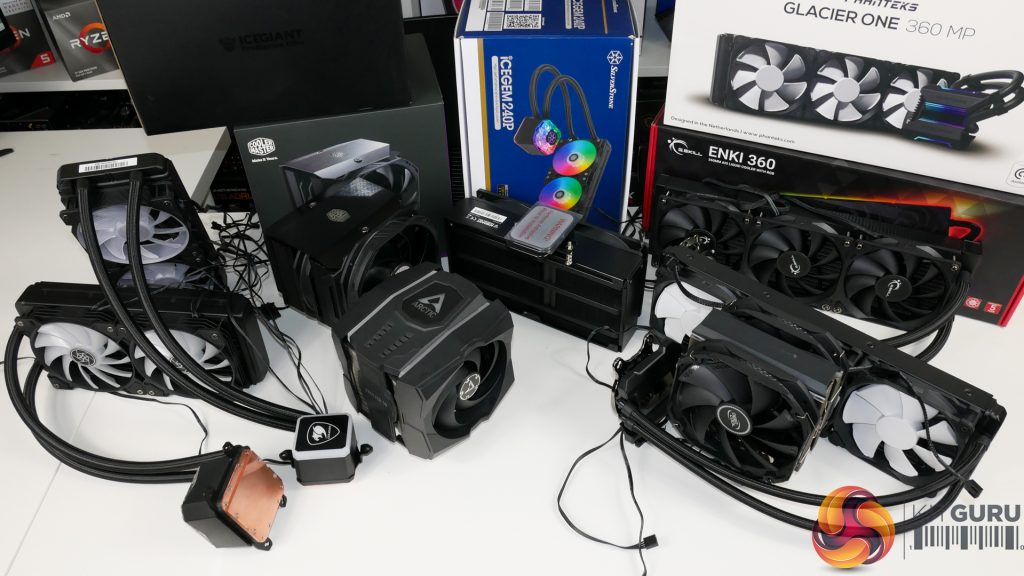 Of course, the 360mm AIOs proved to be the big hitters, and the Asetek-design Phanteks Glacier One 360 MP was particularly good. £155 is certainly not cheap for an AIO cooler. But the unit does ooze quality and the performance numbers perhaps backed up the price tag.
The IceGiant ProSiphon also deserves mention for battling against the AIO liquid coolers whilst maintaining the benefits of air cooling. Of course, the caveat is the high price tag of IceGiant's cooler. But this 10-year warranty backed unit's thermosiphon technology is better suited for larger heat loads from bigger chips such as Threadripper. Let us know if you want to see some content based around that.
DeepCool AS500 Plus
The DeepCool AS500 Plus is available for £64.99 from Amazon HERE.
Arctic Freezer 50
The Arctic Freezer 50 is available for £59.99 from Scan HERE.
Cooler Master MasterAir MA624 Stealth
The Cooler Master MasterAir MA624 Stealth is not yet available at the time of writing but has a £99.99 MSRP.
IceGiant ProSiphon Elite
The IceGiant ProSiphon Elite is available for £169.99 from Overclockers UK HERE.
Cougar Aqua 240 ARGB
The Cougar Aqua 240 ARGB is available for around £100 from Amazon HERE.
Silverstone IceGem 240P
The Silverstone IceGem 240P is available for £130.69 from Amazon HERE.
G.SKILL Enki 360 AIO
The G.SKILL Enki 360 AIO is not yet available at the time of writing but has a $179.99 MSRP.
Phanteks Glacier One 360MP
The Phanteks Glacier One 360MP is available for £139.99 (discounted from £154.99) from Overclockers UK HERE.
KitGuru says: We see interesting results when throwing these coolers at the demanding AMD Ryzen 9 5950X workload. Which CPU cooler would best suit your needs? Let us know in the comment section.