Having assessed the coolers at full fan speed, we see clear separation between the AIO cooler performance with their high-speed, loud fans and the competing lower-speed fan air coolers. As such, we have a look at some test results with the noise levels locked to 40dBA on each CPU cooler.
This noise-normalised test is perhaps a little unfair towards AIO liquid coolers and air CPU coolers with dense fin arrays. Those designs need high pressure fans to penetrate the dense arrays and this usually comes in the form of high-speed and loud fans.
With that said, noise is noise when it comes to user tolerance, so the way in which a cooler is designed and optimised is not necessarily a concern to a user simply wanting low-noise, 40dBA-type operation.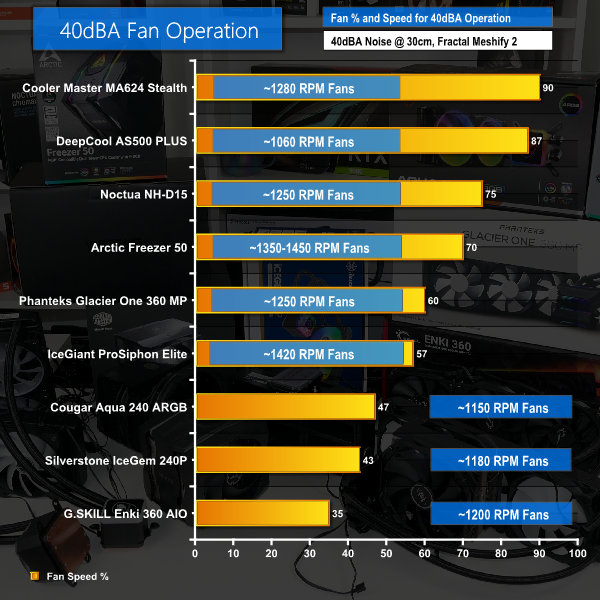 Clearly, the AIO coolers with their high-speed fans typically have to sacrifice more of their fan speed to hit the 40dBA noise target. The IceGiant ProSiphon Elite also falls into this category with its four high-speed fans designed to penetrate the thick and dense fin array.
Higher fan speed percentage does means you sacrifice less performance to hit 40dBA. Whereas low fan speed percentage in our chart means you have higher headroom to ramp up the fans when required.
Which result is best is down to individual preference on whether you want headroom cooling availability or generally the most out of the cooling power that you paid for.