Let's start off with noise performance from each cooler at 100% fan speed.
This is important as it sets the precedence for which coolers we expect to deliver the higher levels of performance based on the faster and louder fans. Assuming that their performance is efficient in comparison to their noise output levels, that is.
The chassis fans are disabled, all case panels are on, and the sound meter is placed 12 inches from the side of the Fractal chassis' glass side panel – roughly where a desk user will be sat.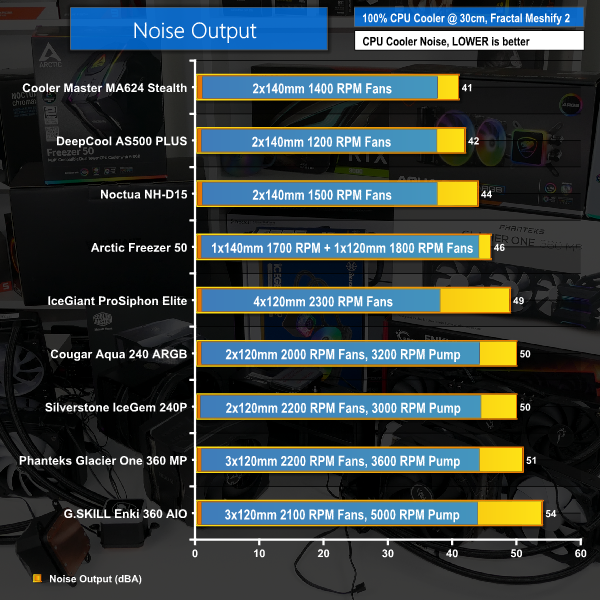 Unsurprisingly, the air coolers tend to dominate the 100% fan speed noise chart thanks to their ability to run with lower speed fans.
The DeepCool and Cooler Master units fair particularly well, thanks in large to both coolers opting for modest speed 140mm fans. Noctua also falls into that category.
As we see the fan speed ramp up for the Arctic and IceGiant air coolers, we see a corresponding uptick in noise levels. With that said, the high-quality design of the four 2300 RPM fans of the IceGiant allow it to still outperform the AIO liquid coolers in terms of full speed noise. Perhaps the lack of a high RPM pump unit is helping here.
G.SKILL takes the place as the loudest cooler in this test. Realistically though, the 50dBA and above AIOs are loud to the point where you would certainly want to tune the fan speed away from 100% for general operation.
With the highest noise levels at 100% fan speed, there is an expectation from us for the corresponding thermal performance to deliver accordingly.