We highlight VRM temperatures when using each cooler on our Gigabyte B550 Aorus Master motherboard with the overclocked Ryzen 9 5950X. Do note that the results are heavily influenced by the specific layout of the Gigabyte B550 Aorus Master test motherboard with respect to top-side or rear IO-side VRM components. So your findings may vary if you have a different motherboard VRM layout and heatsink design.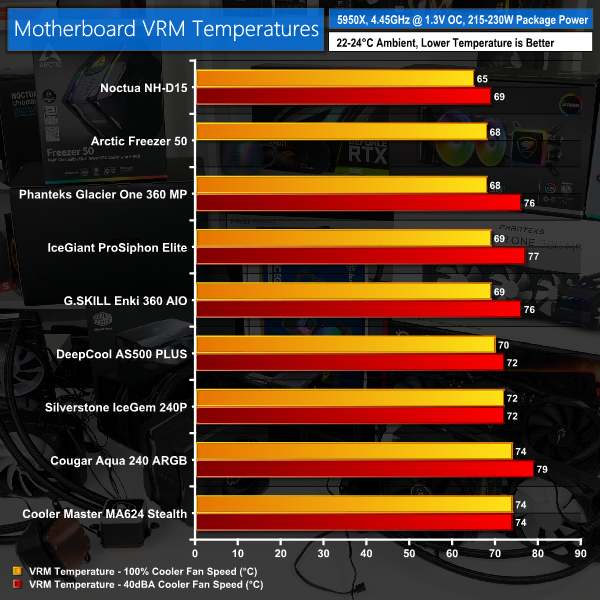 Noctua's NH-D15 performs particularly well here by keeping the VRM MOS sensor below 70°C in our overclocked testing even when reduced to 40dBA fan speed.
VRM cooling performance from the AIOs varies as it is heavily influenced by the precise roof mounting position for the 240mm units. The larger 360mm units spread across more of the chassis and therefore shift more air in the vicinity of our motherboard VRM heatsink.
Particularly when looking at the 40dBA testing, this is where the air coolers shine versus their AIO competitors. The air coolers manage to keep VRM temperatures in the order of low-70s (though Noctua beats that). While the roof-mounted AIOs generally hit mid-to-high 70s.