Let's start off with noise performance from each cooler at 100% fan speed.
This is important as it sets the precedence for which coolers we expect to deliver the higher levels of performance based on the faster and louder fans. Assuming that their performance is efficient in comparison to their noise output levels, that is.
The chassis fans are disabled, all case panels are on, and the sound meter is placed 12 inches from the side of the Fractal chassis' glass side panel – roughly where a desk user will be sat.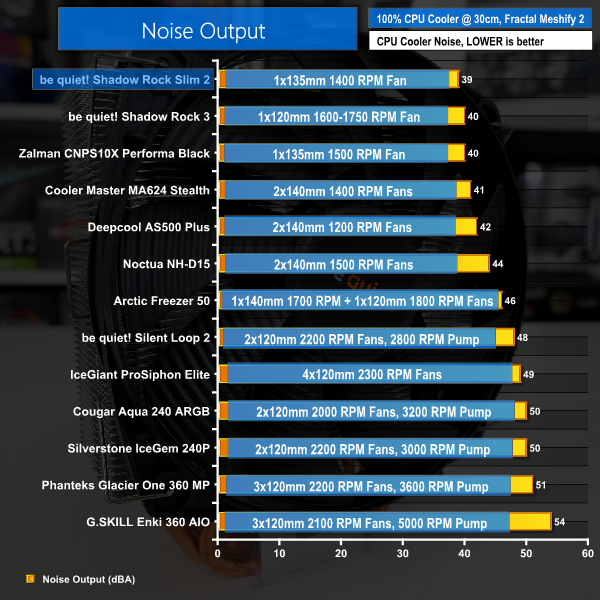 Rounding up to 39dBA at our usual 12-inch test distance from the Fractal chassis, be quiet!'s noise performance from the Shadow Rock Slim 2 is outstanding. In fact, this is the quietest CPU cooler that we have tested to date.
The decision to use a single 135mm fan that runs at a modest 1400 RPM and roughly translates into Silent Wings 3 type specs has been vindicated from a noise perspective.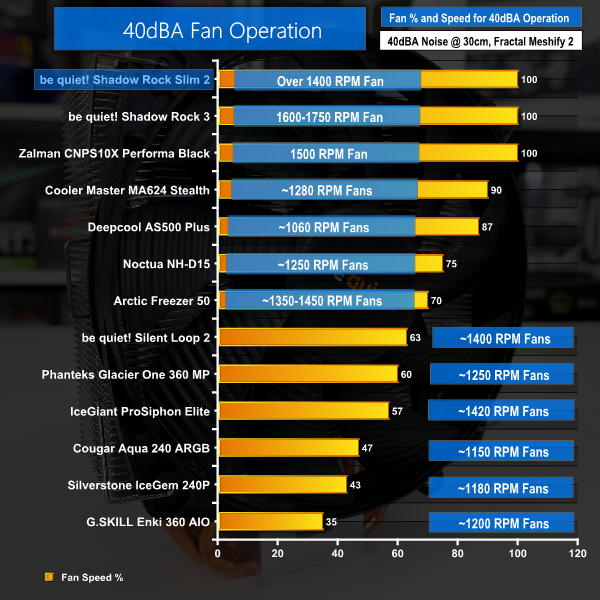 When looking at 40dBA fixed noise output testing, we cannot actually run the Shadow Rock Slim 2 cooler's fan at a high enough speed to hit 40dBA. It would likely take another 100-200 RPM to hit that noise level.
As such, the performance that we register from be quiet!'s new cooler must be viewed through the lens of such excellent acoustic results.