We measured the noise output of our entire system from a distance of 1m while the CPU cooler's fan operated at 100%. This allowed us to record the maximum possible volume of the CPU cooler.
Lower noise levels can be achieved by utilising the included 4-pin low-noise PWM cable included in the box.
KitGuru noise guide:
10dBA – Normal Breathing/Rustling Leaves
20-25dBA – Whisper
30dBA – High Quality Computer fan
40dBA – A Bubbling Brook, or a Refridgerator
50dBA – Normal Conversation
60dBA – Laughter
70dBA – Vacuum Cleaner or Hairdryer
80dBA – City Traffic or a Garbage Disposal
90dBA – Motorcycle or Lawnmower
100dBA – MP3 player at maximum output
110dBA – Orchestra
120dBA – Front row rock concert/Jet Engine
130dBA – Threshold of Pain
140dBA – Military Jet takeoff/Gunshot (close range)
160dBA – Instant Perforation of eardrum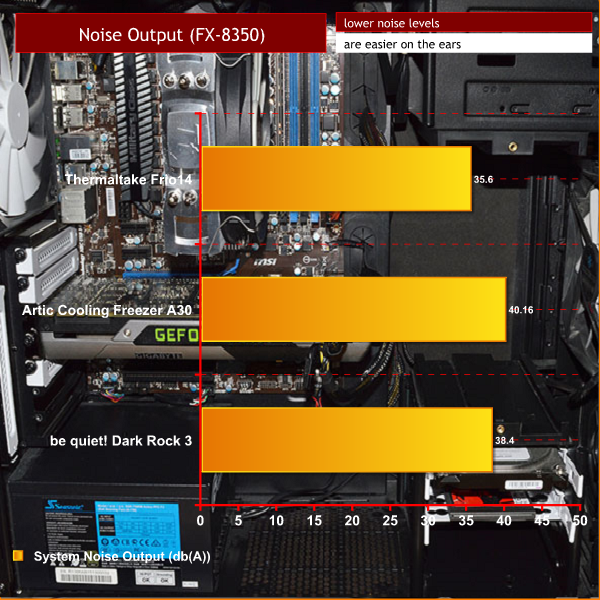 These results show that the Frio14 is seriously quiet, the entire system hit a max noise level of 35.6 dBA, once again beating out the more expensive Dark Rock 3. The fan maxes out at 1200 RPM but still manages to maintain comfortable temperatures.