Overall, it's hard to say whether the MA410M is the best cooler for your new or existing build. Performance is fine, just not headline-making, and the benefits of lower audible noise can't be overlooked.
Performance in our testing shows it is comparable to the MA410P, but is typically a couple of degrees warmer – which could be the equivalent to purchasing more expensive thermal compound.
The overall look and aesthetic of the cooler, however, is great. The passing of colour over the fans and body of the cooler is seamless and looks appealing. Although the controller is limited in terms of functionality, the potential for setting up more complex colour combinations or effects is available through software if you have access to an Addressable RGB header on your motherboard.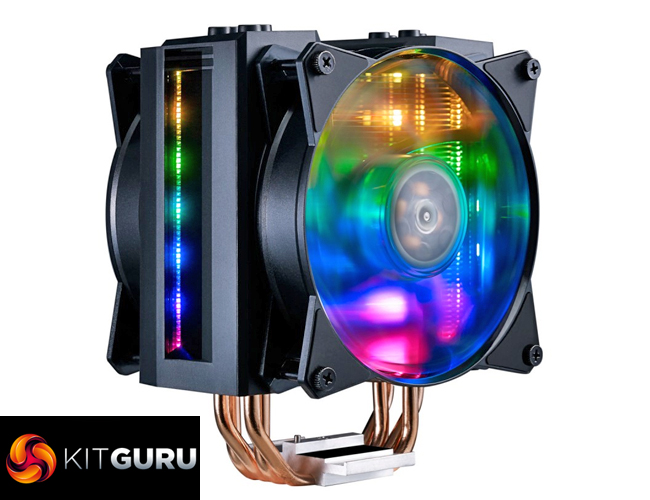 This does highlight however, that although not specifically tuned to performance, the MA410M is aimed at a more aesthetic conscious audience. If you are looking to avoid multiple points of failure with an AIO liquid cooler, and would prefer your air cooler to match your system's RGB aesthetic, then the MA410M is a really good option.
If you are chasing the lowest temperature possible, this cooler is likely not for you and at £59.99 there are a number of different options which will suit the bill.

The MA410M is currently available on pre-order from Overclockers UK for £59.99 inc. VAT HERE.
Pros
Looks good, and Addressable RGB LEDs have you set for the future.
Quiet in operation compared to other air coolers.
Compatible with non-addressable RGB header motherboards.
Cons
Doesn't perform as well as a single fan cooler.
The mounting mechanism could definitely be improved.
It's hard to justify the £59.99 price point from a performance perspective.
KitGuru says: If you want a cooler to match your Addressable RGB system, the Cooler Master MasterAir MA410M is certainly a viable option. Its grip on temperatures is adequate, however the main benefits lie with its great looking shroud, and heavily RGB LED'd build.