Advanced Micro Devices plans to release another FX-series desktop microprocessor that will come bundled with closed-loop liquid cooling system, the firm said this week. The company did not unveil any details about the upcoming chip, but demonstrated its packaging and said that it will be available soon.
Roy Taylor, vice president of global channel sales at AMD, on Friday published a photo of an FX processor packaging on Twitter saying that "something new is coming." The box, which says it contains an "FX-series processor with liquid cooling technology," is vastly different from packages of currently available AMD FX products.
Since the package says "processor," then it is highly-likely that AMD plans to release [at least] another high-performance multi-core chip without integrated graphics designed specifically for enthusiasts (update: confirmed by a source close to AMD). If AMD planned to release a high-end Kaveri-based FX-series offering, it would call the product an "accelerated processing unit." As there are no "Steamroller" micro-architecture-based multi-core CPUs for servers/high-end desktops scheduled to arrive in mid-2014 anywhere in AMD's roadmaps, it is highly likely that the company plans to further increase frequencies of the existing Vishera design that features the Piledriver micro-architecture x86 cores.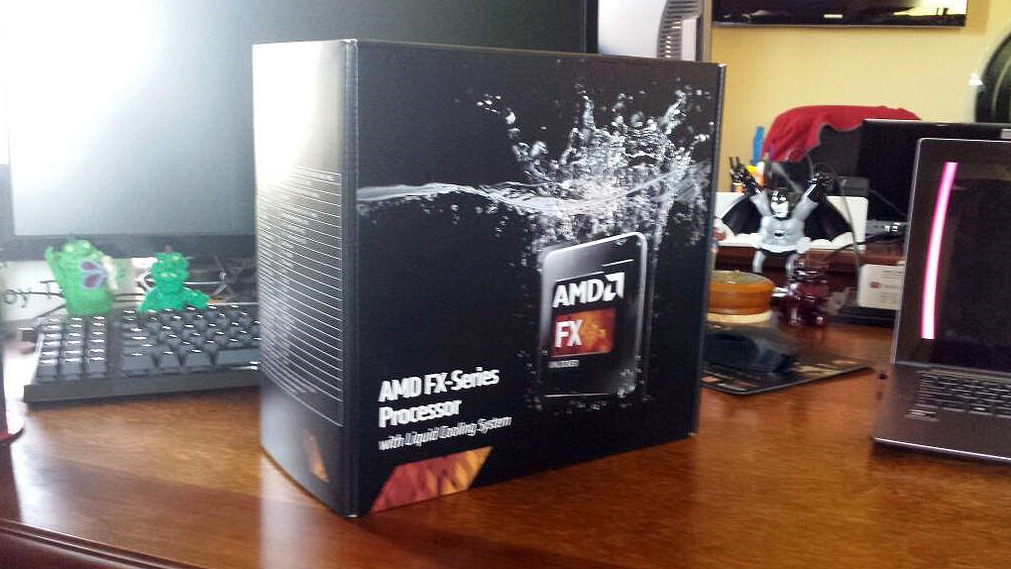 In a bid to respond to the launch of the code-named Haswell microprocessors last year, AMD introduced two "extreme" FX-series products: the FX-9370 (eight cores, 4.40/4.70GHz, 8MB L2 cache, 8MB L3 cache, 200W thermal design power) and the FX-9590 (eight cores, 4.70/5.0GHz, 8MB L2 cache, 8MB L3 cache, 220W thermal design power). The chips require high-end AM3+ platforms and sophisticated cooling solutions. While in many cases such central processing units offer pretty high-performance compared to Intel's Core i7-4770K or Core i5-4670K processors, in general they are behind their rivals. Learn more in KitGuru's review of AMD's FX-9590 CPU.
It looks like (at least, based on the current information) AMD decided to release a microprocessor that will be a respond to Intel's code-named "Devil's Canyon" chips. AMD yet has to release actual specifications of the novelty, but if the company actually plans to speed-up the Vishera design one more time, then it looks like we are probably going to see an eight-core chip with default clock-speed of 5GHz or higher.
Discuss on our Facebook page, HERE.
KitGuru Says: It is very nice to see that AMD wants to compete for the high-end market. Unfortunately, we have no idea whether the company's new FX chip will actually be competitive against Intel's Core i7-4790K processor with 4GHz default clock-rate.