Intel's Haswell-based processors are stellar performers on a clock-for-clock basis, but their overclocking performance typically leaves enthusiasts and gamers crying out for more. Gone are the days of the i5 and i7 LGA 115X parts hitting 4.8GHz without problems, or even a hassle-free 5GHz if we specifically reference Sandy Bridge.
Intel aims to change all of that with a refresh to the K-series Haswell chips. Codenamed Devil's Canyon, the new i5 and i7 K-series parts bring about under-the-hood tweaks to satisfy the overclocking audience. And if the hassle of trying to squeeze every last MHz out of a processor just isn't for you, the flagship Core i7 4790K ships with an out-of-the-box base clock of 4GHz, with turbo speeds of up to 4.4GHz. That's fast in anybody's language.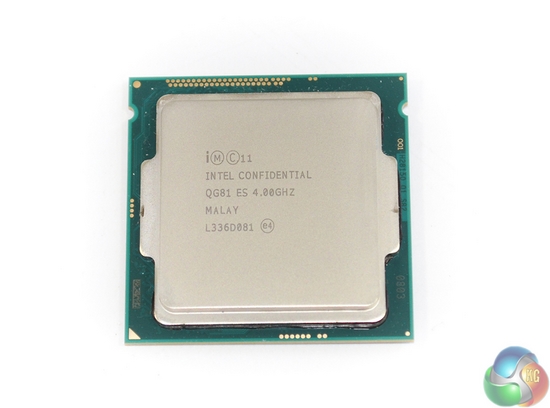 As far as micro-architecture goes, there's nothing different about the pair of Devil's Canyon parts in comparison to their Haswell predecessors. Both the i5 and i7 chips still feature the same Haswell micro-architecture engineered onto the silicon via a 22nm processing node. And there has been no change to core counts, either.
The biggest difference comes from clock speed. Focusing specifically on the flagship Core i7 4790K part, Intel has taken the initiative and shipped the chip with an out-of-the-box base speed of 4GHz, with turbo multipliers reaching up to 4.4GHz under certain load scenarios. 'How?', you ask. Updated thermal interface material (TIM) and some tweaked electronics engineering.
But more on those later.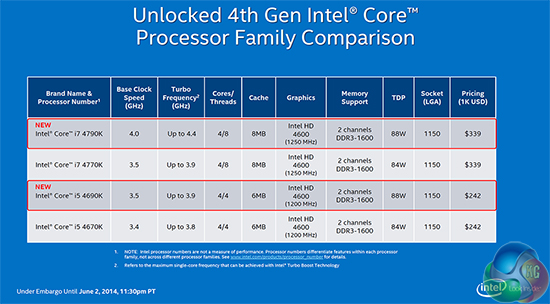 Perhaps of greatest importance is the fact that Devil's Canyon parts have replaced the Haswell 4670K and 4770K without any form of price bump. Tray price remains firm at $339 for the i7 and $242 for the i5. Current retail pricing looks identical to Haswell's 'K' chips, with the 4790K commanding around £260-270 and the 4690K selling for under £190.
Clearly Intel is aiming to once again take command of the enthusiast market by giving overclockers and gamers a tweaking-friendly chip that they so desire. Without further ado, let's take a look at whether the Devil's Canyon 4790K can fly the flag for the series and prove that Intel does indeed cater for mid-range users enthusiastic about overclocking.
Features (Core i7 4790K):
4.00GHz base frequency (up to 4.40GHz turbo frequency).
Unlocked core ratio multiplier.
4 cores, 8 threads.
8MB Intel Smart Cache.
Dual-channel DDR3 1600MHz native memory support.
16 PCIe 3.0 lanes.
Intel HD 4600 GPU.
88W TDP.
LGA 1150 socket.