Performance-wise, we expect the Core i7 4790K to act exactly as a speed-bumped 4770K would. After all, architectural changes have not been implemented on the new processors.
The big difference is that Intel is claiming that the Devil's Canyon parts should be able to operate at noticeably lower temperature levels than the constrained Haswell predecessors.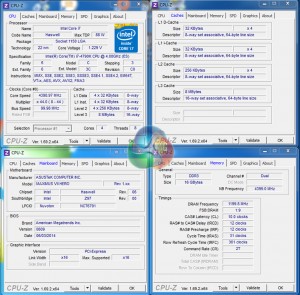 When XMP is enabled, many LGA 1150 motherboards apply multi-core turbo (MCT) which forces a processor to continuously operate at its maximum turbo level on all cores. This will be displayed as the 'stock' setting.
While this is perhaps not the most accurate representation of 'stock' performance for a processor, people buying this kind of chip are likely to be using high-speed XMP memory kits. By that logic, testing with MCT enabled is arguably more representative of real-world performance.
We will be outlining the 4790K Devil's Canyon processor's performance to that of its predecessor – the Haswell Core i7 4770K CPU. Both chips will be compared at stock and maximum overclock speeds. Small portions of data for the 4770K are plucked from our review of the Asus Sabertooth Z97 Mark 1 – a Z97 motherboard that is almost identical to the Maximus VII Hero in terms of performance. The results are directly comparable.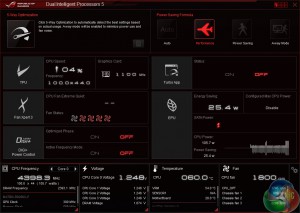 CPU-Z tends to only read the BIOS-set voltage and doesn't take load-line calibration effects into account. As such, we relied on the monitoring tool found as part of Asus' AI Suite software.
The Maximus VII Hero sent the 4790K around 1.23V at the MCT settings. Load voltage peaked at 1.248V. A different voltage level more in line with Intel's reference specification will be set if MCT is disabled.
LGA 1150 Test System: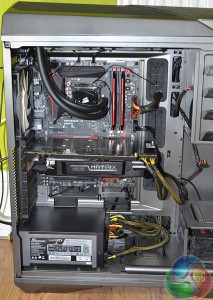 Compared Processor:
Intel Core i7 4790K 'Devil's Canyon' (Engineering Sample) @ 4.4GHz (stock MCT) & 4.6GHz (

1.250V BIOS

– maximum 24/7 stable OC)
Intel Core i7 4770K 'Haswell' (Retail) @ 3.9GHz (stock MCT) & 4.5GHz (

1.325V BIOS

– typical maximum 24/7 stable OC)
Software:
Asus Maximus VII Hero BIOS 0609 (latest).
Catalyst 14.4 VGA drivers.
Intel 10.0 chipset drivers.
Tests:

Super Pi – 32M test (CPU)
Cinebench R15 – All-core CPU benchmark (CPU)
HandBrake 0.9.9 – Convert 4.36GB 720P MKV to MP4 (CPU)
SiSoft Sandra 2014 SP2 – Processor arithmetic, cryptography, memory bandwidth (CPU & Memory)
3DMark 1.3.708 – Fire Strike (System)
PCMark 8 v2.0.288 – Home (System)
WinRAR 5.10 – Built-in benchmark (System)
Bioshock Infinite – 1920 x 1080, ultra quality (Gaming)
Metro: Last Light – 1920 x 1080, high quality (Gaming)
Tomb Raider – 1920 x 1080, ultimate quality (Gaming)