The engineering sample we have at hand is Devil's Canyon's flagship part – the four-core, eight-thread Core i7 4790K. Haswell's 4770K has been replaced by the 4790K, which actually sells at an identical price to its predecessor.
Starting with the biggest news of all, Intel clocks the 4790K at a hefty 4GHz out-of-the-box, on all four cores. And if that wasn't high enough, turbo boost can take individual cores up to a maximum of 4.4GHz, under the correct workloads.

Let's put this into perspective; coupled with a motherboard that supports multi-core turbo (MCT), out-of-the-box operating frequencies for the 4790K are as high as the maximum overclock that many 4770K processors could reach. That's impressive, provided stability is also present.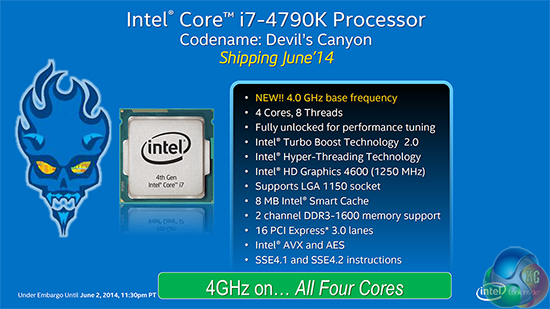 We still see the same features offered by the Haswell Core i7 4770K; Intel's HD 4600 GPU is clocked at 1250MHz, native support for 1600MHz DDR3 memory is present, 16 PCIe 3.0 lanes are still fed directly from the CPU, and the chip slots into an LGA 1150 socket (making it compatible with 9-series and selected 8-series motherboards).
Put simply, the 4790K is a Core i7 4770K with higher out-of-the-box operating frequencies and optimised (hopefully) overclocking and thermal performance. To be quite honest, that seems to be exactly what enthusiasts want. There's very little reason to complain about the Haswell micro-architecture – it's fast and efficient.
As already pointed out, Haswell was given a hard time amongst the enthusiast crowd, and on many levels, it was deserved. Variations in overclocking performance from chip-to-chip were some of the largest that we have seen in recent generations, and even if you won the silicon lottery, the chances of finding a 4.8GHz+ 4770K were uncharacteristically low.
Many retail processors simply would not push past 4.5GHz, and that's a problem to users looking to upgrade their 2-3-year old Sandy Bridge system that runs smoothly at 4.8GHz+. Better overclocking performance was one of the ways for Intel to re-light enthusiasts' interest in the company's current mainstream offerings.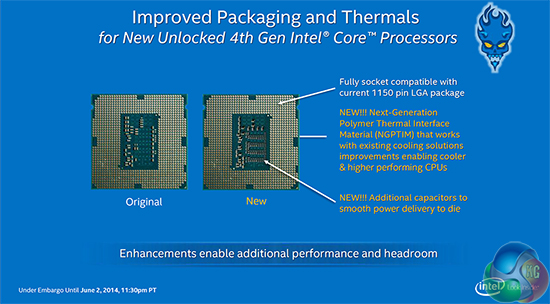 Devil's Canyon is all about improving overclocking performance so that enthusiasts can once again feel loved by Intel. The company has used two main methods to increase Devil's Canyon's overclocking potential in comparison to Haswell.
Improvement number one is optimising thermal transfer from the processor to a CPU cooler. Recent CPU generations have seen Intel switch to an interface between the processor die and heatspreader which is basically a layer of thermal paste. Temperatures suffered considerably in comparison to previous designs that saw the use of a heatspreader soldered directly onto the processor.
Being termed 'Next-Generation Polymer Thermal Interface Material (NGPTIM)' by Intel, the poorly performing TIM used on Haswell parts seems to have been upgraded (hopefully). Temperature thresholds certainly were a limiting factor to many Haswell processors when pushing for maximum frequency, so hurdle number one has been addressed.
The other main improvement is more of a fine-tuned one. Intel's other way of aiming to improve overclocking performance for Devil's Canyon comes in the form of a tweaked circuit layout.
Aiming to counteract the anomalous overclocking lottery that Haswell was prone to, Intel has equipped Devil's Canyon chips with additional capacitors in an attempt to deliver smoother power to the processor's die.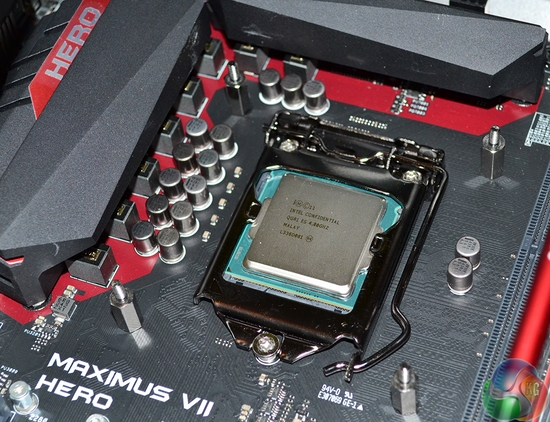 There should be no problems using the 4790K in newly-released motherboards based on Intel 9-series chipset, such as Asus' Maximus VII Hero. Being an LGA 1150 part, Devil's Canyon CPUs should also work fine on 8-series based motherboards, although relevant BIOS updates are at the discretion of motherboard vendors.
Intel noted that Devil's Canyon's 88W TDP (4W higher than Haswell K-series chips) could cause issues with 8-series motherboards, although that seems highly unlikely (as we will prove later in the review).