Z87 Compatibility
A number of burning questions and scare-stories have arisen as rumours and information surrounding Devil's Canyon have grown. One of the biggest points of confusion was compatibility with Z87-based motherboards. Supposedly Devil's Canyon was only compatible with 9-series boards.
We pulled out an MSI Z87-G43 Gaming motherboard and updated to the latest BIOS to prove that Devil's Canyon processors are indeed compatible with the Z87 chipset, provided the motherboard vendor releases a relevant BIOS update.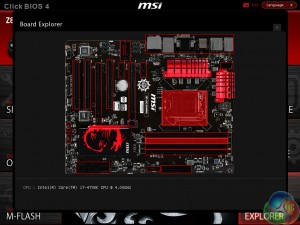 After updating to the latest BIOS we simply inserted the Devil's Canyon chip and booted the system. Devil's Canyon does indeed work with Z87.
Devil's Canyon vs Haswell: A direct comparison

To examine the benefit of the NGPTIM used by Intel, we set our Haswell 4770K and the 4790K to identical frequency and voltage settings and compared their temperature levels. Minor differences could be related to chip-to-chip variations, but substantial temperature differentials will be as a result of the improved TIM.
The configuration that we chose consisted of: 1.30V VCore (peaked at 1.328V under load), 1.275V Cache voltage, 1.90V Input voltage, and 'auto' load-line calibration. XMP was enabled, as was PLL overvoltage, and the cache ratio was maintained at 44x for both chips.
We opted for a CPU frequency of 4.5GHz as we know that this is the highest our 4770K will clock to.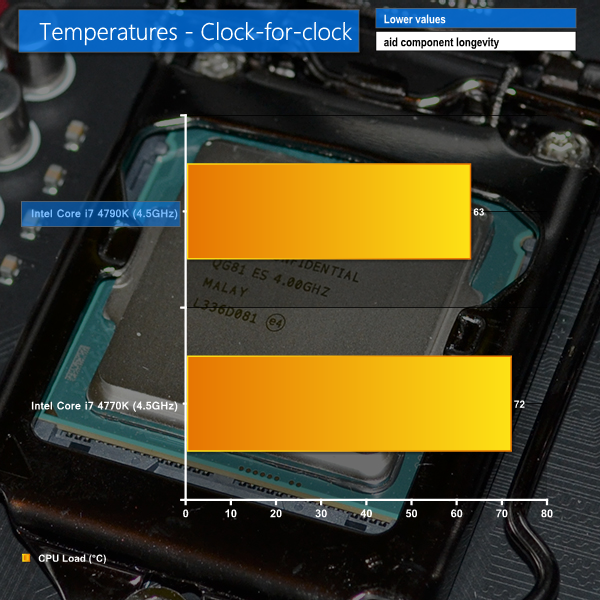 Intel's NGPTIM is able decrease temperatures by a considerable amount. Even taking chip-to-chip thermal variations out of the equation, it is clear that the new TIM is a big improvement over that used on Haswell.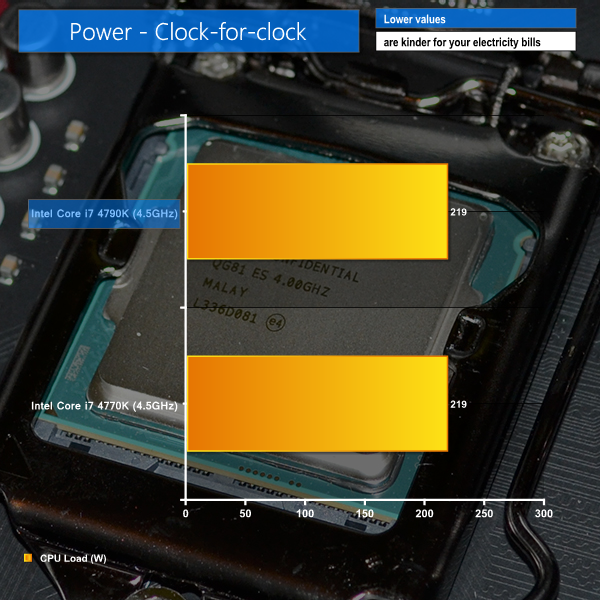 Irrelevant of the added power-smoothing capacitors used on Devil's Canyon, power consumption numbers remain identical to those shown by the underlying Haswell micro-architecture.
Devil's Canyon is a cooler Haswell
And just to prove that Devil's Canyon is indeed a Haswell chip with tweaked power delivery and a better thermal interface, we set both chips to 4.4GHz and compared benchmark results.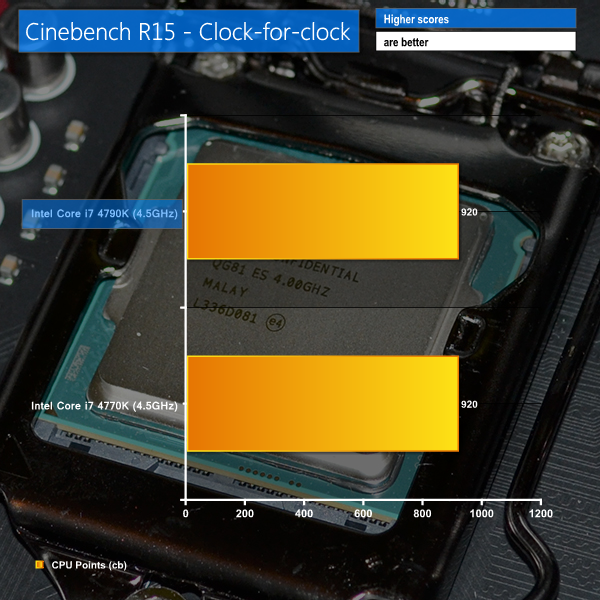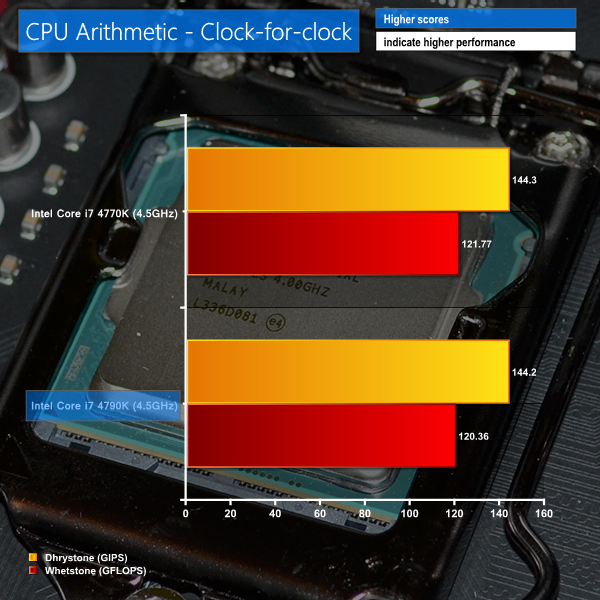 Devil's Canyon's additional power-delivery capacitors and NGPTIM may boost its overclocking potential, but the same Haswell micro-architecture exists under-the-hood, making DC almost identical to Haswell on a clock-for-clock basis.