Just a couple of weeks ago, we brought you the news that Intel may be on the brink of introducing another Core i9 processor to its 10th generation Comet Lake-S desktop CPU line-up and potentially offering consumers with a cheaper path towards 10 cores of Intel grunt. The availability and cost of that CPU may have just been revealed.
We are still unsure whether Intel will release the Core i9-10850K CPU to retail consumers, the news coming from @momomo_us this week doesn't make that any clearer, in fact, it may be looking more likely that the slimmed-down Core i9 could be heading to OEM system builders only since the processor has been revealed as an option in a system configurator at the U.S OEM Digital Storm.
The Core i9-10850K wasn't part of the new product stack at launch, we only found out about the CPU later through a series of leaked Geekbench 5 submissions. With this more official listing of the 10850K from Digital Storm, it almost certainly means that the CPU will be heading to either the consumer or OEM market sooner rather than later.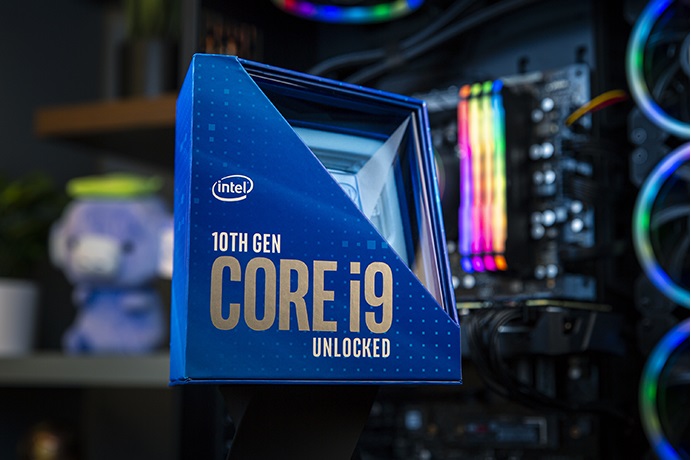 According to the initial Geekbench 5 submissions, the Intel Core i9-10850K is a full fat 10-core 20-thread CPU just like the i9-10900K, but with a mild reduction in frequency, with base and boost core speeds of 3.6 GHz and 5.2 GHz respectively, placing it just 100 MHz below the base frequency of the 10900K and with the same boost frequency. However, there is no Thermal Velocity Boost feature with the 10805K.
After doing some math and logical thinking, we expect the New Core i9-10850K to be priced somewhere between the current Core i9-10900 and 10900K SKUs. Assuming that the i9-10850K does, in fact, end up in the hands of retail customers and not just with OEMs, we could see it hit the shelves with a price tag of around £490-£500, making it roughly £30-£50 cheaper than current retail prices of the Core i9-10900K.
Discuss on our Facebook page HERE.
KitGuru says: What do you guys think about the rumoured Intel Core i9-10850K? do you think it will be available to retail consumers or solely produced for OEM system builders?