There is little doubt that the two components most integral to a gaming system are its GPU and CPU. In an ideal world, everybody would be able to opt for the fastest of both and worry not about having to optimise game settings in search of smooth frame rates. But in reality, striking a balance between GPU and CPU performance can be a tricky task, especially when the pair draw from the same cash pool.
It is no secret that Intel's latest Core i7 processors generally rule the roost when it comes to gaming performance on the CPU side. But they also demand a significant price premium over the lower-performance Intel and AMD chips that are commonly referred to as 'good enough' for gaming requirements. It may be smarter to invest that £100+ section of budget into a faster graphics card rather than a flagship, Core i7-level CPU. And that's where today's ~£150 processors hit the limelight.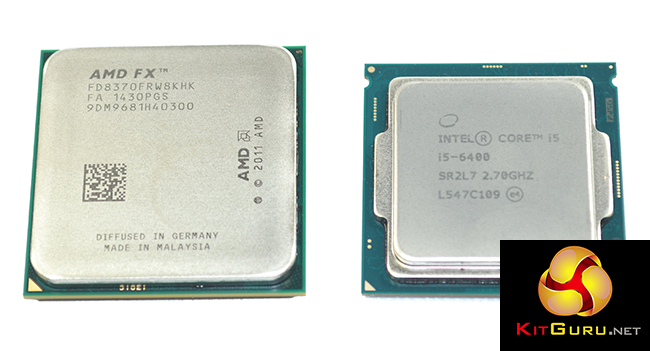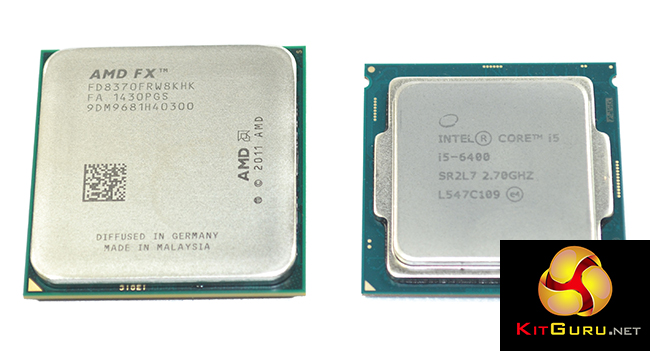 Looking at the ~£150 CPU market reveals somewhat of a sweet-spot for gaming buyers. From AMD you get access to one of the higher-clocked FX-8xxx series 8-core 'Vishera' CPUs. And at this price point, Intel gives desktop users the first taste of a true quad-core 'Skylake' chip in the Core i5-6400.
Honing in on Intel's Core i5-6400 and AMD's FX 8370 CPU, which has been given a fresh lease of life thanks to an upgraded bundled CPU cooler known as 'Wraith', it is clear to see the different competition approaches taken by each manufacturer at this point in the platforms' life-cycles.
AMD opts for a large number of cores operating at an equally high frequency, albeit with sharing of certain under-the-hood resources, to overcome the shackles attached by an aging architecture and transistor process node. Conversely, Intel is counting on greater Instructions Per Cycle (IPC) brought about by its newer CPU architecture to offset the i5-6400's low operating frequency on the chip's four non-Hyper-Threading cores.
But as the saying goes, "there is more than one way to skin a cat". The same logic holds true for pushing pixels in modern gaming titles. Let's head over to the next few pages for a more in-depth CPU and platform comparison.
Processor Specifications:
CPU

AMD FX 8370 'Vishera'

Intel Core i5-6400 'Skylake'

Base Speed

4.0GHz

2.7GHz

Max Turbo Speed

4.3GHz

3.3GHz
Overclocking Support
Multiplier and Bus Speed adjustment
Potential BCLK adjustment
(using unofficial BIOS)
CPU Cores & Threads

8 Cores (8 Threads)

4 Cores (4 Threads)

Cache
8MB L3 + 4x2MB L2
6MB L3 + 4x256KB L2
Process (nm)
32
14
Memory Support

DDR3-1866MHz

DDR4-2133MHz / DDR3L-1600MHz

Integrated GPU
Depends on motherboard chipset
Intel HD 530 @ up to 950MHz
(disabled with Non-K OCing BIOS)
CPU Socket

AM3+

LGA1151

TDP (W)

125W

65W

Current Pricing

~£155

~£155