Intel's new 12th Gen Alder Lake processors and Z690 platform usher in a raft of new technologies. One of those key updates is a new memory technology to the desktop audience for the first time since 2014; enter DDR5!
Watch via our Vimeo Channel (Below) or over on YouTube at 2160p HERE
Timestamps:
00:00 Start
01:06 DDR5 details
02:52 Frequencies and timings
04:10 Power management / voltages
04:46 Intel XMP 3.0 / Notch position
05:31 Quite a few changes
05:51 Test setup
06:55 Corsair Dominator Platinum RGB DDR5
08:27 Test boards
09:15 Comparison test kits
10:51 Technical details
11:45 Test Results
14:06 Gaming Test Results
15:24 Luke discusses the results
16:50 It's a decent launch
17:14 Closing thoughts
With promised boosts in frequency versus DDR4, higher density modules enabling greater capacities, and reduced power consumption – DDR5 looks like a stellar improvement. But with 12th Gen Alder Lake chips supporting both DDR4 and DDR5 – motherboard dependent – we have an excellent opportunity to compare like for like on consistent platforms.
Just how good is a brand-new premium set of DDR5 like this Corsair Dominator Platinum RGB kit? How does it fair against a variety of DDR4 offerings? And is it worth the sizeable price jump to around £280-300+ for 32GB DDR5 kits versus often £160-230ish for a solid spec 32GB kit of DDR4?
DDR5 has several notable improvements versus DDR4 – namely frequency, as we would expect. Let's focus on some of the new DDR5 changes that we enthusiasts care about.
Nominal early DDR4 back in 2014 was typically in the order of 2400MHz, 2666MHz, or perhaps as high as 3200MHz if you were really fancy. Of course, today's DDR4 kits are often well over 4GHz via overclocking.
DDR5 boosts nominal frequencies to 4800MHz as a starting point. And many premium kits will ship at 5200MHz – or higher – from Day 1, including this Corsair Dominator Platinum RGB that we have at hand.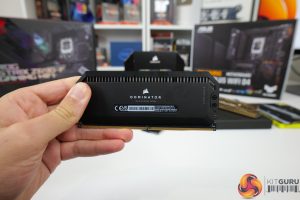 That's a big boost in frequency for DDR5 but it comes with significant loosening of the timings. Our 5200MHz Corsair kit runs at 36-38-38 – which is loose.
Typical decent DDR4 may be 16-18-18 or 18-19-19 at 3600MHz. And something like 4000MHz C19 is not uncommon. We even recently took a look at an uber high-end 5333MHz DDR4 kit from Kingston at C20.
You get a change to voltage control via a Power Management Integrated Circuit – or PMIC. This essentially allows the DDR5 module to handle power management and reduces the burden on motherboard control.
Nominal DDR5 voltage is 1.1V versus the common 1.2V for DDR4. And whereas DDR4 is typically 1.35V XMP but often as high as 1.45V. DDR5 is likely to use 1.25V as its go-to XMP voltage.
Speaking of XMP, DDR5 ushers in XMP 3.0. This enables greater tuning by increasing the number of slots to 5. This can mean 3 profiles for manufacturer settings, as well as 2 slots for users to save custom profiles. That's cool, especially as you can name the settings on these sticks in something like Corsair iCUE.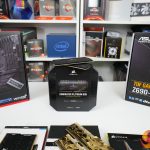 Clocks, latencies, better power, XMP 3.0; there are more changes, though.
The way in which the subchannels are now split is 2×32-bit instead of 1×64-bit. The notch position has changed vs DDR4. There's onboard ECC. You get double the banks and double the burst lengths versus DDR4. Basically, there are indeed quite a few under-the-hood changes beyond the headline specifications. Of course, there's plenty of information on these changes from various sources, including memory manufacturers themselves. So, I will not do them a disservice by plagiarising their well-done descriptions.
Instead, let's jump into the test configuration…