We will be outlining the memory kits' performance with the Intel Core i9-12900K CPU, ASUS Z690 DDR5 and DDR4 motherboards, and a Gigabyte RTX 3080 Eagle OC graphics card. The processor is maintained at its stock frequency.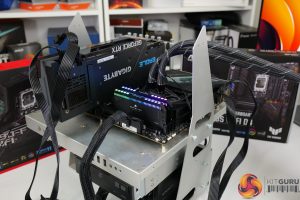 For our sole DDR5 test kit, we have Corsair Dominator Platinum RGB. This 2x16GB kit runs at 5200MHz 36-38-38 timings using 1.25V XMP. The memory ICs are Micron 'A' spec in a single-rank configuration; single-rank 16GB modules will be the go-to for DDR5. Whereas dual-rank was common for 16GB DDR4 modules. So that is something to watch out for.
Of course, these sticks support XMP 3.0. And you get all the usual Corsair bells and whistles like awesome Capellix RGB LEDs, as well as a good thermal sensor.
Pricing is set at £319.99 on Corsair's own website.
The motherboard that makes this testing possible is the ASUS TUF Gaming Z690-Plus WiFi D4. This Z690, LGA 1700, 12th Gen motherboard supports DDR4 memory with the Z-chipset benefits, as will other lower-end and mid-range Z690 offerings.
Test Memory Kits:
For our DDR4 comparison kits, we tried to grab a reasonable variety of frequencies, single-rank, dual-rank, and 4-DIMM single-rank kits.
DDR5 – Corsair Dominator Platinum RGB: 5200MHz 36-38-38-74 32GB (2x16GB Single-Rank), CMT32GX5M2B5200C36FE, 1300MHz Intel CPU Memory Controller Clock, around £320
DDR4 – Corsair Vengeance RGB Pro SL: 3600MHz 18-22-22-42 32GB (2x16GB Single-Rank), CMH32GX4M2Z3600C18, 1800MHz Intel CPU Memory Controller Clock, around £140 in the UK
DDR4 – G.SKILL Trident Z Royal Elite: 3600MHz 14-14-14-34 32GB (2x16GB Dual-Rank), F4-3600C14D-32GTEGA, 1800MHz Intel CPU Memory Controller Clock, around $370 in the US
DDR4 – Kingston Fury Renegade: 5333MHz 20-30-30-52 16GB (2x8GB Single-Rank) @ 4400MHz 19-23-23-42, KF453C20RBK2/16, 1100MHz Intel CPU Memory Controller Clock, around £475 in the UK / $600 in the US
DDR4 – KLEVV Cras XR RGB and Bolt XR: 4000MHz 19-25-25-45 32GB (4x8GB Single-Rank), KD48GU880-40B190C & KD48GU880-40B190Z, 1000MHz Intel CPU Memory Controller Clock, around £105-110 in the UK
It must be noted that – as we saw with 11th Gen CPUs – 12th Gen chips have a gear ratio for their memory controller clock. This allows higher operating DRAM speeds by decoupling the memory controller down to a lower – more stable clock speed. Albeit with reduced memory controller performance via poorer latency.
For our motherboards and testing, 3600MHz kits (1800MHz DRAM frequency) resulted in Gear Mode 1. This allowed 1:1 operating and a memory controller speed of 1800MHz. 4000MHz and higher resulted in Gear 2, which resulted in a 2:1 operating mode between memory controller clock and DRAM clock.
Clearly, these factors could be significant – as we see on the AMD platform whereby the typical advice is to get the best kit you can at a frequency that allows the memory controller to maintain a 1:1 mode.
Will that be the same for the new Intel platform? And will it present DDR5 with a significant disadvantage?
Test System:
Processor: Intel Core i9-12900K at XMP settings
DDR5 Motherboard: ASUS ROG STRIX Z690-F Gaming WiFi (DDR5)
DDR4 Motherboard: ASUS TUF Gaming Z690-Plus WiFi D4 (DDR4)
Graphics Card: Gigabyte RTX 3080 Eagle OC
System Drive: Corsair MP600 1TB PCIe Gen 4 SSD
CPU Cooler: Fractal Celsius+ S28 Prisma 280mm AIO
Power Supply: Seasonic Prime TX-1000 1000W
Case: Lian Li Open-air Test Bench
Operating System: Windows 11 Pro
Tests:
7-Zip v19.00 – Built-in 7-Zip benchmark test (CPU & Memory)
Cinebench R23 – All-core CPU benchmark (CPU & Memory)
Blender 2.93.5 – All-core rendering of the Classroom benchmark (CPU & Memory)
HandBrake H264 – Convert 1440p60 H264 video to 1080p60 H264 using the YouTube HQ 1080p60 preset (CPU & Memory)
AIDA64 – Memory bandwidth, memory latency (Memory)
3DMark TimeSpy – Time Spy (1440p) test (Gaming)
3DMark CPU Profile – CPU Profile test, Max Threads (Gaming)
F1 2020 – 1920 x 1080, Ultra High quality preset, DX12 version (Gaming)
Far Cry 6 – 1920 x 1080, Ultra quality preset, HD textures OFF, DX12 version (Gaming)
Tom Clancy's The Division 2 – 1920 x 1080, Ultra quality preset, DX12 version (Gaming)
Shadow of the Tomb Raider – 1920 x 1080, Highest quality preset, DX12 version (Gaming)
Watch Dogs Legion – 1920 x 1080, Ultra quality preset, DX12 version (Gaming)