The first few months of this year are going to be quite hectic in the tech world, we have already seen the launch of Intel's new Kaby Lake processors but we also have AMD's Ryzen launch coming in early March. As a result of these huge launches, CPU cooler makers are in the process of ensuring compatibility with new motherboards and today, Cooler Master released its complete list of compatible products.
As expected, all of Cooler Master's current liquid and air coolers are compatible with Kaby Lake. AMD's new AM4 platform is really the only area where things start to get tricky with some CPU coolers not currently compatible with the AM4 socket. However, Cooler Master will be joining other cooler makers in offering Ryzen upgrade kits for some modes. You can refer to the chart below to see which coolers are natively compatible and which ones will be getting an upgrade kit.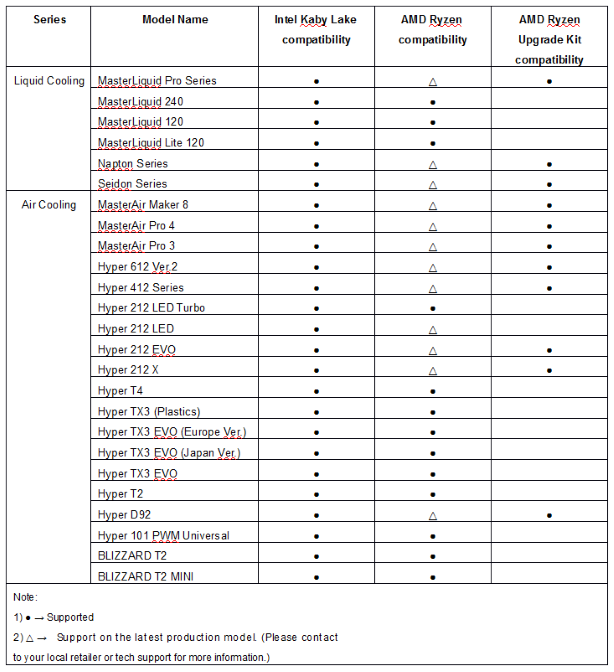 Newer versions of Cooler Master's CPU coolers will start shipping with AM4 mounts by default but there may still be old stock floating around in the meantime, in which case you will need an upgrade kit.
As for power supplies, Cooler Master has tested its MasterWatt Maker series, V Series, GM Series and New GX Series with Ryzen and Kaby Lake to ensure compatibility.
KitGuru Says: If you have a Cooler Master CPU cooler and are worried about compatibility when upgrading to Ryzen, then this list should help you out. From the looks of it, most CPU coolers will eventually support the new socket.