While Intel isn't set to unleash its Kaby Lake desktop processors on the world until the start of 2017, we have been getting some early looks at what's to come in the build up. Just a couple of weeks ago, we first learned that Intel may be releasing an unlocked, overclockable Core i3 for the first time with Kaby Lake and now, that rumour appears to be confirmed as benchmark leaks for the Core i3 7350K have leaked onto the web.
Intel's upcoming Core i3 7350K will join the ranks of the Core i5 and Core i7 with an unlocked version. It will also be getting a pretty huge clock speed improvement, with boost clocks hitting 4.2GHz at stock. Now, it seems that someone has gotten their hands on this little chip ahead of time, as some benchmark results have appeared and show a nice performance bump over last year's model, particularly when it comes to multi-core performance.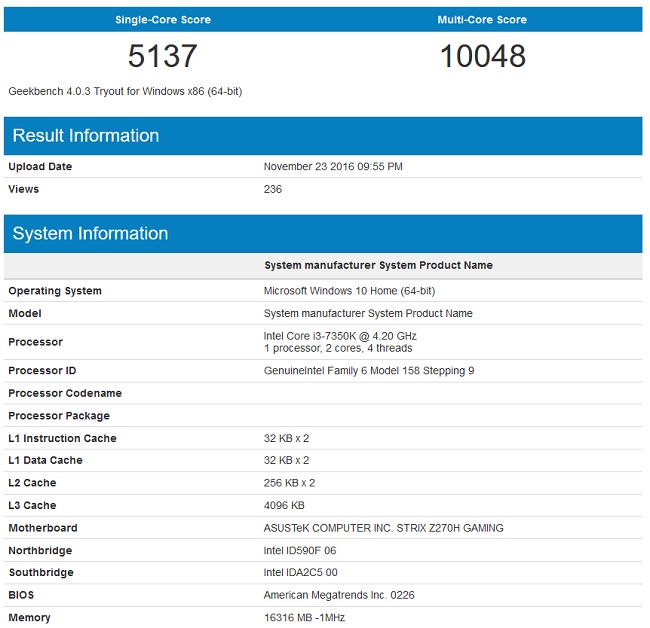 The benchmark results were found on GeekBench, showing a Core i3 7350K with two cores, four threads and 4MB of L3 cache running at 4.20GHz on Windows 10 64-bit. The single-core score managed to hit 5137 while the multi-core score hit 10048. For comparison, a Skylake Core i3-6100 is capable of hitting a single-core score of 4033 and a multi-core score of 7555.
Given that the new Core i3 is set to be a K-series chip, some overclocking would yield better results. However, we won't know how capable this chip is when it comes to overclocking until it arrives in January.
KitGuru Says: At this point, the unlocked Core i3 is essentially confirmed, so it will be interesting to see how well it overclocks upon release. What do you guys think of these Core i3 Geekbench results? Are any of you looking to upgrade to Kaby Lake in the new year?