Advanced Micro Devices said on Thursday that it had taped out its first products, which will be made using a FinFET process technology. While AMD does not reveal which products it had taped out, it is highly-likely that one of them is a highly-anticipated microprocessor based on "Zen" micro-architecture.
"We have actually just taped-out our first couple of FinFET designs," said Lisa Su, chief executive officer of Advanced Micro Devices, during the company's earnings conference call with investors and financial analysts.
Ms. Su did not elaborate which of the future designs the company had taped out and when exactly this happened. Nonetheless, two tape-outs mean that the company has managed to successfully design its first products with FinFET transistors. Design of an advanced microprocessor that will be made using a FinFET process technology costs north from $150 million without the cost of photomasks needed for production. Therefore, the tape-out means that the vast majority of investments in these two chips have been made.
Tape-out is the final stage of the design cycle of an integrated circuit, the point at which the artwork of the IC is sent to a maker of photomasks. Once the set of photolithographic masks is ready and verified, it is sent to a contract manufacturer of the chip, which produces the first working samples of the chip. It may take up to several weeks to prepare a mask-set. Production cycle of a complex FinFET processor is around 90 days from wafer start to chip delivery. As a result, if AMD taped out its first FinFET chips in June, then the company will get the first samples of its products in September.
Mass production of chips nowadays starts between nine and twelve months after the initial tape-out. Therefore, if AMD managed to tape-out its chips last month, then it is on-track to start their high-volume production next June or a bit earlier and release its first products made using a FinFET process technology in late Q3 or early Q4 2016.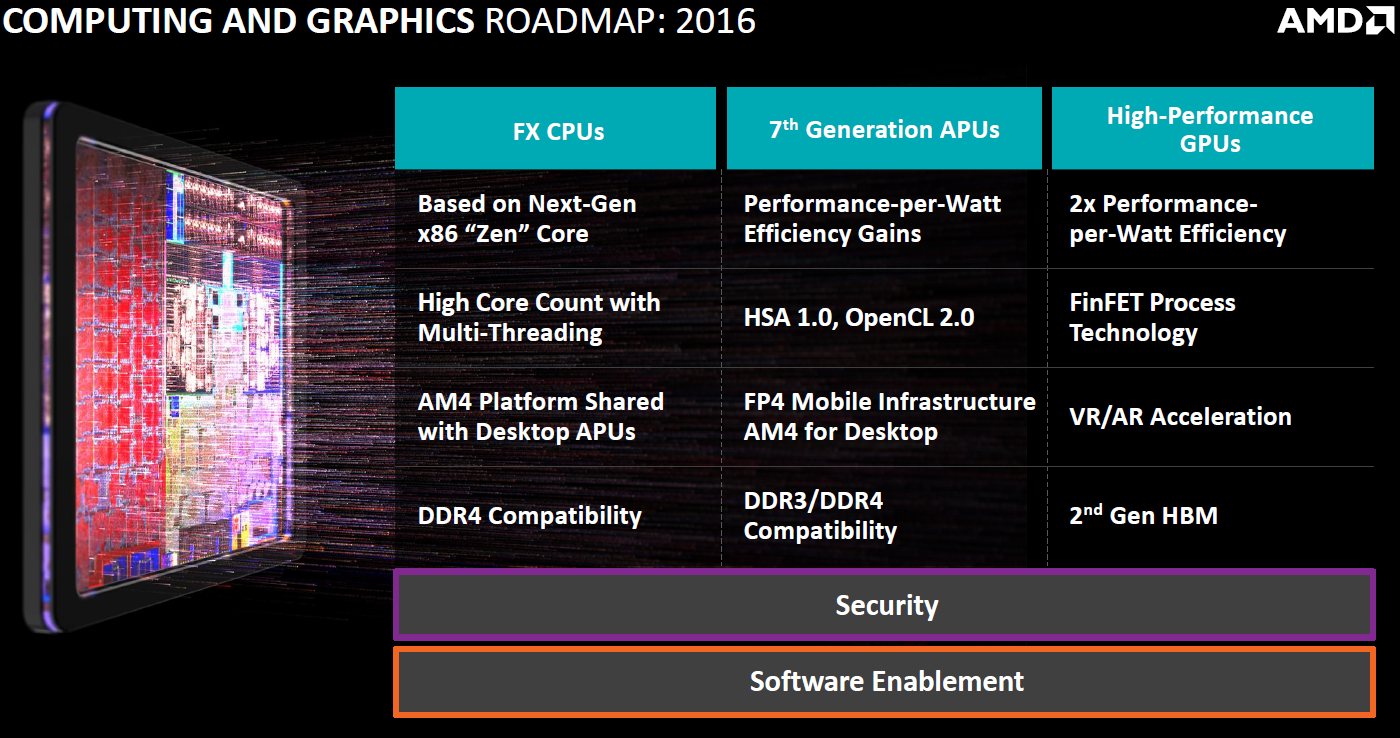 AMD does not disclose which of its FinFET chips it has taped-out. Based on official and unofficial information, it is highly likely that the first AMD products to be made using a FinFET fabrication process will be the code-named "Summit Ridge" central processing unit with up to eight "Zen" cores as well as the code-named "Greenland" graphics processing unit based on the next iteration of the GCN [graphics core next] architecture. Over time all AMD products will be made using FinFET process technologies. The "Summit Ridge" will be used for next-generation AMD Opteron processors for servers as well as for AMD FX processors for desktops.
"We will be bringing different parts of the product line into FinFET at different points in time," said Ms. Su. "I think what we have said is graphics [processors] will certainly utilize FinFETs as well as our new Zen processors and so they will roll out over the quarters in 2016."
It is noteworthy that AMD still does not want to disclose its manufacturing partner for FinFET process technologies in 2016.
Discuss on our Facebook page, HERE.
KitGuru Says: It is a long time before we will see the first FinFET products from AMD on the market. However, it is great to see that the company has finished its first two FinFET designs. The biggest part of the work is over for the two FinFET-based products, now AMD needs to execute and release them in time.