The market of discrete graphics processing units for desktops and laptops has been shrinking for many years now. Integrated graphics solutions from AMD and Intel can satisfy general demands of end-users, which is why many modern PCs do not have standalone graphics adapters. Moreover, general market trends will further decrease sales of graphics processing units.
Just a decade ago all decent notebooks featured discrete graphics processors in order to provide adequate performance in all applications as well as multi-monitor capability. By now integrated graphics adapters from AMD and Intel have gained functionality and performance, whereas notebooks got thinner and lighter, which is why it became rather hard to install a standalone GPU inside them. Consequently, sales of mobile AMD Radeon and Nvidia GeForce graphics solutions dropped. According to chief executive officer of Nvidia, the attach rate of GPUs to notebooks will continue to decline.
"PCs are becoming thinner and lighter and as result they tend to not have GPUs attached," said Jen-Hsun Huang, CEO of Nvidia, during quarterly conference call with investors and financial analysts. "I would say that [with] the mainstream commodity notebook PCs we have been seeing lower and lower GPU attach for quite a long time and it is not a surprise to us."
One of the main problems for providers of standalone GPUs for laptops – AMD and Nvidia – is that Intel Corp. is ramping up production of system-on-chips for notebooks that do not support discrete graphics processors. Intel Core i-series Y- and U-lines chips are multi-chip modules (MCMs) that carry both microprocessor and core-logic set on a single piece of substrate. While such MCMs support 12 PCI Express 2.0 lanes for various I/O chips, they cannot decently support discrete GPUs. As a result, many modern notebooks rely on integrated graphics.
Next year Intel will likely increase shipments of its MCMs for notebooks. The company already offers Core M "Broadwell-Y" chips for ultra-low-power computing devices in addition to Core i-series "Haswell-Y" offerings for ultra-thin notebooks and hybrids. Early in 2015 the world's largest chipmaker will roll-out a family of Core i-series "Broadwell-U" system-on-chips with 15W thermal design power, which will complement existing Core i-series 4000U-line.
"Haswell-U" MCMs. The "BDW-U" chips are projected to offer mainstream performance while consuming very low amounts of energy, which will further increase their market share and thus decrease total available market of standalone mobile GPUs.
Although mainstream notebooks will likely cease to use discrete graphics processors completely in the next couple of years, there are application-specific mobile PCs, such as gaming notebooks and portable workstations, which will continue to use AMD Radeon/FirePro and Nvidia GeForce/Quadro graphics solutions. The market of mobile workstations is growing, just like sales of gaming notebooks, according to Nvidia.
"In some cases the PCs are becoming application-specific PCs, like gaming notebooks, in which case the GPU not only is attached, but the GPU becomes quite powerful indeed," said Mr. Huang. "Workstation notebooks are [also] growing."
Sales of Nvidia's graphics processing units (which includes GeForce, Quadro and Tesla chips) totaled $991 million in the Q3 FY2015 (ended on the 26th of October, 2014). Revenue from GeForce GPUs for gaming desktops and notebooks grew 36 per cent year-over-year. According to Nvidia, within this gaming segment, "gaming notebooks more than doubled from year ago levels."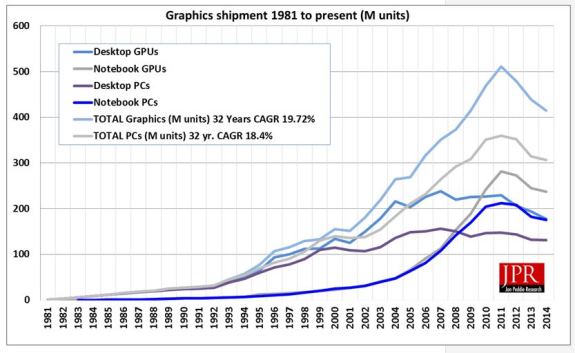 While eventually integrated graphics processors will become powerful enough even for mainstream desktops, Sapphire Technologies believes that today even entry-level standalone graphics cards bring a lot of benefits to basic PCs.
Discuss on our Facebook page, HERE.
KitGuru Says: It is rather odd that as personal computers get more powerful, thinner and lighter, they, from some points of view, cease to become universal. It is just impossible to install a standalone graphics processor into an Apple MacBook Air since such GPU requires power and cooling. As a result, you cannot play more or less demanding games on such personal computers.