The Video Electronics Standards Association (VESA) on Monday announced that the future implementations of the DisplayPort 1.2a standards will feature Adaptive Sync technology that is supposed to synchronize refresh rates of displays with actual frame-rate that is displayed. The feature will make games and video run much smoother than currently.
Computer monitors normally refresh their displays at a fixed frame rate. However, content – such as movies or video games – is displayed at different rates. Movies are mastered to be showcased at 25fps, whereas games are rendered at variable speed all the time depending on the complexity of each scene and performance of personal computers. If a display's refresh rate and a computer's render rate are not synchronized, visual artifacts – tearing or stuttering – can be seen by the user.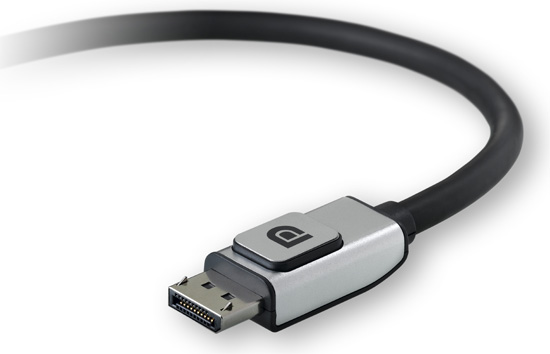 DisplayPort Adaptive-Sync enables the display to dynamically match a GPU's rendering rate, on a frame-by-frame basis, to produce a smoother, low latency, gaming experience. In addition, the Adaptive-Sync can reduce refresh rate of a display during simple tasks like web surfing or playing back video to reduce performance and make experience smoother.
Adaptive-Sync is a new, yet proven and widely adopted technology. The feature has been a standard component of VESA's embedded DisplayPort (eDP) spec since 2009, so many building blocks of displays as well as graphics processing units already support it. The technology will now be incorporated into DisplayPort 1.2a specification.
Nvidia Corp. made a lot of headlines last year when it announced its proprietary G-Sync technology that is supposed to synchronize display's refresh rate with the speed of rendering in video games to provide smooth gaming experience. However, it looks like Nvidia G-Sync may never become a massively adopted technology now that VESA has announced its Adaptive-Sync, which is not proprietary and is already supported by numerous display components.
"Adaptive-Sync delivers clearly visible advantages to the user for gaming and live video, and contributes to the development of sleeker mobile system designs by reducing battery power requirements," said Bill Lempesis, VESA Executive Director. "VESA has developed a test specification to certify Adaptive-Sync compliance. Systems that pass Adaptive-Sync compliance testing will be allowed to feature the official Adaptive-Sync logo on their packaging, informing consumers which DisplayPort-certified displays and video sources offer Adaptive-Sync."
Discuss on our Facebook page, HERE.
KitGuru Says: It will take some time before Adaptive-Sync technology will get support by displays. Technically, it should be supported by virtually all graphics processing units that are on the market right now (since they support eDP technology), so once the displays are available, it should be possible to enjoy smooth games and video even on current personal computers. Still, at present it is not clear for which graphics processors will AMD and Nvidia will actually activate the Adaptive-Sync.