Despite Nvidia's confusing and controversial GeForce Partner Program (GPP) coming to an end, ASUS confirmed that it was set to continue using its AREZ branding to distinguish its AMD Radeon range. AREZ GPUs have now been spotted in the wild, initially sporting a $160 premium price above its identical ROG branded counterparts.
US retailer Newegg is one of the first to get its hands on AREZ Strix Radeon RX Vega 64 (AREZ RXVEGA64-O8G-GAMING) graphics cards, initially setting the price at a staggering $749.99, significantly above the $589.99 MSRP of the ASUS ROG Strix Radeon RX Vega 64 (STRIX-RXVEGA64-O8G-GAMING) GPUs currently in circulation.
While the term "you get what you pay for" is often true, speaking for the quality of the item, companies often charge extra for the reputation of its branding. In the case of AREZ versus its older ROG counterpart, however, the $160 premium seems to only net customers a different name and different sticker on the centre of each fan. Newegg seems to have responded to the concern expressed in reports, dropping the price of the AREZ card down to $649.99 at the time of writing, however this is still an unnecessary $60 premium for the exact same card.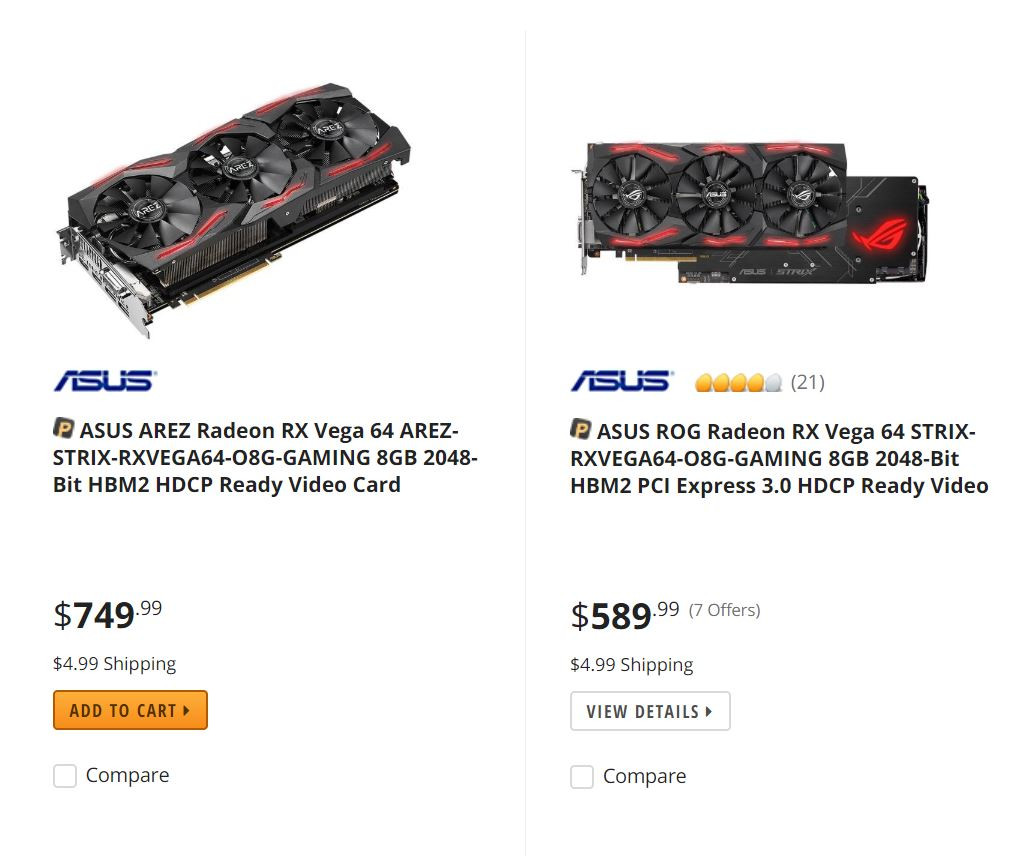 With few other retailers stocking AREZ graphics cards at this time, it's difficult to discern whether this is the choice of Newegg or ASUS, however the latter has a lot of cost to make up from its extensive marketing overhaul, thanks to Nvidia.
Although ASUS wasn't the only company that committed to diversifying its Radeon branding in order to comply with Nvidia's aborted GPP, we have yet to see this same inconsistency with other manufacturers. The further fragmented these brands make the current selection, the easier it will be for consumers to be duped into paying more for the same however, so be care is urged when shopping for a new GPU.
KitGuru Says: It's sad that the costs to change up these labels will inevitably fall on the buyer, rather than the company that caused it all. Still, don't underestimate the power of your wallet, as that is inevitably what manufacturers respond to.