AMD has today announced its latest Navi-based graphics card, the RX 5500. Coming three months after the launch of the RX 5700 and RX 5700 XT, the new RX 5500 is the first Navi graphics chip to be available in laptops, and is aimed squarely at 1080p gamers. The card is launching first in OEM pre-built systems and laptops, while standalone availability is slated for 'Q4'.
Getting right into the core specs of the new RX 5500, the first thing you need to know is that the series is currently split into two distinct SKUs – RX 5500 for desktop, and RX 5500M for laptops. The differences really boil down to the GDDR6 VRAM allocation and clock speed, but it's a distinction worth noting.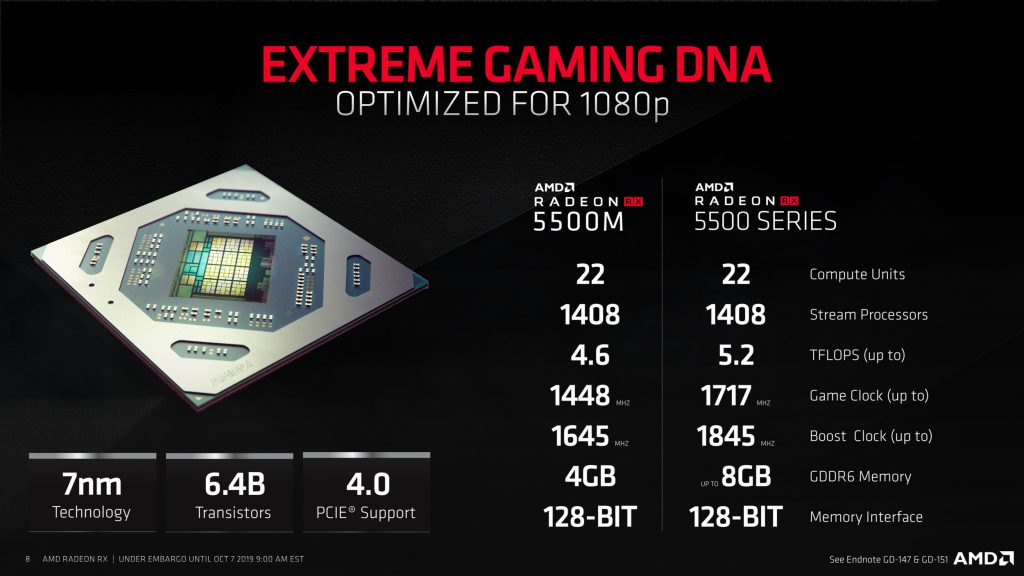 At the highest level, RX 5500 sports a total of 22 Compute Units (CUs), and with 64 Stream Processors per CU for the Navi architecture, this gives a total of 1408 Stream Processors. Interestingly, the provided GPU images from AMD show 12 Double Compute Units (DCUs), suggesting that a beefed-up 'RX 5500 XT' with 24 CUs and 1536 Stream Processors is in the works, though this has not been confirmed.
Elsewhere, the VRAM allocating is interesting. First, it's good to see AMD opting for GDDR6 memory for these parts, not older GDDR5/X modules, though it is worth noting the memory bus is relatively narrow at 128-bit. The RX 5500M mobile chip will 'only' sport 4GB of GDDR6, but the desktop part will support 'up to' 8GB GDDR6 memory, again suggesting there could be two desktop models of the 5500 – one with 4GB and one with 8GB, likely with a small price difference.
As for clock speed, with these cards AMD is trying to move away from using 'base clocks' as a metric for these cards, simply because it's not really an indicative number for what you'd actually see from your card while gaming. That means we only have game clock and boost clocks figures so far, with the RX 5500M rated at up to 1645MHz boost, while the desktop part should run up to 200MHz faster with a 1845MHz boost clock.
Linked to those clock speeds is power draw, and AMD has let its partners configure the Total Board Power (TBP) of the RX 5500M to suit their needs, so we can expect to see down-clocked versions of the chip in thin-and-light machines, but nominal power is rated at 85W. For the desktop parts, RX 5500 has a TBP rating of 150W.
AMD has also given us some indication of how well we can expect the RX 5500 to perform. It is aimed solely at 1080p gamers, with AMD claiming 'up to 37% faster expected average performance vs GTX 1650'. Another indication comes from AMD's claim that the RX 5500 performs 12% better than the old RX 480 in terms of 'absolute performance'. It's not clear what this means exactly, but from these numbers I would expect to see performance come in between RX 580 and RX 590 levels, though of course this is only speculation at this point and actual performance will have to be confirmed with a proper review from KitGuru, so stay tuned for that.
Now, as for availability, we will get our first look at the new graphics chip in MSI's Alpha 15 laptop, which is set to launch this month. The RX 5500 will also be available in pre-built systems from OEMs including HP and Lenovo from November, with Acer also offering RX 5500 systems from December.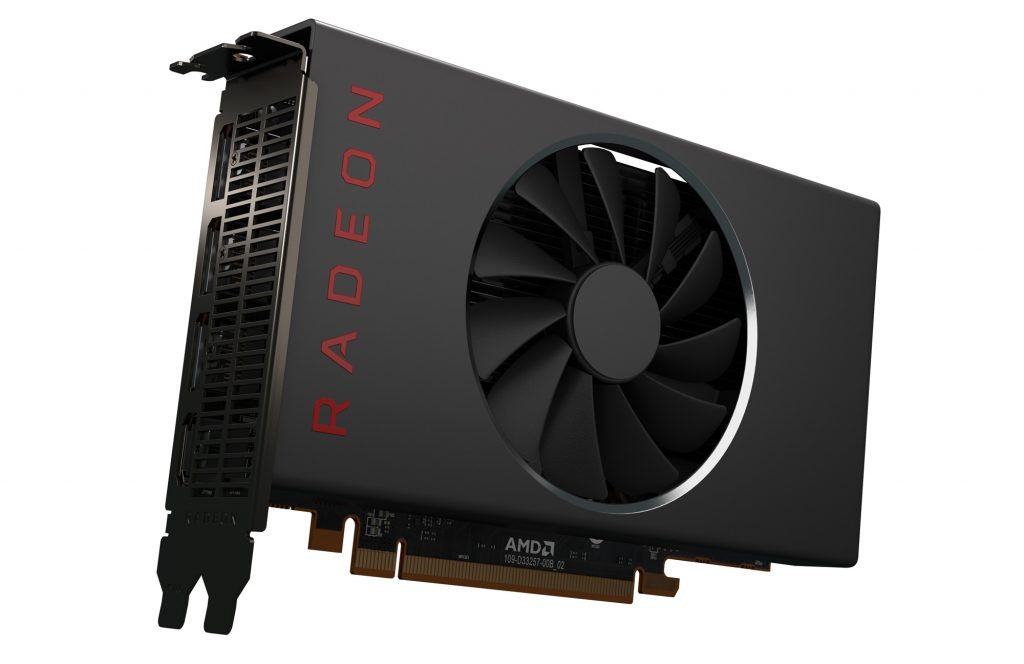 If you want to get your hands on a standalone RX 5500 for your own PC, however, this are more uncertain – with AMD saying 'board partners are expected to launch standalone graphics cards this quarter (Q4 2019).' Considering we are already in Q4, this could be any time from now but nothing has been specified.
As a final point to mention, there is no reference card manufactured by AMD for this series, despite the press presentation showing renders of what appears to be an ITX card, so if you do want to pick up the RX 5500, you'll have to buy one from AMD's partners including Sapphire, ASUS, PowerColor, MSI and so on. Currently we have no word on pricing for these models at the time of writing.
KitGuru says: AMD has announced its 1080p-focused RX 5500 series, though it is interesting standalone availability is currently uncertain. What do you make of the announcement, and is this something you would consider buying for your PC?