Alongside the announcement of the RTX 3060 GPU, Nvidia today confirmed the RTX 30 series is coming to mobile. With prices starting at $999 for an RTX 3060 laptop, we can expect to see plenty of Ampere-based gaming notebooks in 2021.
Cutting right to the chase, RTX 3070 and RTX 3080 will be available for laptops starting January 26th, with RTX 3060 mobile GPUs coming later on February 2nd.
One key change with these Ampere GPUs is that core counts do not match up with their desktop equivalents – or the RTX 3080 would have over 8700 cores instead of 6144. This is likely due to power management, as that many cores in a portable machine would be unfeasible due to thermal concerns.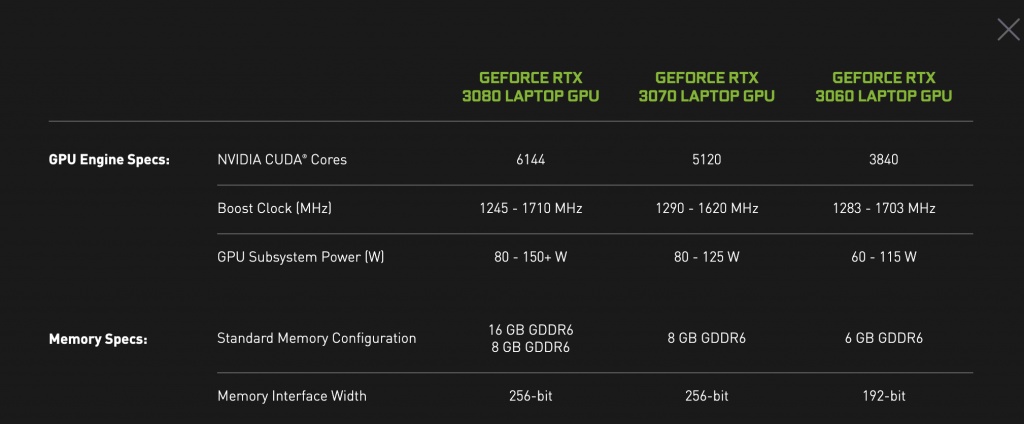 Image credit: Nvidia
Instead, RTX 3080 GPUs top out at 150W and are configurable down to 80W. RTX 3070 varies from 80-125W, while RTX 3060 varies from 60-115W. Interestingly, the memory configurations are also new, as RTX 3080 Mobile comes with 8 or 16GB GDDR6, while RTX 3060 Mobile comes with 6GB GDDR6, not the 12GB that its desktop counterpart comes with.
A key part of the announcement was the introduction of Third Gen Max-Q Technologies, designed to optimise hardware 'for power and performance.' Dynamic Boost 2.0 is one such technology, using AI to 'balance power between the CPU, GPU and GPU memory.' This is a similar idea to AMD's SmartShift technology, and it allows the system up allocate up to 20W more power to the GPU.
WhisperMode 2.0 is another new feature which allows users to set a target noise level, and the AI takes care of the rest, 'dynamically managing the CPU, GPU, game settings and fan speeds to deliver great acoustics and the best possible performance.'
We also got wind of Nvidia's alternative to Smart Access Memory (SAM), which was simply called Resizable Bar. As we know by now, this allows CPUs to access unlimited amounts of a GPU's VRAM, instead of chunks of just 256MB. Whether this makes its way to desktops remains to be seen, but it is now touted as an Nvidia Max-Q feature.
Nvidia claims over 70 GeForce RTX 30 series laptops will available from January 26th.
Discuss on our Facebook page HERE.
KitGuru says: Ampere has arrived in the mobile space. it will be fascinating to see what sort of performance is offered by these laptop GPUs.