Today we are back with another extensive performance analysis, as we check out the recently-released Days Gone. As the latest formerly PlayStation-exclusive title to come to the PC, we test thirty graphics cards in this game to find out exactly what sort of GPU you need to play at maximum image quality settings. Has this game launched in a better state than when Horizon Zero Dawn first came to PC? Let's find out.
The first thing to know about Days Gone is that it is developed by Sony's Bend Studio, and is built on Unreal Engine 4. Interestingly though, it uses DirectX 11, and there's no option for DX12. That means there's no ray tracing or DLSS features in Days Gone, something which is becoming more unusual these days.
In terms of visual settings, there are a number of options in the display menu. Textures, lighting, shadows and more can all be adjusted, while it's great to see a field of view (FOV) slider as well as a render scale setting. There's also a selection of quick presets – Low, Medium, High and Very High –  and for our benchmarking today we opted for the Very High preset, with V-Sync of course disabled.
Driver Notes
AMD GPUs were benchmarked with the 21.5.2 driver.
Nvidia GPUs were benchmarked with the 466.47 driver.
Test System
We test using a custom built system from PCSpecialist, based on Intel's Comet Lake-S platform. You can read more about it over HERE, and configure your own system from PCSpecialist HERE.
CPU

Intel Core i9-10900K
Overclocked to 5.1GHz on all cores

Motherboard

 ASUS ROG Maximus XII Hero Wi-Fi

Memory

 Corsair Vengeance DDR4 3600MHz (4 X 8GB)

CL 18-22-22-42

Graphics Card

Varies

System Drive

  500GB Samsung 970 Evo Plus M.2

Games Drive
2TB Samsung 860 QVO 2.5″ SSD
Chassis
Fractal Meshify S2 Blackout Tempered Glass
CPU Cooler

 Corsair H115i RGB Platinum Hydro Series

Power Supply

 Corsair 1200W HX Series Modular 80 Plus Platinum

Operating System

Windows 10 2004
Our 1-minute benchmark pass came from quite early on in the game, as Deacon is riding on the back of Boozer's motorbike, headed to Crazy Willie's. This represents a reasonably demanding section of the game based on the first hour or so that I played through, and it is also highly repeatable which makes it great for benchmarking multiple GPUs.
1080p Benchmarks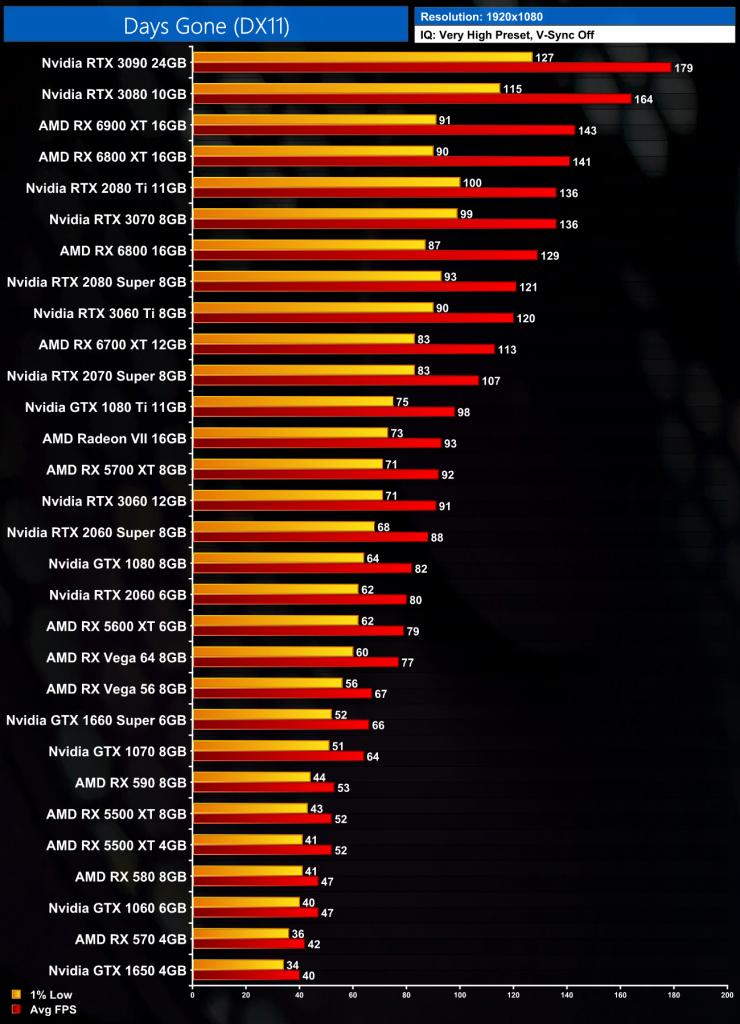 1440p Benchmarks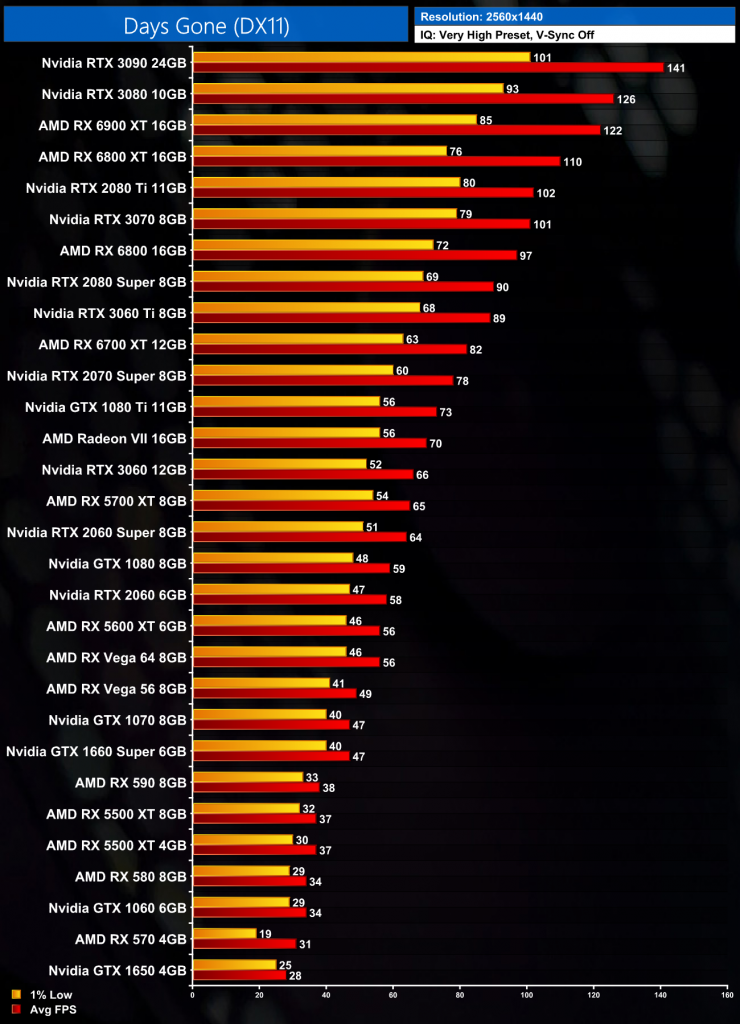 2160p (4K) Benchmarks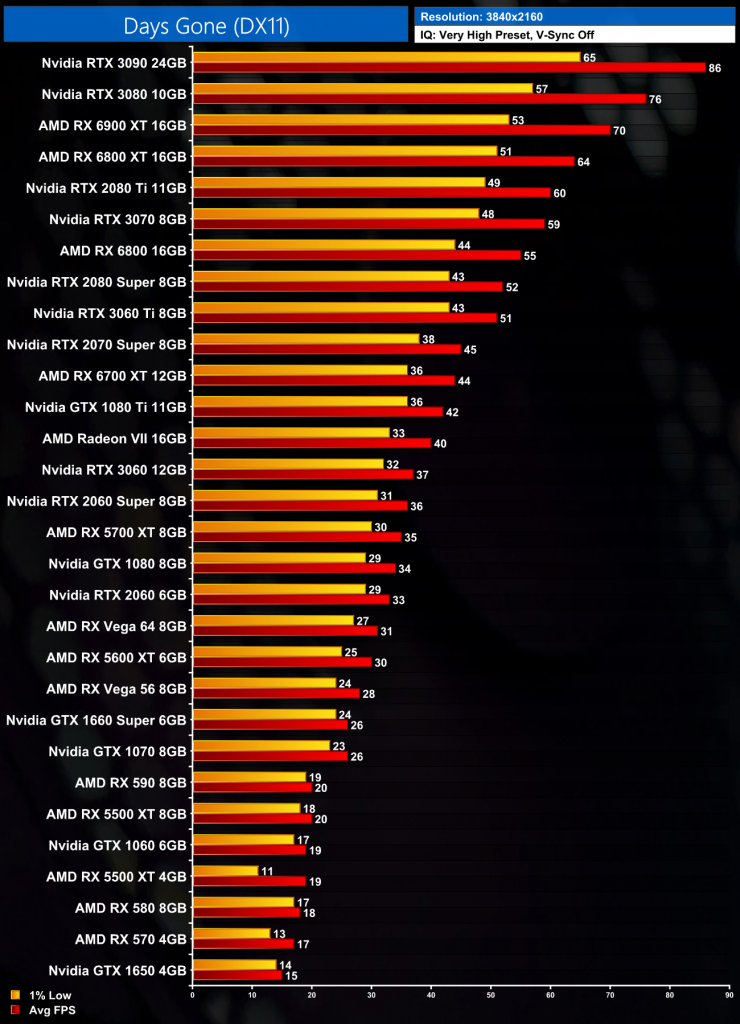 Closing Thoughts
By and large, Days Gone is an impressive PC port that almost everyone will be happy with. I say almost everyone, as currently my main issue with the game is related to visible stuttering when using an RDNA 2 GPU. This didn't happen for other AMD cards though, or Nvidia GPUs, so hopefully it is a quick fix for AMD's driver team or the game's developers.
As a DX11 title built on Unreal Engine 4, if we had to guess before testing the game, we would've thought Nvidia GPUs would perform the best, and that is certainly true. RTX 2070 Super is significantly faster than the RX 5700 XT, for example, while RTX 3070 also beats out the RX 6800 across the board, which isn't something we usually see.
Even then, the game does run well across a wide variety of hardware. GTX 1060 and RX 580, for instance, aren't far off from hitting 60FPS at 1080p with maximum image quality settings, with just a few small tweaks to the IQ needed to hit that figure. VRAM doesn't appear to be in high demand either, with both the 4GB and 8GB versions of the RX 5500 XT performing almost identically.
If you do want to drop down some image quality settings, the game's options scale well. We found that the High preset offered 35% more performance than Very High (which is more than enough to get a GTX 1060 averaging over 60FPS at 1080p), while you can almost double frame rates using the Low preset when compared to Very High.
The only other issue I noticed is what appears to be an animation hitching problem in the game, which is particularly noticeable when riding a motorbike – the game feels like it is slowing down but then correcting itself by speeding up again. This wasn't a game breaker for me but it was most noticeable when frame rates were below 60FPS – the higher the frame rate, the less I noticed the issue.
Discuss on our Facebook page HERE.
KitGuru says: Days Gone is definitely in a better state at launch than what we saw when Horizon Zero Dawn hit PCs in 2020. There's a couple of issues to be fixed, but by and large this game performs well across a good range of graphics cards.