External GPU enclosures have been around for a few years now, most of them using Thunderbolt 3 which provides four PCIe 3.0 lanes. We've tested a few solutions over the years, including Razer's Core X and the Sapphire GearBox, but today we're taking a closer look at just how well an eGPU can perform. To do so, we test Nvidia's RTX 3060 Ti, RTX 3070, RTX 3080 and even the RTX 3090, across 1080p, 1440p and 4K resolutions. Is there any benefit to using a faster GPU over Thunderbolt 3? That's what we will find out today.
For this investigation, we're using Cooler Master's new EG200 external GPU enclosure. It's the company's first eGPU product and has an MSRP of £329.99, though it is not currently listed for sale in the UK. As a standard Thunderbolt 3 enclosure, you are free to use pretty much any graphics card you want, though there is a size restriction as cards cannot be bigger than 325 x 141 x 54 mm.
We're testing with the ASUS TUF RTX 3080 and TUF RTX 3090, as well as Nvidia's RTX 3060 Ti and RTX 3070 Founders Editions. Testing all four GPUs will allow us to get a clear idea of how performance scales with an eGPU, which is what we are interested in. We know all four will be faster than using integrated graphics, but is there any benefit to the RTX 3090 over an RTX 3080 when using a Thunderbolt 3 dock? That's what we're looking at today.
Of course, we also need a device to connect the dock to, and we opted for the Razer Blade 15 Base. This is the latest 2021 model, and obviously the most important thing is that it has a Thunderbolt 3 port. The CPU is also important though, as overall gaming performance will vary depending on the calibre of processor inside your host PC. The Blade uses Intel's i7-10750H, which is a 45W hexa-core CPU. It's beefier than an ultra-low power processor you may find inside an Ultrabook, but for our testing today it will do the job just fine.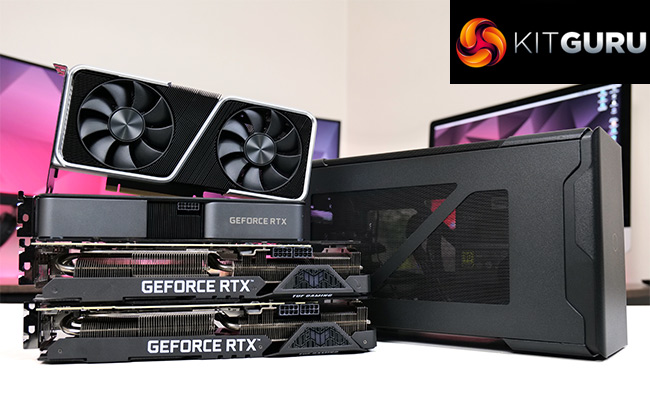 Cooler Master EG200 Specification:
SERIES: MasterCase Series
SIZE: External GPU
MODEL NUMBER: MCM-EG200-KNNA55-S00, MCM-EG200-KNNA55-UK
AVAILABLE COLOR(S): Black
MATERIALS: Steel, Plastic, Mesh
DIMENSIONS (L X W X H): 383 x 140 x 208mm (incl. Protrusions), 371 x 128 x 204mm (excl. Protrusions)
VOLUME (EXLC. PROTRUSIONS): 9.7L
EXPANSION SLOTS: N/A
I/O PANEL – USB PORTS: 3x USB 3.2 Gen 1 Type-A
I/O PANEL – USB IN: 1x USB Micro-B 3.2 Gen 1
I/O PANEL – TB3: USB C
HARD DRIVE DOCK: 2.5" or 3.5" SATA drives
PRE-INSTALLED FANS – TOP: 1x 92mm Slim PWM 2600RPM
FAN SUPPORT – TOP: 1x 92mm
CLEARANCE – GFX: L: 325 / 12.79inch, W: 54mm (2.5 slot) / 2.13inch, D: 141mm / 5.55inch, (Max. sizes incl. connector)
CABLES: Thunderbolt 3 – 500mm, USB – 700mm (incl. USB A to C adapter)
INCLUDED POWER SUPPLY: Cooler Master V Gold SFX (550W)
INCLUDED POWER CABLES: 1x 24 pin, 2x 6+2 pin PCI-e, 1x SATA power
USB POWER DELIVERY: 60W