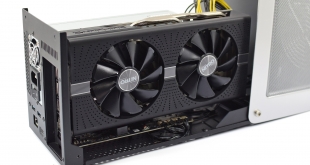 KitGuru has reviewed plenty of Sapphire graphics cards over the years, and many of those walked away with top awards. Today we are looking at something a little different, though, as Sapphire tries its hand at creating an external GPU enclosure – known as GearBox. It's a compact, sleek-looking dock that connects to your PC/laptop via Thunderbolt 3 to significantly increase your graphics horsepower. At £274.99, is the GearBox a good addition to your setup?
As the Sapphire GearBox is just the dock/enclosure itself, to use it you need a graphics card and a machine equipped with Thunderbolt 3 connectivity. Sapphire kindly supplied both additional parts for this review, sending us a RX 580 Nitro+ 8GB graphics card alongside an Intel NUC 7I5BNH mini PC.
Intel NUC7I5BNH
Sapphire RX 580 Nitro+ 8GB
Sapphire GearBox
There's a few things to note about setting up and using the Sapphire GearBox. First things first, I really like the simple styling with the aluminium chassis and black faceplate – it's nothing fancy, but it looks sleek and professional. The left-hand side of the enclosure is ventilated as this is where your graphics card will breathe, while the right-hand side is solid metal.
On top of that, the enclosure is also pretty compact, measuring 300mm x 138mm x 204mm. That does affect your choice of graphics card, however, as unlike the Razer Core X you won't be able to install effectively any card. Instead, cards must be no bigger than 266mm x 125mm (length x height), and while Sapphire does state cards must be dual-slot there does appear to be room for cards up to 2.5-slots thick – though your mileage may vary.
This size limitation is interesting as it does restrict higher-end cards with beefier coolers. Nvidia's RTX 20-series Founders Edition cards – like the 2080 Ti or 2080 – will just about fit, as will Radeon VII so you can still use the GearBox with the most powerful cards on the market – but only if you go for the reference designs. This isn't a problem for anyone who'd buy a GPU brand new with the GearBox, as you could just pick a card you know will fit. If you already have a bigger custom card from the likes of Sapphire, ASUS and Gigabyte, however, then you're out of luck.
If we turn to the back of the unit, here we find the I/O. The GearBox requires a power input for the internal 500W PSU, but it also provides 2x USB 3.0 ports and Ethernet – both of which are excellent additions for an eGPU at this price. Razer's Core X that we already mentioned is also priced around the £260 mark but has no extra ports whatsoever, so this is a clear positive for the GearBox. The Type-C Thunderbolt 3 port is also on the back of the GearBox which will connect the GPU to your PC, and it can also provide up to 100W of power to your laptop via Type-C charging.
To open the GearBox, four Allen keys need to be removed from the back of the enclosure. The metal exterior then hinges open to provide access to the PCIe x16 slot and power connectors. We can also see Sapphire has included two 120mm fans to exhaust hot air out of the GearBox, while the small mainboard used in the enclosure is powered by both a 24-pin and 8-pin power cable.
Installing a graphics card is easy – imagine it is just a tiny motherboard and the process is the same, and the card is screwed into the bracket at the back of the GearBox. The Enhance ENH-2350 power supply is rated for 500W, though only graphics cards up to 300W are officially supported – 100W of that power has to be allowed for charging a laptop, while I would also imagine Sapphire has allowed for some overhead for the power draw to account for the rest of the difference.
That is pretty much it for the GearBox. I do think it could be easier to open and close, as requiring the removal of four Allen screws is a little tedious – Razer's Core X opens and locks all via a single handle which is a doddle to use. That being said, I'm not sure how often you'd be opening the enclosure after the initial setup process, so it's hardly a major criticism but something that could be improved for the next iteration.
All that's left to do is provide power to the enclosure, connect it to your machine of choice and enable the Thunderbolt 3 interface to use the graphics card – which presents itself to you via a pop-up window once the GearBox is connected. You will also have to download the relevant AMD/Nvidia driver, but then we are ready to rock and roll.
Be sure to check out our sponsors store EKWB here