Sapphire has been in the game for a long time now, and KitGuru readers will likely know of the company for its high-quality AMD graphics cards. The GearBox, however, is something a little different – being an external Thunderbolt 3 GPU enclosure.
As an overall package, it is certainly a very appealing option for anyone looking to bolster their graphical horsepower. For starters, it's a good-looking unit thanks to the aluminium exterior, while it also provides some extra connectivity in the shape of 2x USB 3.0 and an Ethernet port – which is a great inclusion at this price.
One downside to the appealing aesthetics of the enclosure, however, is that it is relatively compact. This does limit your graphics card options, as cards must be no longer than 266mm. Three or four years ago this might have included most cards on the market, but nowadays it is very common to see higher-end models like RTX 2070/2080 – and even custom Vega 56/64 cards – come in closer to 300mm in length, if not more.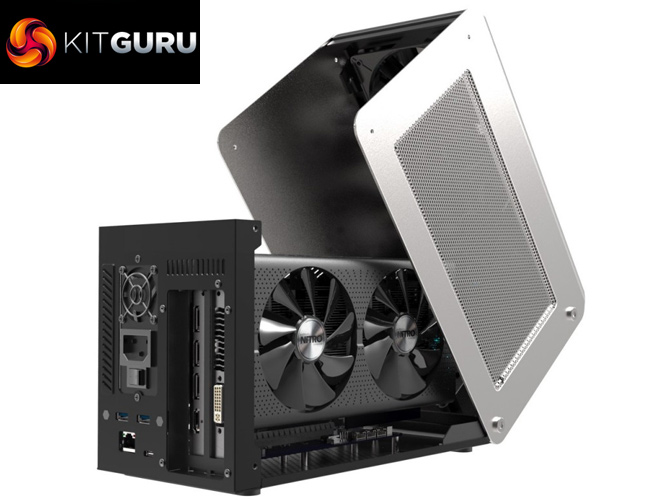 You can still find powerful cards that will fit – like the RTX 2080 Ti Founders Edition – but your options are limited by the compact nature of this eGPU enclosure. Like I mentioned earlier in the review, if you are going to buy a new card specifically to use with the GearBox, it won't bother you. If you already have a card you want to re-purpose, however, then the size restriction may well affect your buying decision.
Coming onto the performance of the GearBox – well, it really depends what you use it with. Remember, the GearBox is only the enclosure itself, so performance will depend on what graphics card you install and what CPU your host machine comes equipped with. Even so, the Nitro+ RX 580 and dual-core CPU inside the Intel NUC7I5BNH provided a solid gaming experience at 1080p, with frame rates absolutely miles ahead of what you'd get from integrated graphics.
As for the rest of the experience, there are a couple of other, minor points that could be improved. For one, it could be easier to get into the enclosure – at the moment you have to remove four Allen screws which isn't awful, but Razer's Core X does make accessing the internals a lot easier. It'd also be appreciated if the fans in the enclosure would turn off when the GPU is not being stressed. Neither point is anywhere close to being a deal-breaker, but if Sapphire decides to make a 'GearBox 2' those would be two easy improvements.
Taken as a whole package, though, the Sapphire GearBox is an excellent eGPU enclosure. It provides extra connectivity in the form of its USB and Ethernet ports, it looks good and possibly best of all, it's just £274.99. Compared to other Thunderbolt 3 enclosures at or around this price, I can't see any which offer additional USB/Ethernet, and some don't support USB-C charging either, meaning the GearBox is a very well-rounded product for the money.

You can currently buy the GearBox from Overclockers UK for £274.99 HERE.
Pros
Looks sleek and stylish.
Very good value.
500W PSU allows up to 300W for a graphics card and 100W for USB-C charging.
2x USB 3.0 ports and Ethernet included.
Two fans in the roof to aid GPU cooling.
Thunderbolt 3 connection means this will perform as well as any other TB3 enclosure on the market.
Cons
Maximum supported graphics card length does rule out quite a few high-end cards.
Could be easier to open.
Fans don't stop spinning in low-load situations.
KitGuru says: If you want to go down the external GPU route, Sapphire's GearBox is a great all-round option. A couple of things could be tweaked for the next iteration, but for £274.99 this is probably the best value eGPU solution on the market right now.