Despite being comprehensively leaked in the weeks preceding its launch, it's always good to get hands on with new hardware and I've found the GTX 1660 SUPER quite an interesting card to look at. This review has focused on Gigabyte's Gaming OC 6G model, but we also have a review of Palit's GamingPro OC for launch if you are interested.
First, let's just make it clear what we have with 1660 SUPER – it's not a new architecture, or even a new Turing GPU. It is simply a vanilla GTX 1660, but with faster GDDR6 memory instead of the older GDDR5 memory. That's it – so any performance gains come purely as a result of the memory, as the GPU itself has not changed at all.
With that in mind, I have to say 1660 SUPER exceeded my expectations. I wasn't expecting more than 10% improvements over the original GTX 1660, but averaged across our testing this Gigabyte 1660 SUPER proved 14% faster than the 1660. That puts it very close to the performance of the GTX 1660 Ti, and in actual fact this 1660 SUPER is just 2% slower on average, but no more than 4% slower at most.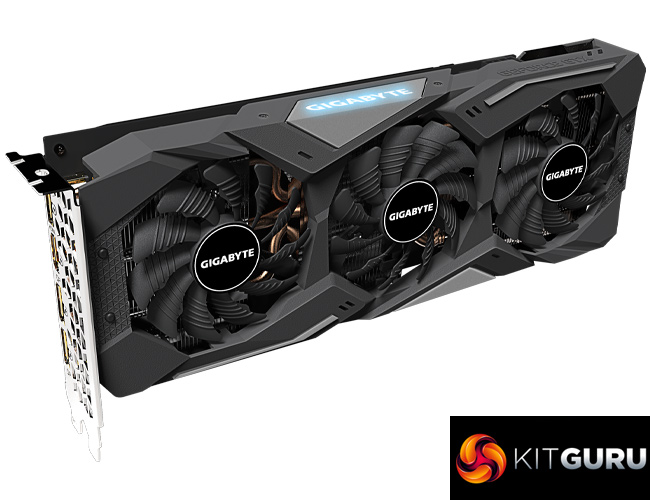 Other comparisons worth making include 1660 SUPER versus the older fan-favourite GTX 1060 6GB – and with a 42% lead for the newer card, now could be a good time to upgrade if you've been hanging onto that Pascal GPU. 1660 SUPER is also 18% faster than RX 590, 15% slower than RTX 2060 Founders Edition and 12% slower than Vega 56.
Talking specifically about this Gigabyte design now, it is another excellent card from the Taiwanese manufacturer. It runs very cool – with the GPU peaking at 64C – while it is also very quiet under load, as those three fans produced about 40dB of noise during our 30 minute Fire Strike Ultra stress test. The card is able to do that while also running the GPU core at 1957MHz on average, so it's a technically excellent offering from Gigabyte.
I was also able to achieve reasonable gains via overclocking, but nothing too impressive – our games saw 6-7% higher frame rates when we dialled in our best overclock, so it is hardly something to go wild about. It's just pretty typical of the Turing architecture to see relatively limited gains from overclocking – if you can squeeze an extra 10% from a Turing card, you're doing very well.
So, should you buy the GTX 1660 SUPER? For me, it's a definite yes. It may only be a memory upgrade, but that's enough to improve performance to the tune of 14% over the original 1660, putting 1660 SUPER more-or-less on par with the 1660 Ti. Considering the 1660 SUPER has a MSRP of £209.99, and the 1660 Ti starts at £259, I'd say 1660 SUPER has pretty much eliminated 1660 Ti. Similarly, I'd only recommend buying a 1660 now if pricing were to drop to lower levels, as at £200 it just makes no sense.
As for AMD cards, there isn't really a clear competitor to the 1660 SUPER – or, at least not yet. RX 590 can be found for as little as £175, but that card is 15% slower than 1660 SUPER and also draws significantly more power. On the other hand, Vega 56 is 14% faster than this 1660 SUPER, but is becoming harder to find and the Vega architecture looks somewhat dated at this stage in 2019. Even for the cards that are available, like this dual-fan design, priced north of £260 we're looking at 23% higher cost than 1660 SUPER, so the value doesn't hold up so well.
In a nutshell, that means if you are looking for a new graphics card around the £210 price point, 1660 SUPER is your go-to option. Under-cutting 1660 Ti by £50, while basically matching it in terms of performance, makes it a no-brainer in my eyes.
My only slight hesitation comes when looking at this Gigabyte Gaming OC 6G card specifically, as the 'Gaming OC' is Gigabyte's top-tier model and is likely to have more of a price premium over the MSRP. I'm still waiting for confirmed pricing information for this card at the time of writing, but generally my opinion is 'the closer to MSRP, the better', and that is particularly true at this end of the spectrum where £5-10 can be the difference between buying one card or the other.

You can view the whole range of GTX 1660 SUPER cards at Overclockers UK HERE.
Pros
14% faster than 1660, and just 2% slower on average than 1660 Ti.
£210 MSRP is £50 less than GTX 1660 Ti.
Gigabyte's card is very cool and very quiet.
Simple, attractive design.
Cons
This factory overclocked model will likely come in above the £210 MSRP.
Just a change to video memory isn't hugely exciting.
KitGuru says: GTX 1660 SUPER is a very solid option, and Gigabyte has built an excellent card with the Gaming OC 6G. Here's hoping it will come in with a price as close to MSRP as possible.