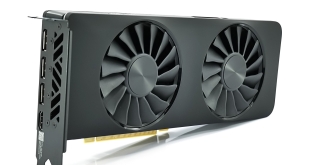 It has felt like an eternity since we first had official confirmation of Intel's plan to enter the discrete GPU market. But today the wait is over and we can present our review of the Arc A770 Limited Edition. Intel is claiming a strong performance advantage over the RTX 3060, but at a competitive price of $349. Is this the shake-up the GPU market has been crying out for? We find out today.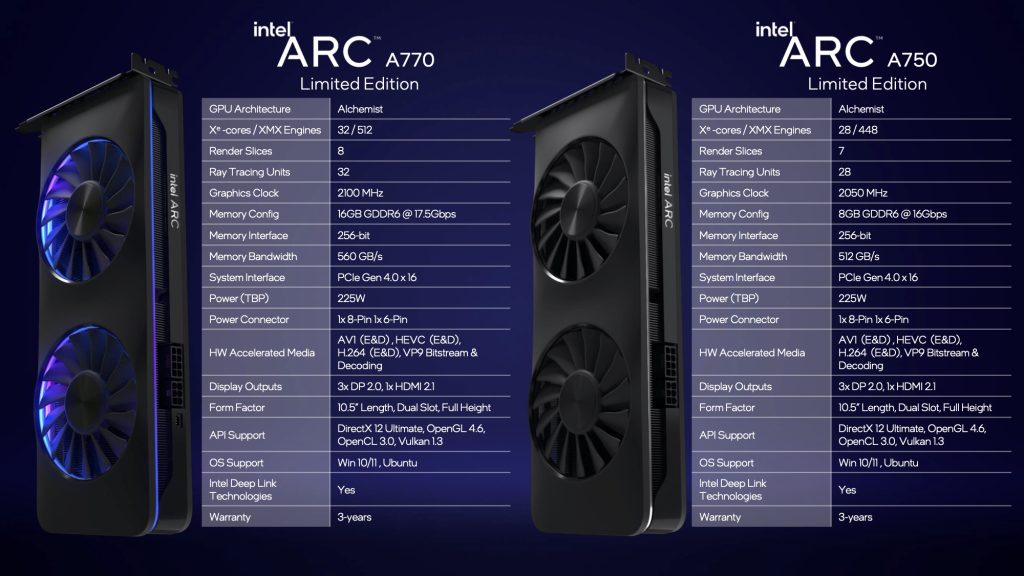 This review will focus on the Intel Arc A770 Limited Edition graphics card, but we do also have a day-1 review of the Arc A750 Limited Edition that you can find over HERE.
We've taken a look at the Xe HPG architecture in the past, but to remind ourselves of what we are looking at today, above we can see a comparison of the core spec of the A750 and A770. Both SKUs are built on Intel's ACM-G10 silicon, but the A750 is shaved down slightly. The full die offers 32 Xe cores for the A770 however, where each core offers 16 vector engines, with each vector engine housing 8 FP32 ALUs, for a grand total of 4096.
Each Xe core is accompanied by a Ray Tracing Unit, while we also find 224 TMUs and 112 ROPs. A 256-bit memory interface is used for both A750 and A770, but 16Gbps GDDR6 memory is used for the A750, giving total memory bandwidth of 512 GB/s. Intel also rates the A770 for 2100MHz graphics clock, and 225W total board power, something we look at closely in this review using our in-depth power testing methodology.
It's also worth clarifying that today we are reviewing the Limited Edition cards. Despite the name, these are not limited in quantity and you can instead think of the Limited Edition as the equivalent to Nvidia's Founders Edition – boards manufactured by Intel and sold directly to consumers. Intel was firm with us that the Limited Edition models will be available at the announced prices, so $289 for the A750 and $349 for the A770, with the A770 Limited Edition only available with 16GB VRAM. A770 partner cards with 8GB VRAM will start at $329.
Be sure to check out our sponsors store EKWB here