With Nvidia not manufacturing a GTX 1660 Ti Founders Edition card, for launch day we have analysed the MSI GTX 1660 Ti Gaming X 6G. The 1660 Ti uses a new GPU from Nvidia, named TU116, and this is definitely most notable for its distinct lack of any Ray Tracing or Tensor cores – meaning this is very much a GTX card, not RTX as there is no scope for ray tracing or the AI-driven DLSS.
That very much puts the emphasis on traditional rasterised game performance, and it is actually very easy summarise just how well this GTX 1660 Ti performs, as it is essentially on par with stock GTX 1070. At 1080p and 1440p, for instance, the MSI 1660 Ti is 2% faster than the GTX 1070 Founders Edition that launched back in 2016. We do have to mention that the Gaming X model is indeed a factory overclocked card – with a 105MHz clock speed advantage over reference 1660 Ti speeds, so we can expect reference cards to perform a little slower, but I'd suggest not by more than 5% at worst.
To give you a bit more context for this 1660 Ti's performance, it is on average 11% slower than RTX 2060, and 10% slower than Vega 56. That shows there is not much of a gap between 1660 Ti and RTX 2060, and as we will get to below, this shrinks even more when manually overclocking. For one final comparison, this Gaming X is on average 36% faster than a GTX 1060 Founders Edition.

That means, overall, 1660 Ti does perform well at 1080p and 1440p resolutions. At 1080p, for instance, it would be well suited for gaming on a high refresh-rate monitor, with frame rates pushing as high as 100FPS playing Far Cry 5. 1440p gamers won't always get a steady 60FPS – with some more demanding titles' minimum frame rates dropping down into the 40FPS zone – but Battlefield V averaged over 70FPS at 1440p, so it does depend on what games you play.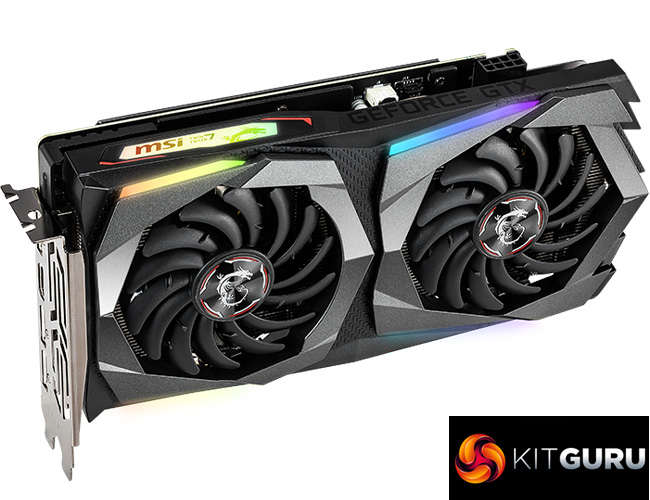 In terms of MSI's Gaming X card itself, I have to say it is an all-round excellent performer. Not only did it peak at just 64C under full load – making it one of the coolest running cards we have tested over the past six months – but it is just whisper-quiet. In fact, noise levels are so low that you'd have to have your head just inches away to actually hear the fans spinning. With this card in a case, under your desk? There's no chance you'd be able to hear it.
Power consumption is also very low, with our system drawing 179W from the wall. That's only 4W more than the GTX 1060 pulls, and almost 30W less than the GTX 1070, despite the Gaming X actually being the (very marginally) faster card. There's no denying Nvidia is leading the market when it comes to power efficiency.
We already mentioned the Gaming X 1660 Ti is a factory overclocked model, so I was pretty happy when I could manually add an extra 100MHz to the GPU core, with the GDDR6 memory taking an extra 875MHz. This improved 1080p frame rates to the point where our manually overclocked 1660 Ti was within touching distance of the RTX 2060 – just a couple of frames behind. I think this is likely to really help the 1660 Ti's appeal, as anyone happy to spend to a bit of time manually tuning a 1660 Ti could end up getting more-or-less RTX 2060 level performance, but without the added cost of the RTX features.
Speaking of cost, however, that does prove to be the main stumbling block to recommending the MSI Gaming X GTX 1660 Ti. That's because, at £309, this card is priced £50 higher than the baseline MSRP of £259 for GTX 1660 Ti cards. That's almost a 20% price hike, and as good as this card is, when you get to the more value-oriented end of the market it does become hard to justify the added premium that a top-end factory overclocked card demands.
Putting that price into a wider perspective, too, custom RTX 2060s like MSI's own Ventus model can be found for £329. Overclockers UK is also running a great deal at the moment, with a Sapphire Pulse Vega 56 at £279. That's only a temporary deal, but at £30 less than this GTX 1660 Ti and for about 10% better performance, it will definitely make you think twice.
To be clear, I am not saying this is a bad card – not at all. It is actually an all-round fantastic performer in terms of its noise levels, average clock speed and thermal performance. The trouble is, when GTX 1660 Ti is pushing £310, it does become hard to recommend in the face of lower-end RTX 2060s available for £329, and especially with Vega 56 well under £300 as well.
I wouldn't take that thinking and apply it to all GTX 1660 Ti models, though. It's hard to say without testing any yet, but I would think cards available at the £259 MSRP are likely to offer much better overall value, especially if you can find one that overclocks to around 2GHz to effectively match the RTX 2060 in terms of rasterised performance.
For now, though, what we can say about the MSI GTX 1660 Ti Gaming X 6G, is that is probably one of the fastest, coolest and quietest GTX 1660 Tis we will test this year. Unfortunately, its added price premium puts it at a significant disadvantage compared to 1660 Tis priced at £259, especially with the deals that can now be had with RTX 2060 and Vega 56.
We don't yet have a buy-link for this card, but will update the review when we have one. MSI told us the MSRP is £309.99.

Update: The Gaming X is now available from Overclockers UK for £299.99 HERE.
You can also browse a variety of 1660 Ti models on Overclockers UK HERE.
Pros
Ran at over 1900MHz out of the box.
Dead quiet.
GPU temperatures peaked at just 64C.
Draws almost 30W less than GTX 1070, despite being faster.
Manually overclocked, we effectively matched RTX 2060 performance.
Cons
£50 more expensive than baseline GTX 1660 Tis.
Aftermarket RTX 2060s start at £329, Vega 56 is currently on offer for £279.
KitGuru says: GTX 1660 Ti definitely has scope to be worth buying at its baseline MSRP of £259. This MSI Gaming X card, at £310, is much harder to justify in the face of entry-level RTX 2060 and current deals running for Vega 56.