MSI has certainly made something quite unique with its RX 5700 XT Evoke OC.
Its champagne gold shroud is what first grabs you first – we've seen cards with gold accents before, but nothing quite like this. It does feel nice and solid in the hand thanks to the almost all-metal shroud, but I have to be honest and say I am not too sure about the aesthetics.
Not because I think its ugly – that's obviously subjective and my opinion on that is irrelevant for your buying decision – but rather because I think MSI has boxed itself into a corner with the design. The way I see it, you'd either want the gold shroud as you already have a gold-themed rig, or you simply don't care about the aesthetics. The first point is fair enough, if it complements your build then go for it. I honestly think that anyone spending this much on a graphics card, however, likely has a pretty clear idea of what they want their card to look like, and MSI is potentially limiting its sales here.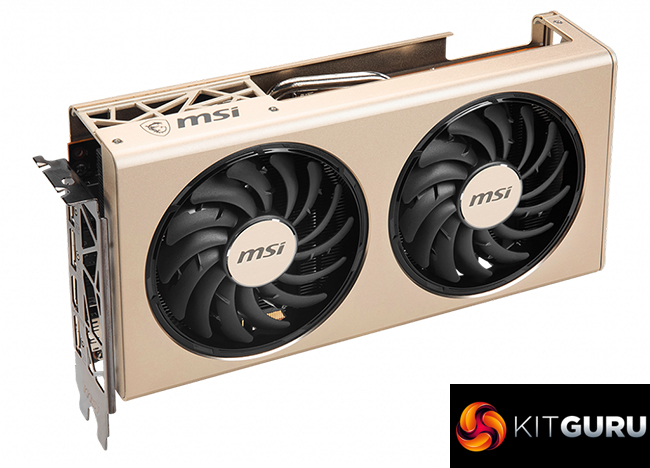 Anyway, that aside, the dual fan cooler performs fantastically well in terms of its ability to restrain GPU temperatures, as we saw the 5700 XT run no hotter than 62C under load, which is almost 20C cooler than the reference design. Unfortunately, you certainly pay the price for this, with the Evoke OC running very loud in our testing. Granted, it is still quieter than the reference card, but for a custom card priced at £440, we are expecting 'near silence', not 'just about quieter than the reference card'.
MSI just needs to balance temperatures vs acoustics better. It would be fine for the GPU to run hotter – even 70C is still a very respectable result and still 10C less than reference – if the result was a significant reduction in noise levels. As it is, the fan curve clearly favours low temperatures over noise levels, and that results in a loud card.
Gaming performance is decent, though, as we saw the Evoke OC running about 100MHz faster than the reference 5700 XT. This meant our frame rates saw a boost of 3% on average – up to 5% in a couple of instances – but 3% on average. Relative to the 2070 SUPER, that means the Evoke OC is just 2% slower on average, but do bear in mind titles like Battlefield V favour Navi cards, while other games like Shadow of War favour Nvidia hardware, so the average doesn't tell the whole story.
As for pricing, even with a £60 premium over the 5700 XT's MSRP, this still makes the Evoke OC better value than the 2070 SUPER, as it's just 2% slower but costs 7% less. Looking at the card itself, however, I think it is going to struggle to justify that premium when it is as loud as it is. We're yet to review other 5700 XT models so I can't be concrete here, but it's almost a guarantee there will be other models available with a better balance of temperatures and acoustics.

You can buy the MSI RX 5700 XT Evoke OC for £439.99 from Overclockers UK HERE.
Pros
Aluminium shroud.
3% faster than reference card on average, up to 5% in certain games.
Runs very cool.
Overclocked the best of our Navi cards so far.
Cons
Far too loud for a custom card.
£60 price premium is hard to justify given the noise levels.
Gold shroud is likely to prove divisive.
KitGuru says: It's a fast card and it runs very cool, but the Evoke OC is definitely too loud for a stronger recommendation.