Today marks the launch of Cyberpunk 2077's hotly-anticipated 2.0 update. That's all well and good, but we have a slightly different reason to be taking a look at the game today, as Nvidia's new DLSS 3.5 technology has also arrived with this latest update. Today we put the new feature through its paces with a whole heap of image quality comparisons, to find out exactly what difference DLSS 3.5 really makes, and how it affects performance…
What is DLSS 3.5?
DLSS 3.5 was announced only recently at Gamescom 2023, bring a new feature to the DLSS family – that being Ray Reconstruction. Unlike other DLSS features, including Super Resolution or Frame Generation, the goal behind Ray Reconstruction isn't to boost your frame rate by lowering the internal resolution or adding in new frames. Rather, it is designed to significantly boost image quality when playing ray traced games, and it does this by replacing the denoising stage of the render pipeline.
All ray traced games currently utilise one form of denoising or another, but Nvidia is keen to point out the current limitations – temporal accumulation denoisers can introduce ghosting, while spatial interpolation denoisers can reduce detail. No matter how you slice it, current so-called hand-tuned denoisers do reduce ray traced image quality in one form or another.
Not so with Ray Reconstruction – or at least, that's the idea. By replacing hand-tuned denoisers with an AI network that has apparently been trained on 5 times the data of DLSS 3, Nvidia is claiming massively improved image quality, as Ray Reconstruction can recognise different RT effects and intelligently pull out the key details that might otherwise be lost.
In essence, it's all about ray traced image quality. There may be some difference to performance as we'll see later, but this is unlikely to be much of a change either way. Ray reconstruction also works on all RTX GPUs, alongside DLSS Super Resolution, though of course Frame Generation is still limited to 40-series GPUs.
Test setup
Test System:
We test using a custom built system from PCSpecialist, based on Intel's Rocket Lake platform. You can read more about this system HERE and configure your own PCSpecialist system HERE.
| | |
| --- | --- |
| CPU | Intel Core i9-13900KS |
| Motherboard | Gigabyte Z790 Gaming X AX |
| Memory | 32GB (2x16GB) Corsair Dominator Platinum RGB DDR5 6000MHz |
| Graphics Card | Varies |
| SSD | 4TB Seagate Firecuda 530 Gen 4 PCIe NVMe |
| Chassis | Corsair 5000D Airflow Tempered Glass Gaming Case |
| CPU Cooler | Corsair iCUE H150i Elite RGB High Performance CPU Cooler |
| Power Supply | Corsair 1600W Pro Series Titanium AX1600i Digital Modular PSU |
| Operating System | Windows 11 22H2 |
| Monitor | MSI Optix MPG321UR-QD |
| Resizable BAR | Enabled for all supported GPUs |
Driver Notes
All Nvidia GPUs were tested with the 537.34 driver.
All image quality testing was done using an RTX 4090, with footage captured at 4K/60FPS thanks to the Elgato 4K60.
Image quality comparisons
For a full look at image quality, be sure to watch the video at the top of this page, both to see more examples but also to see how Ray Reconstruction handles motion. Note: The below are 4K screenshots. Please zoom in using your browser if you want to enlarge the image.
Performance
As shown in the video, we observed small performance increases using DLSS 3.5 Ray Reconstruction. As a reminder, it is currently only available with RT Overdrive enabled, so frame rates are lower than they might other wise be with less demanding ray traced effects.
Still, at 4K using DLSS Performance, the RTX 4090 saw its frame rate increase from 72FPS to approximately 77FPS in the Cherry Blossom Market area. The RTX 3080 10GB also saw a boost of 1-3FPS, from about 40FPS up to around 42FPS at 1440p using DLSS Quality. I also tried the RTX 2070 Super and this also performed marginally better with Ray Reconstruction enabled, but it was sub-30FPS even at 1080p using DLSS Quality.
Closing Thoughts
Firstly, if you haven't already, I would encourage you to watch the video at the top of this page to really get the best idea of what Ray Reconstruction looks like – we include about a dozen different image quality comparisons, focusing on both the positive and negative aspects to this new technology.
Undoubtedly though, it is an impressive innovation from Nvidia and one that has huge potential. We saw numerous examples where Ray Reconstruction offered a pretty substantial boost to clarity and detail compared to traditional denoising techniques, while also performing slightly better than said traditional denoisers.
It's not perfect though, as we did notice a few issues with shimmering and image instability in certain scenes, particularly when involving finer details and moving volumetric or particle effects. Ray Reconstruction can also 'smooth out' an image slightly too much for our tastes, especially when tested at sub-4K resolutions.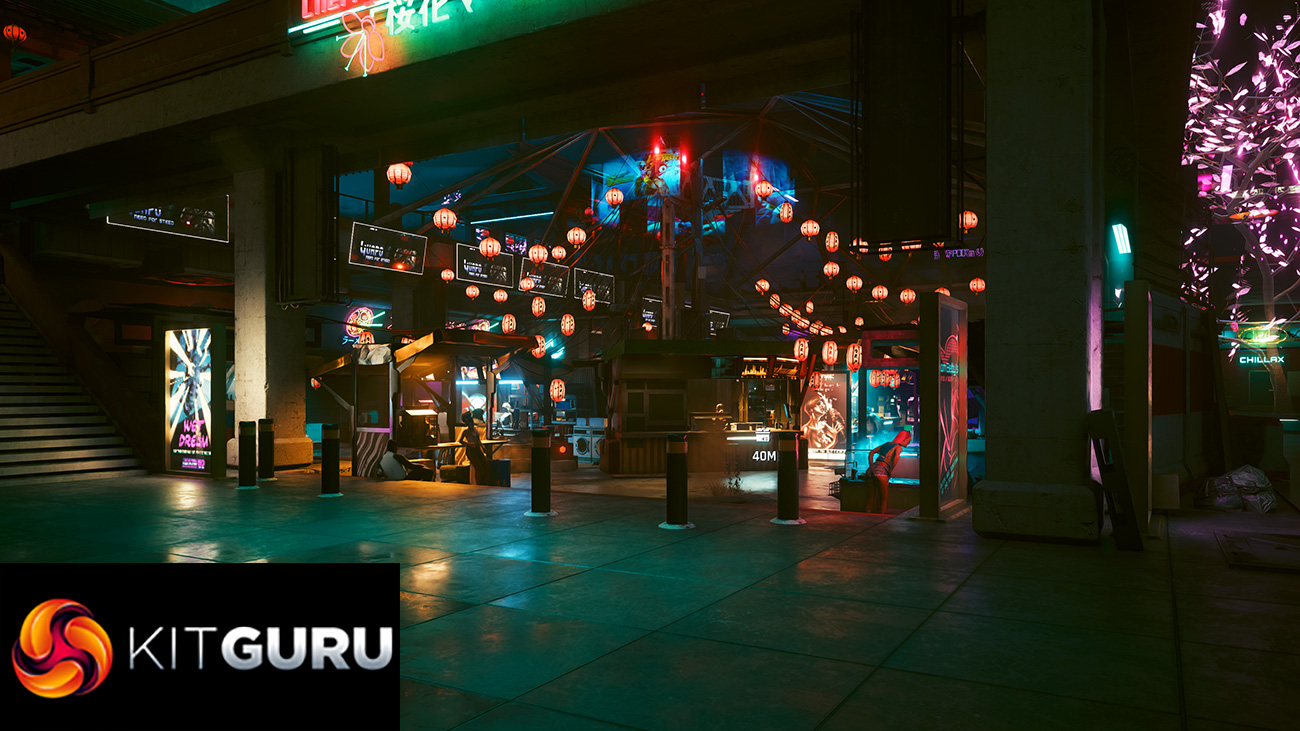 The positives far outweigh the negatives however, and if I were to start a new game in Cyberpunk 2077 right now, I'd definitely play it with Ray Reconstruction enabled. I also think it's fair to consider Nvidia has a strong track record of improving its DLSS features – DLSS 2 was a huge leap in quality compared to the original DLSS implementation, while DLSS 3 Frame Generation has also improved since it hit the market last year – so hopefully DLSS 3.5 will only improve in time.
As part of its improvement process, I'd like to see two specific things happen. Firstly, it would be great to be able to enable Ray Reconstruction at native resolution using DLAA. Secondly, I really think Nvidia (or CD Projekt Red) missed a trick by not allowing the technology to be used with single ray traced effects, like reflections or ambient occlusion. Restricting the new technology to only the RT Overdrive mode really does limit how many RTX gamers can realistically use Ray Reconstruction – regardless of the fact they are officially supported, you really do need a high-end 30-series or 40-series GPU to run RT Overdrive mode as it is simply so demanding.
Regardless, there is clearly massive potential here and I'm personally excited to see more games announced with support for DLSS 3.5. Portal with RTX and Alan Wake II are already on the way, but hopefully we will get some more announcements very soon.
Discuss on our Facebook page HERE.
KitGuru says: DLSS 3.5 Ray Reconstruction is a very interesting new feature from Nvidia. It's only available in one game so far and has some minor issues, but there is huge potential for this technology.