Battlefield V is a first-person shooter video game developed by EA DICE and published by Electronic Arts. Battlefield V is the sixteenth installment in the Battlefield series. It was released worldwide for Microsoft Windows, PlayStation 4, and Xbox One on November 20, 2018. (Wikipedia).
We test using the Ultra preset with the DX12 API. Battlefield V is the first game released with Nvidia RTX ray tracing features (called DXR in game) and we present average and minimum frame rates for the game with DXR Off, and then again with DXR set to Ultra.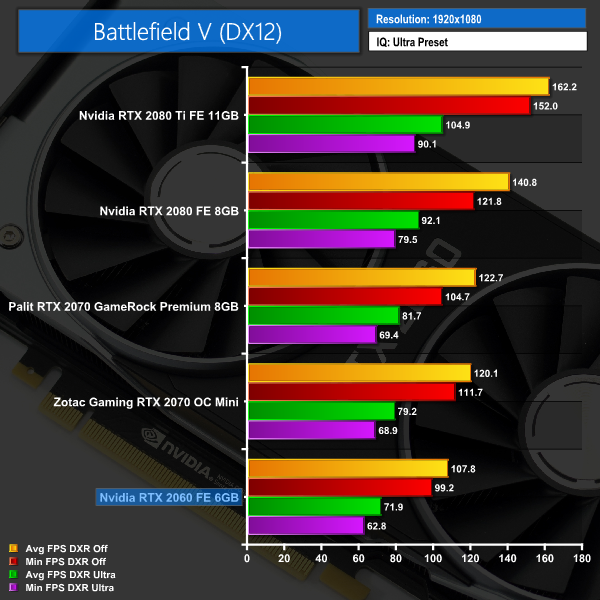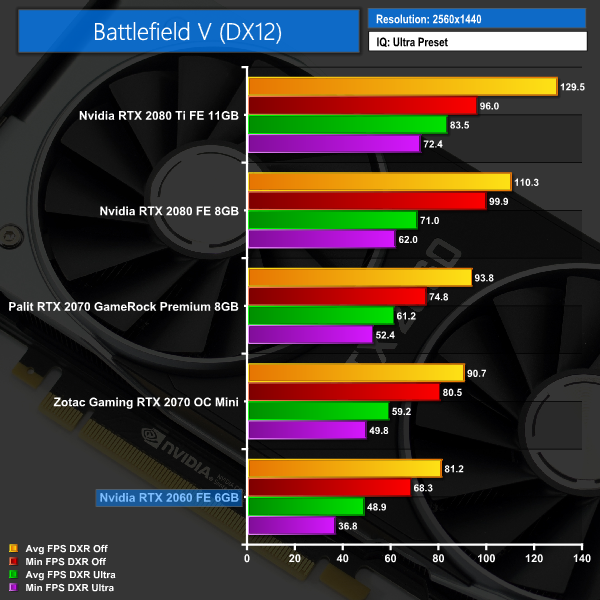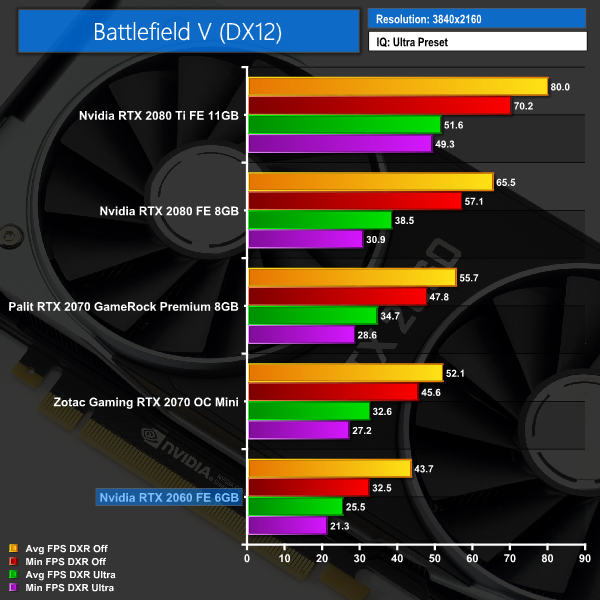 Now, a big point of debate about the RTX 2060 – or was it GTX 1160? – has been what the ray tracing capabilities would be like. When Battlefield V first launched, for instance, enabling DXR rendered the game almost unplayable with an RTX 2070, so surely the RTX 2060 wouldn't even be worth thinking about if you want to game with real time ray tracing enabled.
Well, since then we've seen a significant update come to Battlefield V which greatly improves ray tracing performance. With that in mind, we can see the RTX 2060 actually holds over 60FPS when playing with DXR Ultra at 1080p – a result we can all agree is very playable.
Of course, it is still averaging almost 40FPS less with DXR Ultra compared to DXR off, so it's still a big performance hit – but the fact is, you can still play the game if you do want the ray tracing eye candy enabled.
I wouldn't say 1440p gaming with DXR Ultra is a good experience, though. We saw minimum frame rates fall into the 30s, with some noticeable FPS drops during explosions for instance. With DXR off, Battlefield V plays very well at 1440p, but if you do want some DXR action – stick to 1080p.