We take our noise measurements with the sound meter positioned 1 foot from the graphics card. I measured the noise floor to be 32 dBA, thus anything above this level can be attributed to the graphics cards. The power supply is passive for the entire power output range we tested all graphics cards in, while all CPU and system fans were disabled.
A reading under load comes from running the 3DMark Fire Strike Ultra stress test 20 times. An idle reading comes after leaving the system on the Windows desktop for 30 minutes.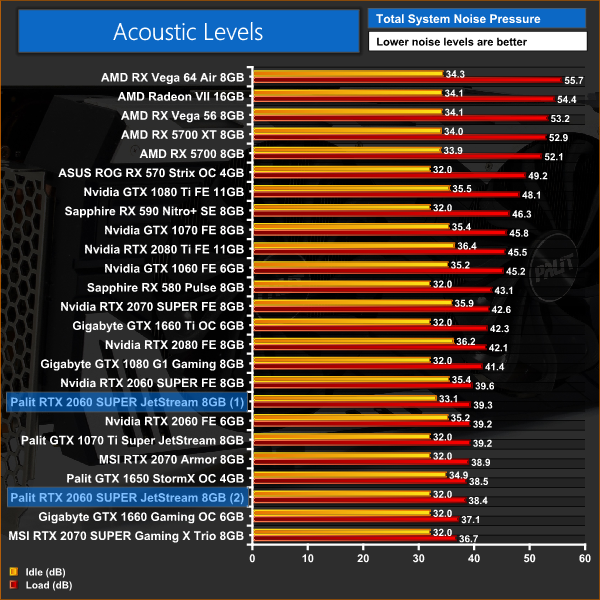 I must say I was expecting lower noise levels from this Palit card. In the primary BIOS, it is essentially just as quiet as the Founders Edition, and while this does drop by 1.2dB when using BIOS 2, the difference wasn't very noticeable at all. In fact, BIOS 1 saw the fans peak at 49% (1330rpm), while BIOS 2 reduced this to 45% (1220rpm). It's not much of a difference at all, and I definitely think the dual-BIOS implementation could be better – in my opinion, BIOS 2 should be significantly quieter to offer something noticeably different to the primary BIOS. At the moment, they're both very similar in terms of overall performance.
On that note, I do also think it's strange the card's fan-stop mode is only available with the secondary BIOS. I can't really see any reason for this, it could certainly work using BIOS 1 but Palit hasn't implemented the feature with that BIOS. It's not a major point, but it's nice to completely eliminate fan noise while your system is idling, even if the card isn't very loud to begin with.
Be sure to check out our sponsors store EKWB here