Nvidia's RTX 2060 SUPER launched just over two weeks ago, and today we have been analysing Palit's custom version, the RTX 2060 SUPER JetStream.
As far as I can tell, Palit is re-using the same cooler and PCB design we first saw with the RTX 2070 GameRock Premium, which is certainly a good thing – 2060 SUPER is closer to vanilla 2070 in terms of its GPU configuration, so using a 2070 card design, instead of a more cut-down 2060 PCB/cooler, means we're not going to run into power limit issues.
In fact, the 8+2 power phase design Palit has used for this card has allowed a 40W increase to the power limit compared to reference RTX 2060 SUPER. The main benefit of that? Clock speed, as Palit has added 180MHz to the reference clock speed of 1650MHz, giving the card a rated boost clock of 1830MHz. From what I have seen online, this makes it one the fastest 2060 SUPER cards out there, with only the ASUS ROG Strix model clocked higher out of the box.
As for how much difference this makes in games, it does vary slightly. In certain titles, the 2060 SUPER was up to 7% faster than its Founders Edition counterpart, though this was usually at 4K – a resolution 2060 SUPER isn't best suited for anyway. At 1080p and 1440p, the difference is smaller, sometimes as little as 1-2%. On average, the difference works out at 4% in favour of the JetStream. Compared to AMD's RX 5700 XT, the Palit JetStream is 5% slower, while it is 2% faster than a reference-clocked RTX 2070.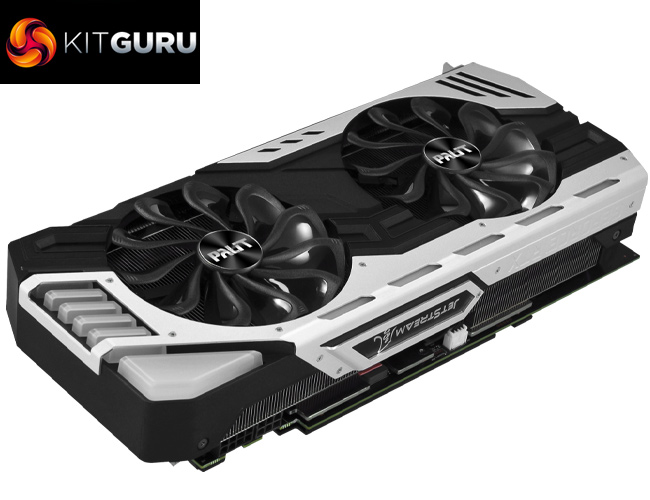 Palit has done well to reduce temperatures by 6C compared to the Founders Edition, too, though I was a bit disappointed that noise levels aren't noticeably quieter – our sound meter told us the Palit was producing 0.3dB less noise than the Founders, but I could not tell the difference between the two. For a custom card, especially one as physically big as this, this is certainly a let down.
There is a secondary BIOS designed to run a little quieter, but in practice I found this to make little difference. Fan speed dropped by just 4%, for example, when moving over to the secondary BIOS, while temperatures rose by 4C. It was a little quieter than the primary BIOS, but by less than 1dB according to our sound meter. I really think Palit missed a trick here by not making the secondary BIOS significantly quieter – if it had dropped the fan speed down to 30%, for instance, we'd get higher temperatures but also noticeably lower noise levels. At the moment, there's very little difference between each BIOS in the real world.
The last area to touch on is pricing. The JetStream is Palit's highest-end 2060 SUPER card, and it carries a £50 price premium over the £379 MSRP. That's an increase of 13%. For me, that is right at the limit of what is justifiable for a partner card, though it's certainly pushing it. We again come back to how good Nvidia's Founders Edition design really is, especially now those cards are priced at MSRP, and that makes life very difficult for Nvidia's partners.
If it were my money, I have to say I would buy the Founders Edition and save the £50. Palit has done well to push the clock speed by 180MHz, while temperatures are also 6C lower. I do think it is a shame the card isn't noticeably quieter than the Founders Edition, however, and that extra clock speed works out at a 4% performance increase which is hardly game-changing.
On top of that, the card remains 5% slower than the RX 5700 XT, which retails at £379. I can't say how much value you place on Nvidia's ray tracing support – it doesn't amount to much right now but the list of games with RTX support is increasing exponentially. If that's a factor for you, my suggestion is to buy the Founders Edition, apply a healthy overclock and use the money you've saved to buy Cyberpunk 2077. If you're not interested in ray tracing, custom RX 5700 XT cards are (hopefully) just around the corner.

You can buy the Palit RTX 2060 SUPER JetStream from Overclockers UK for £428.99 HERE.
Pros
Impressive 180MHz factory overclock.
Uses RTX 2070 PCB with 8+2 power phases.
6C cooler than Founders Edition.
Attractive shroud design.
Cons
Not noticeably quieter than Founders Edition.
Secondary BIOS makes little difference versus the primary BIOS.
13% price increase versus the Founders Edition.
Still 5% slower than RX 5700 XT (which is cheaper).
KitGuru says: It's likely the fastest RTX 2060 SUPER we will see, but I would have liked to see a much quieter secondary BIOS to offer something different. On top of that, priced at £50 more than both the 2060 SUPER Founders Edition and AMD's RX 5700 XT, the extra cash does become hard to justify.
Be sure to check out our sponsors store EKWB here