Our newest GPU test procedure has been built with the intention of benchmarking high-end graphics cards. We test at 1920×1080 (1080p), 2560×1440 (1440p), and 3840×2160 (4K UHD) resolutions.
We try to test using the DX12 API if titles offer support. This gives us an interpretation into the graphics card performance hierarchy in the present time and the near future, when DX12 becomes more prevalent. After all, graphics cards of this expense may stay in a gamer's system for a number of product generations/years before being upgraded.
We tested the RX Vega64 and Vega56 using the 'Turbo' power mode in AMD's WattMan software. This prioritises all-out performance over power efficiency, noise output, and lower thermals.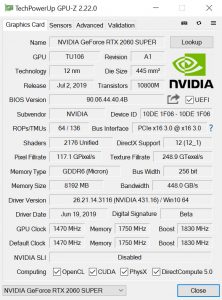 The Palit RTX 2060 SUPER JetStream has a rated boost clock of 1830MHz. We did all of our performance testing using the primary BIOS 1, which is the default setting. We did also run some additional testing using BIOS 2 to see what difference it makes, and we have labelled each result '(1)' or '(2)' so you know which BIOS was used.
Driver Notes
All AMD graphics cards were benchmarked with the Adrenalin 19.6.2 driver.
All Nvidia graphics cards (except 2060/2070 SUPER) were benchmarked with the Nvidia 430.86 driver.
Nvidia RTX 2060/2070 SUPER cards were benchmarked with the 431.16 driver supplied to press ahead of launch.
Test System
We test using the Overclockers UK Germanium pre-built system, though it has been re-housed into an open-air test bench. You can read more about it over HERE.
CPU

Intel Core i7-8700K
Overclocked to 4.8GHz

Motherboard

ASUS ROG Strix Z370-F Gaming


Memory

Team Group Dark Hawk RGB
16GB (2x8GB) @ 3200MHz 16-18-18-38

Graphics Card

Varies

System Drive

Samsung 960 EVO 500GB

Games Drive
Crucial M4 512GB
Chassis
Streacom ST-BC1 Bench
CPU Cooler

OCUK TechLabs 240mm AIO


Power Supply

Corsair AX1500i 80+ Titanium PSU

Operating System

Windows 10 1903
Comparison Graphics Cards List
Nvidia RTX 2080 Ti Founders Edition (FE) 11GB
Nvidia RTX 2080 Founders Edition (FE) 8GB
Nvidia RTX 2070 SUPER Founders Edition (FE) 8GB
MSI RTX 2070 SUPER Gaming X Trio 8GB
MSI RTX 2070 Armor 8GB
Nvidia RTX 2060 SUPER Founders Edition (FE) 8GB
Nvidia RTX 2060 Founders Edition (FE) 6GB
Gigabyte GTX 1660 Ti OC 6G
Gigabyte GTX 1660 Gaming OC 6G
Palit GTX 1650 StormX OC 4GB
Nvidia GTX 1080 Ti Founders Edition (FE) 11GB
Gigabyte GTX 1080 G1 Gaming 8GB
Palit GTX 1070 Ti Super JetStream 8GB
Nvidia GTX 1070 Founders Edition (FE) 8GB
Nvidia GTX 1060 Founders Edition (FE) 6GB
AMD RX 5700 XT 8GB
AMD RX 5700 8GB
AMD Radeon VII 16GB
AMD RX Vega 64 Air 8GB
AMD RX Vega 56 8GB
Sapphire RX 590 Nitro+ SE 8GB
Sapphire RX 580 Pulse 8GB
ASUS RX 570 ROG Strix Gaming OC 4GB
Software and Games List
3DMark Fire Strike & Fire Strike Ultra (DX11 Synthetic)
3DMark Time Spy (DX12 Synthetic)
3DMark Port Royal (DXR Synthetic)
Battlefield V (DX12)
Deus Ex: Mankind Divided (DX12)
Far Cry 5 (DX11)
Tom Clancy's Ghost Recon: Wildlands (DX11)
Metro: Exodus (DX12)
Middle Earth: Shadow of War (DX11)
Shadow of the Tomb Raider (DX12)
We run each benchmark/game three times, and present averages in our graphs.
Be sure to check out our sponsors store EKWB here