Today we are back with another game benchmark, as we check out the new Resident Evil 3 remake. Developed by Capcom and built using the RE Engine, we test this title with over 25 GPUs to see what sort of performance you can expect from the game with the image quality settings cranked to the max.
Watch video via Vimeo (below) or over on YouTube at 2160p HERE
For our testing today, I went rather aggressive with the image quality settings, with everything set to their maximum value bar Ambient Occlusion which we set to use SSAO. I had initially set Shadow and Mesh quality to 'High', with Ambient Occlusion turned off, but my initial testing with an RTX 2060 was seeing very high frame rates with those settings, so I pushed things even further.
You will note that the game reports VRAM usage to be insanely high, with 12GB 'needed' for these settings. Thankfully, unlike Doom Eternal, the game doesn't enforce this as hard limits, and certainly nothing in my testing suggested that we were running into VRAM issues, at least not with the cards I tested. Gamers with older cards with, say, 2GB VRAM may want to adjust things like texture quality, but for our purposes we had these settings at the maximum values.
All of our testing was done with our regular GPU test bench, details of which are below:
CPU

Intel Core i7-8700K
Overclocked to 5.0GHz

Motherboard

ASUS ROG Strix Z370-F Gaming


Memory

Team Group Dark Hawk RGB
16GB (2x8GB) @ 3200MHz 16-18-18-38

Graphics Card

Varies

System Drive

Samsung 960 EVO 500GB

Games Drive
Crucial M4 512GB
Chassis
Streacom ST-BC1 Bench
CPU Cooler

OCUK TechLabs 240mm AIO


Power Supply

Corsair AX1500i 80+ Titanium PSU

Operating System

Windows 10 1903
We benchmarked a 1-minute playthrough early on in the game, as the player comes out of the subway station and is tasked with restoring power to the control room. After a couple of initial tests, DX11 did perform marginally faster during our playthrough, so this is the API we used for our benchmarks today.
We tested with the Nvidia Game Ready 445.75 public driver for all Nvidia GPUs, while AMD supplied its upcoming 'Day-0' Adrenalin 20.4.1 driver for our testing.
1080p benchmarks
1440p benchmarks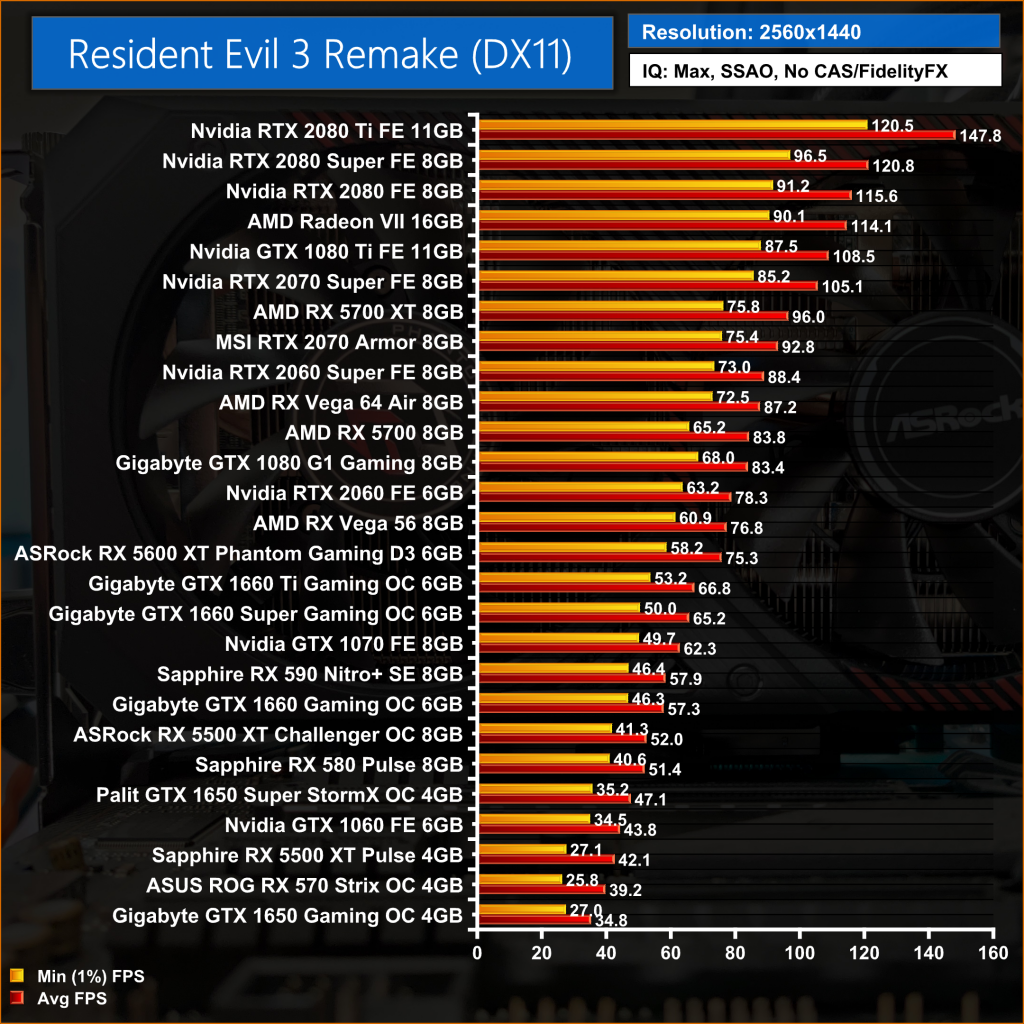 4K/2160p benchmarks
Closing Thoughts
I have to admit at being pleasantly surprised with how well the Resident Evil 3 Remake ran across all of the GPUs we tested, not just the high-end cards like the RTX 2070 or RTX 2080 Super. Even on relatively weak hardware, like the GTX 1650 non-Super, we saw average frame rates over 50fps, and bear in mind this was with image quality cranked up to the limit. I would say even more modest hardware will be able to hit 60fps at 1080p with only some slight tweaks to overall image quality.
Another trend that impressed me was that relatively strong performance from AMD's last-gen GPU architectures, its Polaris and Vega-based GPUs. Cards like the RX 590, Vega 56 and Vega 64 all punched above their weight, while the Radeon VII also proved significantly faster than the Navi-based RX 5700 XT, which isn't always the case.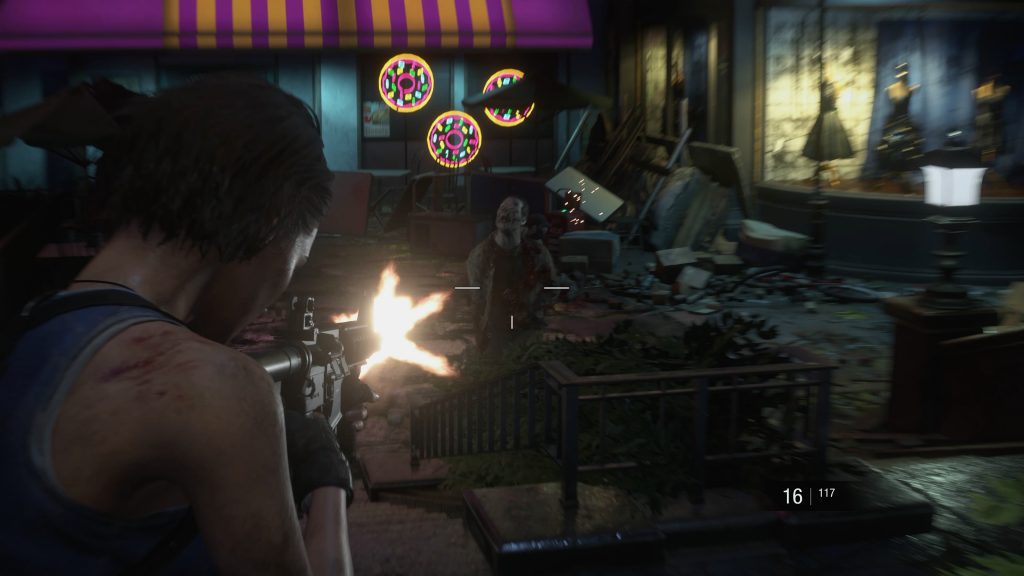 I mention in the video one slight issue I had which only seemed to affect Nvidia's Pascal-based 10-series GPUs, but other than that my overall experience with Resident Evil 3 was very positive. If you are a fan of this series and want to check the game out on PC, you should be in for a good experience even with a relatively weak GPU.
Discuss on our Facebook page HERE.
KitGuru says: It's good to see another new game delivering strong performance, even with modest hardware. Let us know your experience with this game down in the comments.