Nvidia GTX 16 Super series custom cards keep on coming. INNO3D is the latest manufacturer to announce new versions of the GTX 16 series carrying the Super label. The company has introduced both GTX 1660 Super and 1650 Super iterations to its lineup.
INNO3D is hoping to continue its success with the RTX 2060 Twin X2 and RTX 2060 Super Twin X2 by adding GTX 1660 and 1650 Super cards to the range. INNO3D engineers decided a logical approach would be to launch the new GTX 16 Super series cards featuring the same Twin X2 cooling solution, while also adding a compact version of the GTX 16 Super series too.
The Twin X2 design has been taken one step further by developing the Twin X2 OC version featuring RGB lighting effects. The efficiently designed Twin X2 OC includes two 90mm fans that are now lit up with 16.8 million colour RGB LEDs, to complement a system even better. INNO3D claims the improved cooling solution offers excellent thermal performance while running today's most popular games.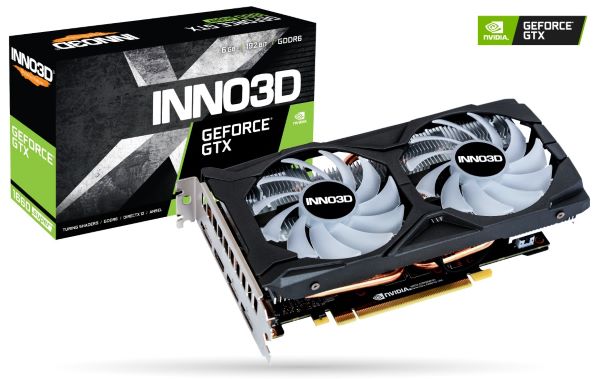 Dual 90mm fans offer a balance of cooling performance versus noise. The Twin X2 thermal solution is comprised of three heat pipes with aluminium extrusion, running through a large heatsink to disperse heat quickly and efficiently. INNO3D 16 Super series GPUs include GDDR6 memory which offers up to 50% performance increase over the original GTX 16 series memory.
INNO3D claims the GTX 1660 Super is up to 20% faster than the original GTX 1660 and up to 1.5X faster than the previous generation GTX 1060 6GB. Additionally, the company says the Nvidia Turing based GTX 1650 Super will provide a 50% increase in performance over the original GTX 1650 and will be 2X faster than the previous GTX 1050.
No official confirmation on a release date or pricing has been set out by INNO3D just yet. However, the company says it is working hard to make the new 1660 and 1650 Super cards available worldwide soon.
Discuss on our Facebook page HERE.
KitGuru says: INNO3D has been around for quite some time now, but still offer a very competitive price structure with its products, compared to some better-known manufacturers. Price-conscious gamers will probably be able to make a small saving by purchasing one of these cards from INNO3D.